NO's McCarville always in the hunt at the Scotties despite light tour schedule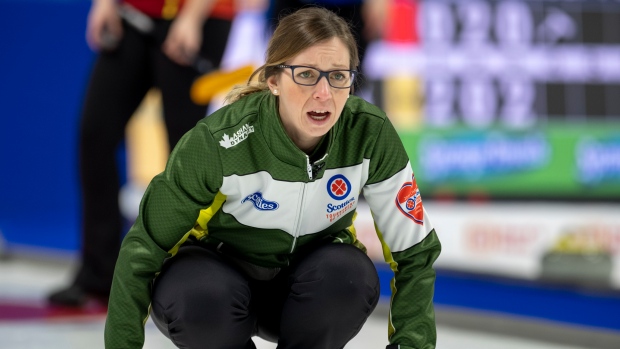 SYDNEY, N.S. – It doesn't matter where the Scotties Tournaments of Hearts is taking place, when Northern Ontario is on the ice, you'll be well aware of it.
That's all thanks to the infamous – and somewhat disturbing – sound made by the moose call. Made from an empty coffee canister and string, the homemade moose call has become synonymous with Northern Ontario curling fans over the years, especially with Team Krista McCarville.
"We only have our six family members here, but they have the moose call and are trying to make that as loud as possible so we can hear it," said the skip after Monday afternoon's 9-3 rout of Nunavut. "That's our distinct thing so we're glad to have our fans cheering."
Northern Ontario needed a boost from their fans on the third day of the Canadian championship after struggling to a 1-2 start, highlighted by a loss to Chelsea Carey's Alberta squad Sunday night, a game which saw the Thunder Bay rink shoot 73 per cent.
"We knew we just needed to have a little more fire inside. You know, we had some struggles, like all of us had struggles last night. When everybody is struggling you are a little bit on a downer," said McCarville. "We don't want to show that, we want to show that we are confident, we can make any shot out there. We knew that we had to come out and learn the ice and me some better shots."
Team McCarville will likely need to win two of their final three round robin games against British Columbia, Nova Scotia and Manitoba to have a good chance at the championship pool.
The rink out of the Fort William Curling Club in Thunder Bay are not seen a ton on the Grand Slam circuit or World Curling Tour, simply because how far north they reside.
They've played in a handful of smaller events this season, winning two of them and finished out of the playoffs at the Grand Slam's Tour Challenge in their hometown back in November.
"We can't travel as much as every other team, but every event we go in we take very serious and we focus," explained McCarville.
And there's no event they take more serious than the Scotties.
Despite their light schedule against elite-level teams, McCarville and company always seem to find themselves in the mix at national events. They fell to Carey in the 2016 Scotties final before dropping a semi-final contest to Ottawa's Rachel Homan the following year, even though they shot an impressive 90 per cent as team. At the Olympic trials a few months later, the McCarville foursome fought hard against a stacked field all week before missing the playoffs by a game.
McCarville says they keep it simple when preparing for these prime-time events.
"We try to get mentally ready before. We try to get physically ready throughout the year. We do everything we possibly can. Coming into a competition like this, it's a long week," said the 36-year-old who's playing in her seventh career Scotties. "We know that we have to work really hard and stay focused. It's one game at a time, try not to look ahead and just bear down and make those shots."
Team McCarville have a slightly different look this week in Sydney as Jen Gates has replaced regular second Ashley Sippala, who is expecting her second baby next month.
The transition for Gates, who is great friends with third Kendra Lilly, to Team McCarville has been seamless.
"She played a spiel with us before Christmas and we've been friends with her before. Kendra is best friends with her and they've been friends with each other since they were children," said McCarville. "So it was an easy transition, she's very easy going. She's fun both on the ice and off the ice. She does it really well."
Northern Ontario are back at it Tuesday morning against 3-1 British Columbia. You can watch the game across the TSN Network at 8:30am ET/5:30am PT.