No suspension for Lucic after Joseph hit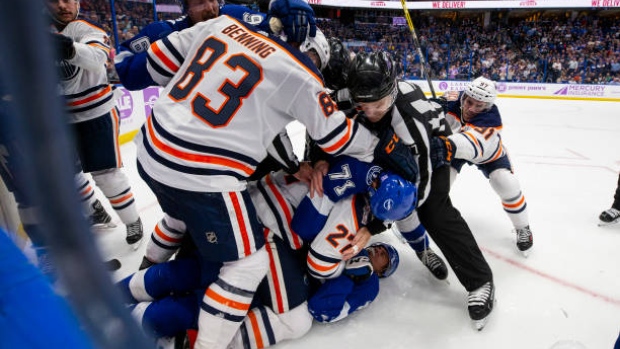 Edmonton Oilers forward Milan Lucic has been fined $10,000 by the NHL's Department of Player Safety for roughing on Tampa Bay Lightning forward Mathieu Joseph during Tuesday night's game. He will not be suspended.
Lucic had a phone hearing earlier on Wednesday for his third-period hit during the Oilers' 5-2 loss to the Lightning. The Vancouver native received two minor penalties and a game misconduct on the play.
Angered by a cross-check Joseph put on Edmonton defenceman Kris Russell earlier in the period, Lucic followed him down the ice once the Lightning forward came onto the ice for a shift. He slashed Joseph when he first came off the bench, then tracked him into the Lightning end and hit him to the right of the Tampa Bay net while he was without the puck. Lucic then appeared to throw a punch at Joseph while the rookie was lying on the ice, sparking a melee between the two teams.
"I thought it was a premeditated, blindside hit," Lightning captain Steven Stamkos said. "I saw it live, I haven't seen it replayed. I'm sure the league will review that. I think Joe got cut, too. You just don't want to see that."
Oilers head coach Todd McLellan said Lucic was doing his job as the team's enforcer.
"He felt that a player took a liberty with Kris Russell, and I agree with the liberty part of it," McLellan said after the game. "Part of the reason we have Luc here is to take care of teammates and he did that."
Lucic, who has one goal and four points in 15 games this season, was last suspended while playing for the Los Angeles Kings in January 2016, when he got a one-game ban for a punch to the head of Arizona Coyotes defenceman Kevin Connauton. He has been suspended three times in his career, each for one game.
Lucic, 30, could have been suspended for up to five games.