Nolan or Nico? Button says it's still Nico in latest mock
The Swiss centre has edged ahead in the season-long battle of Nolan versus Nico. TSN Director of Scouting Craig Button has Nico Hischier going first overall to New Jersey in TSN Hockey's 27-team mock draft.
TSN Director of Scouting Craig Button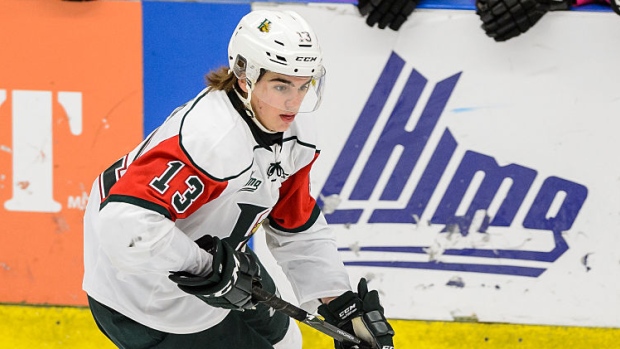 The Swiss centre has edged ahead in the season-long battle of Nolan versus Nico.
TSN Director of Scouting Craig Button has Halifax Mooseheads pivot Nico Hischier going first overall to the New Jersey Devils in the latest version of the TSN Hockey Mock Draft.
Hischier's steady play with the Mooseheads (38 goals, 48 assists in 57 games) and a strong showing at the World Juniors helped vault him past Brandon Wheat Kings centre Nolan Patrick, who has long been considered the top prospect available in this class.
Button says the Devils have the opportunity to add a smart, highly skilled pivot who has shown he can impact every game situation. Hischier has proven up to every challenge he has faced in his young career.
While Hischier was impressing in Halifax, Patrick's season was hampered by sports hernia surgery and an upper-body injury. He missed more games (43) than he played in (33) during his draft year, but still managed 20 goals and 46 points in the regular season. This comes on the heels of a phenomenal 102-point season with Brandon in 2015-16 as a 17-year-old.
Patrick goes second to the Flyers in our Mock Draft of the first 27 picks, providing Philadelphia with a well-rounded centre to add to their deep stable of young blueliners. The order also ensures the top two picks would start their pro careers by meeting on a regular basis in head-to-head competition between division rivals.
Finnish defenceman Miro Heiskanen goes third overall to the Dallas Stars. Button rates Heiskanen, who played 37 games in Finland's Liiga against men this season, as an excellent skater with top-pairing potential.
The No. 4 pick belongs to the Colorado Avalanche, who take Windsor Spitfires centre Gabe Vilardi. The Kingston native is a blend of size (6-foot-2, 193 pounds) and skill (29 goals and 61 points in 49 games).
The Vancouver Canucks bolster their centre depth by selecting Portland Winterhawks pivot Cody Glass at No. 5. Button sees a lot of Jets star Mark Scheifele in the Winnipeg native, who had 94 points in 69 games during the regular season.
The Vegas Golden Knights make Michael Rasmussen their first-ever pick at No. 6 in our Mock Draft. At 6-foot-5 and 200 pounds, the Tri-City Americans centre brings power and a set of soft hands around the net.
As far as the Canadian franchises are concerned, Button has the Winnipeg Jets taking Juuso Valimaki, a Tri-City Americans defenceman, at No. 13. The Calgary Flames select versatile Swedish forward Lias Andersson at No. 16, while the Toronto Maple Leafs get to work on rebuilding their blueline by taking Charlottetown Islanders defenceman Pierre-Olivier Joseph at No. 17.
The Edmonton Oilers add Kelowna Rockets right wing Kole Lind at No. 22, while the Montreal Canadians select Spokane Chiefs winger Kailer Yamamoto at No. 25.
The 2017 NHL Entry Draft will be held on June 23 and 24 at the United Center in Chicago.
TSN Hockey Mock Draft - May 12
1. New Jersey Devils: Nico Hischier, C, Halifax (QMJHL) A smart, highly skilled centre who is complimented by 2016 first-round pick Michael McLeod.
HT: 6-0-3/4 WT: 176 S: L
GP: 57 G: 38 P: 86 PIM: 24
2. Philadelphia Flyers: Nolan Patrick, C, Brandon (WHL) The Flyers are loaded on the blueline and get a well-rounded centre.
HT: 6-2-3/4 WT: 198 S: R
GP: 33 G: 20 P: 46 PIM: 36
3. Dallas Stars: Miro Heiskanen, D, HIFK (SM Liiga) A highly intelligent and excellent skater who projects as a top-pair defenceman.
HT: 6-0 WT: 170 S: L
GP: 37 G: 5 P: 10 PIM: 4
4. Colorado Avalanche: Gabe Vilardi, C, Windsor (OHL) His offensive skill, combined with size and ability, make him a difficult player to defend against.
HT: 6-3 WT: 201 S: R
GP: 49 G: 29 P: 61 PIM: 12
5. Vancouver Canucks: Cody Glass, C/RW, Portland (WHL) The development of his game is reminiscent of Mark Scheifele at the same stage. Would make a nice duo with Bo Horvat.
HT: 6-1-3/4 WT: 180 S: R
GP: 69 G: 32 P: 94 PIM: 36
6. Vegas Golden Knights: Michael Rasmussen, C/LW, Tri-City (WHL) He has the ability to score in tight areas and has proficiency on the power play.
HT: 6-5-3/4 WT: 215 S: L
GP: 50 G: 32 P: 55 PIM: 50
7. Arizona Coyotes: Cale Makar, D, Brooks (AJHL) A dynamic defenceman who approaches the game in a similar manner to Erik Karlsson.
HT: 5-10-1/4 WT: 171 SH: R
GP: 54 G: 24 P: 75 PIM: 18
8. Buffalo Sabres: Timothy Liljegren, D, Timra (SWE-Als) An excellent skater who can impact the game in multiple ways.
HT: 6-0 WT: 191 SH: R
GP: 19 G: 1 P: 5 PIM: 4
9. Detroit Red Wings: Elias Pettersson, C, Timra (SWE-Als) A highly creative and skilled centre who creates offence.
HT: 6-1-1/4 WT: 156 S: L
GP: 43 G: 19 P: 41 PIM: 14
10. Florida Panthers: Casey Mittelstadt, C, Green Bay (USHL) He's very skilled and very smart and his versatility fits in nicely with Florida's young group of forwards.
HT: 6-0-1/4 WT: 194 S: L
GP: 24 G: 13 P: 30 PIM: 2
11. Los Angeles Kings: Owen Tippett, RW, Mississauga (OHL) Owen may be best shooter in this draft and Kings need offence.
HT: 6-1-1/2 WT: 202 S: R
GP: 60 G: 44 P: 75 PIM: 36
12. Carolina Hurricanes: Martin Necas, C, Brno (CZE) Has all the skills to be a very dynamic centre in the mold of Claude Giroux.
HT: 6-0-1/2 WT: 167 S: R
GP: 41 G: 7 P: 15 PIM: 6
13. Winnipeg Jets: Juuso Valimaki, D, Tri-City (WHL) A smart, workhorse defenceman who can contribute in multiple areas.
HT: 6-1-1/2 WT: 204 S: L
GP: 60 G: 19 P: 61 PIM: 34
14. Tampa Bay Lightning: Cal Foote, D, Kelowna (WHL) He's smart, he's good with the puck, he's competitive and he's just scratching the surface of his potential.
HT: 6-3-1/2 WT: 213 S: R
GP: 71 G: 6 P: 57 PIM: 41
15. New York Islanders: Nick Suzuki, RW, Owen Sound (OHL) He's skilled with high hockey sense and contributes in all situations at a highly consistent rate.
HT: 5-10-3/4 WT: 187 S: R
GP: 65 G: 45 P: 96 PIM: 10
16. Calgary Flames: Lias Andersson, LW/RW/C, HV71 (SHL) He can play any forward position and that versatility is valuable. Can skate, thinks the game well and competes.
HT: 5-11-1/4 WT: 198 S: L
GP: 17 G: 6 P: 15 PIM: 14
17. Toronto Maple Leafs: Pierre-Olivier Joseph, D, Charlottetown (QMJHL) Needs time, but has all the elements necessary to be a very good defenceman. He thinks and skates well, his puck play is strong and he competes.
HT: 6-2 WT: 160 S: L
GP: 62 G: 6 P: 39 PIM: 54
18. Boston Bruins: Kristian Vesalainen, LW, HPK (SM Liiga) A strong, good skating winger who can add offence and create space and opportunities.
HT: 6-3-1/4 WT: 207 S: L
GP: 9 G: 1 P: 1 PIM: 0
19. San Jose Sharks: Ryan Poehling, C, St. Cloud State (NCAA) Adding a centre who can play the game in manner similar to Jordan Staal seems to be a good fit for the Sharks.
HT: 6-3-1/4 WT: 207 S: L
GP: 9 G: 1 P: 1 PIM: 0
20. St. Louis Blues: Eeli Tolvanen, RW, Sioux City (USHL) He can score in multiple ways and has the ability to take some scoring pressure off Vladimir Tarasenko.
HT: 5-10-1/4 WT: 170 S: L
GP: 52 G: 30 P: 54 PIM: 26
21. New York Rangers: Shane Bowers, C, Waterloo (USHL) He's a strong, smart, purposeful centre who plays all situations well and with diligence.
HT: 6-1-1/4 WT: 178 S: L
GP: 60 G: 22 P: 51 PIM: 20
22. Edmonton Oilers: Kole Lind, RW, Kelowna (WHL) A highly skilled winger who plays at high pace and can score and threaten offensively.
HT: 6-1 WT: 176 S: R
GP: 70 G: 30 P: 87 PIM: 79
23. Arizona Coyotes (from MIN): Erik Brannstrom, D, HV71 Jr. (SWE-J20) The only thing he lacks is height. He skates well, makes excellent puck plays, thinks the game well and is a big time competitor.
HT: 5-10 WT: 173 S: L
GP: 19 G: 9 P: 23 PIM: 18
24. Columbus Blue Jackets: Robert Thomas, C, London (OHL) He's a very effective player who's smart, has skill and can fit into different spots in your lineup.
HT: 5-11-1/2 WT: 185 S: R
GP: 66 G: 16 P: 66 PIM: 26
25. Montreal Canadiens: Kailer Yamamoto, RW, Spokane (WHL) A diminutive, highly skilled winger who makes things happen offensively and is elusive.
HT: 5-7-1/2 WT: 153 S: R
GP: 65 G: 42 P: 99 PIM: 46
26. Chicago Blackhawks: Urho Vaakanainen, D, Jyvaskala (SM Liiga) An excellent skating defenceman who can move with the puck and will fit the mold of a Hawks blueliner.
HT: 6-0-1/2 WT: 185 S: L
GP: 41 G: 2 P: 6 PIM: 12
27. St. Louis Blues (from WSH): Conor Timmins, D, Sault Ste. Marie (OHL) Has excellent sense and feel for the game, with strong puck play. There's a high efficiency to his game.
HT: 6-1-1/4 WT: 185 S: R
GP: 67 G: 7 P: 61 PIM: 69