North Dakota holds off St. Cloud State
Drake Caggiula scored his team-leading 18th goal of the season, Zane McIntyre stopped a handful of point-blank shots and North Dakota beat St. Cloud State 4-1 on Saturday night in the West Regional final to advance to the Frozen Four.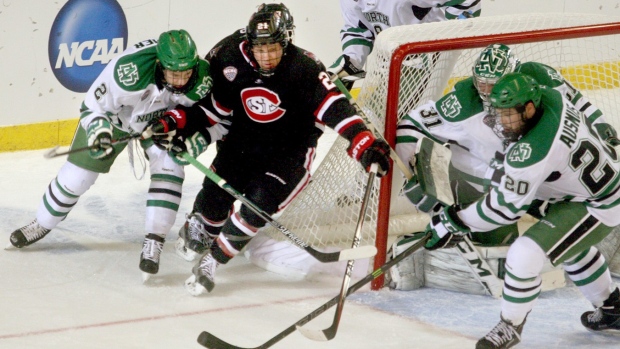 FARGO, N.D. - North Dakota's career leader in saves percentage and goals-against average led his team to the NCAA West Regional hockey championship and showed the opposing coach that he's about more than numbers.
Zane McIntyre stopped a handful of point-blank shots and was selected the tournament MVP after a 4-1 victory over the St. Cloud State on Saturday night that sent North Dakota to the Frozen Four.
"Not only did he make the saves, he looked good doing it," St. Cloud State coach Bob Motzko said.
North Dakota advanced to the Frozen Four for the seventh time in Dave Hakstol's 11 years as coach. Hakstol is 7-2 in regional championships, but has never won a national title.
It was great team effort by everybody in our locker room," Hakstol said. "It was a great battle with St. Cloud State."
Drake Caggiula scored what proved to be the winner at 6:49 of the second period when his shot was stopped by goalie Charlie Lindgren and ricocheted in off a St. Cloud defenceman. It was a team-leading 18th goal of the season for Caggiula.
Luke Johnson scored an insurance goal at 2:53 of the third period to make it 3-1.
"Obviously, playing so close to home, the fan support that we had was crazy," Johnson said of Scheels Arena, which is 70 miles south of the campus in Grand Forks. "The fans were so loud. Sometimes it's hard to hear yourself talk on the ice."
North Dakota (29-9-3) received a rare goal from senior defenceman Andrew Panzarella, who was called on to play in just his ninth game of the season after regular defenceman Keaton Thompson went down with an illness. Panzarella, who had not played since Jan. 24, notched his first goal of the season and just his 10th career point in 77 games.
"This morning I knew we had some guys that were feeling a little under the weather," Panzarella said. "It's something that's always been under control and you always work hard to be where you are."
Panzarella joked with fellow defenceman Troy Stecher before the game that he was going to score and "do the sword through my belt."
McIntyre finished with 19 saves, including 10 in the third period when St. Cloud tried to rally. Lindgren, his counterpart, had 22 saves.
The Huskies pulled Lindgren with more than 2 minutes remaining, but Colten St. Clair sealed it for North Dakota with an empty-net goal with 41 seconds remaining.
"It was typical North Dakota, I guess. Playing hard, especially in our zone," St. Cloud defenceman Ethan Prow said. "They would get in on us and put pressure on us."
St. Cloud (20-19-1) dominated the opening minutes and scored at 1:29 when Jimmy Murray controlled the puck after a faceoff and put a shot through the legs of goalie Zane McIntyre. North Dakota did not have its first shot on goal until nearly 7 minutes into the game, and that was a backhand lobbed into the zone from centre ice.
North Dakota dominated the second period, outshooting the Huskies 11-4 and taking a 2-1 lead into the third period. UND is now 25-0-2 when leading after two periods.
The Frozen Four is April 9-11 in Boston. North Dakota won the last of its seven NCCA titles in 2000.
Motzko said he's proud of his team's effort and St. Cloud "could have had a little better fate" without some mistakes that led to UND scoring opportunities.
"It hurts today to have it end," he said.