Notes from day two of Maple Leafs training camp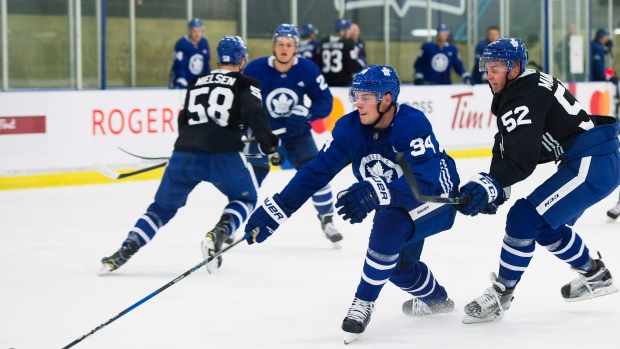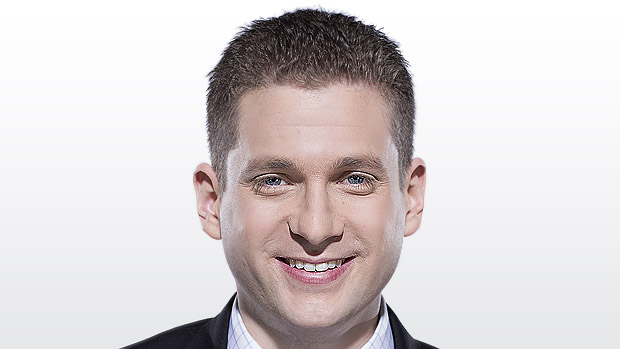 The Toronto Maple Leafs held the second day of their training camp on Saturday at the Gale Centre in Niagara Falls, Ont. TSN reporter Mark Masters checks in with news and notes from the day.
Morgan Rielly is feeling a sense of urgency to raise his level this season. "I feel like I have a lot left to improve on," he said. "I'm going into my fifth year now and it's time to do that."
Rielly focused on the offensive side of the game during the Summer. "Not so much carrying the puck up the ice, but more in-zone creativity and being more creative with the puck," he explained. The 23-year-old attended a skills camp with that in mind.
Rielly's new defence partner likes what he sees so far. "Great skater, he's got great smarts, probably just scratching the surface of his offensive ability," Ron Hainsey noted. "Again, it's so early in his career. You hope the guy's going to be here 15 more years and probably just scratching the surface of what he's going to be able to do at his peak."
Fresh off a Stanley Cup run, Hainsey was signed as a free agent by the Leafs in the Summer. Mike Babcock expects the savvy veteran will help Rielly do more offensively. "Hainsey's a smart guy, who has been around a long time (and that) is probably going to free up some room for him," the coach explained.
Babcock pointed out that a high ankle sprain sustained in mid-January slowed Rielly down last season as he posted 27 points in 76 games. The coach believes that staying healthy and playing the left side more consistently will help Rielly take another step this year. Hainsey is a lefty, but played the right quite capably with the Penguins.
Rielly spent most of last season paired with Nikita Zaitsev, but the duo was split up late in the season after a string of ineffective play.
It's very early, but Rielly doesn't anticipate a difficult adjustment period with Hainsey.
"It's not night and day when you change partners," he said. "It's almost just getting used to his voice when he's talking to you and calling for the puck. It's just my timing and his timing and where he likes to receive passes, because he's playing the off side so that's one thing (to work on)."
Off the ice, the chemistry is coming along nicely. Rielly has picked Hainsey's brain about last Spring's post-season. "Just yesterday we were talking about it," Rielly noted. "Not so much the grind of it, but what it was like and how it happened and what was going on during that time period. It was cool to talk to him about that stuff. I'm obviously very interested in it so you sit down, you have a 20-minute conversation, you get to know each other a lot better just by common interest and you get to learn about what it takes."
Rielly isn't the type of guy who tunes out the playoffs after his season ends. He was watching closely after Toronto fell in six games to Washington. So, of course, he noticed Hainsey's solid play. But Rielly was quick to point out that even before that run he was well aware of the 36-year-old. "Even when he was in Carolina, playing against him, I mean, we have our pre-game meetings about our opponent and you talk about how good he is defensively and how good his stick is and the way he picks up passes and the way he boxes out in front of the net."
As for Hainsey, he's not struggling to pick up Babcock's system at all. After playing the last few years in Carolina under coach Bill Peters, a Babcock disciple, there's not much he has to adjust to.
"It's basically the same," Hainsey said. "A lot of it is using your skating, your stick play to not let the other team really get into your zone with the puck with control … It's basically exactly the same as Carolina's system."
***
Rielly found out that he would be paired with Hainsey courtesy a call from Babcock in July. It was one of several check-ins by the coach during the off-season.
"He loves keeping in touch and it's not always what you think it is," Rielly said with a grin. "It's not always him grinding on you about anything. It's pretty friendly. One day I was on the golf course and he called me and it's easy. It's not like you're talking to the principal. You tell him you're on the course, he tells you to hit it straight and hangs up the phone. He just wants to touch base and see how you're doing."
"I try never to talk about hockey at all when I touch base with them until later in the Summer," Babcock, a father of three, explained, "just catching up and seeing how they're doing. I got young people in my house and they leave and they like when people talk to them. People like to be talked to and people like to know you care about them and I like our guys. I care about them and want them to do well so I like to touch base and find out what's going on."
***
Unlike Hainsey, Timothy Liljegren needs some time to adapt to Babcock's system.
"It's kind of different from Sweden," the 18-year-old said. "It's more North-South and it goes a lot faster so just trying to adjust to North American hockey … It's going alright. Still trying to learn the structure and stuff like that, but doing pretty solid so far."
Does he like this style of hockey? "It's going a lot faster and you get more scoring chances and stuff like that so I enjoy it so far."
What would be better for his development: playing in the AHL or returning to Sweden this season?
"It's tough to say," Liljegren admitted. "It's obviously good for me to play here and learn the system and stuff like that, but I think the most important thing for me is to get ice time. If that's here or in Sweden, it's up for Toronto to decide."
One day in the not-so-distant future Liljegren hopes to patrol the blue line in the NHL and when that day comes he may end up playing alongside Travis Dermott. The pair of prospects have been skating together early in training camp.
"He's a player that doesn't take too long to get used to," said Dermott, Toronto's second round pick in 2015. "He's a very skilled guy and he understands his surroundings out there and if I'm open he'll find me."
The duo were also paired together during a game at the recent rookie tournament.
"We got the chemistry going there and we talked about it and we're like, 'Let's keep this chemistry going through camp,'" Dermott said with a smile.
"He's a strong skater," Liljegren said. "He talks (a lot) and he wants the puck as well so I think we have some good chemistry."
***
After missing Friday's sessions with an upper-body injury, Nazem Kadri returned to action on Saturday skating with free-agent addition Patrick Marleau and usual running mate Leo Komarov. Kadri estimates it will take a couple games to get the chemistry really going.
Komarov, who lined up on the left last season, has flipped to the right to make room for Marleau. "It won't take him long (to adjust)," said Kadri of Komarov. "He's played on the right side before. It has been a while so it might be a little awkward at first, but Leo is usually pretty good at making things up on the fly."
All three players on the line are lefties, but Kadri doesn't believe that's an issue. "You're taking lots of passes on your backhand throughout the game anyways no matter if you play on the left or right side ... For Leo, it will be a little bit different, but he's usually good with both sides."
After Saturday's scrimmage, the players took part in a shootout drill. Kadri, William Nylander and Nikita Soshnikov scored some nice goals. Toronto was 1-8 in the shootout last season and Kadri wants that to change this season and has been workshopping some new moves.
***
Babcock has repeatedly pointed out that Toronto has 10 top-nine forwards so someone, assuming everyone stays healthy, will need to start on the fourth line. Connor Brown appears to be the odd man out at the moment as he has skated alongside Miro Aaltonen and Matt Martin at camp.
Brown, who scored 20 goals in his rookie campaign, started last season on the fourth line before working his way up. "I don't think what I do on the ice changes whoever I play with," he said. "I try to stay consistent."
What was Brown's focus in the Summer? "Strength," he said. "Strength is big especially down low in the zone, protecting the puck. The game's played below the dots a lot at the NHL level. That was an area of improvement." That doesn't mean it was all about hitting the weight room and adding muscle although that was part of it. "It does start of the gym, for sure, but it's a lot of rolling off checks and protecting the puck."
***
On Friday, a grinning Babcock noted Zaitsev was missing from camp due to a "middle" body injury that wasn't serious. On Saturday, the real reason for the absence was revealed: