Nunes retains women's bantamweight title at UFC 215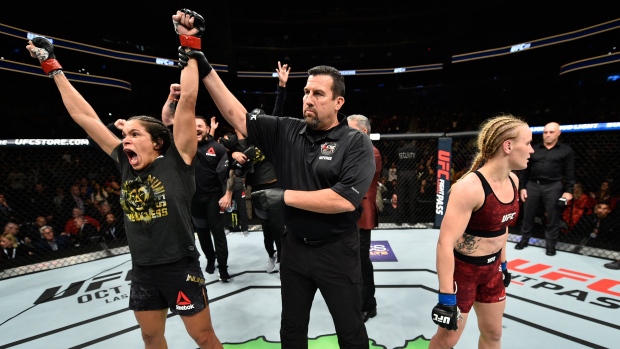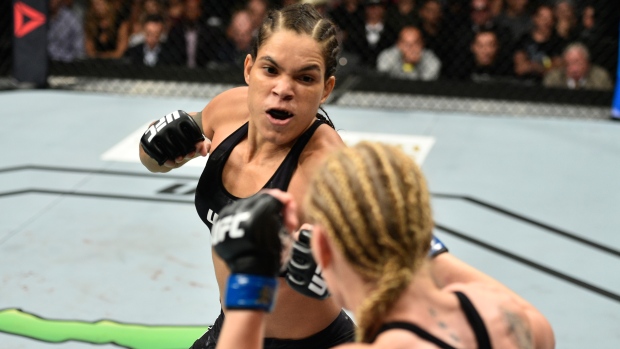 EDMONTON — Brazilian brawler Amanda Nunes successfully defended her bantamweight title Saturday night, defeating Valentina Shevchenko by split decision at UFC 215 at Rogers Place.
It was a tactical fight with few extended skirmishes until Nunes, now 15-4-0, took Shevchenko twice to the mat in the fifth round.
The fans often booed and chanted "Fight, fight fight!"
It was the second time Nunes had beaten Shevchenko in 18 months. Nunes, nicknamed The Lioness, took a unanimous decision over Shevchenko at UFC 196 in March 2016.
The two were set to fight in July at UFC 213, but Nunes pulled out the day of the fight with sinus issues.
Nunes 29, has smashed her way to the top of her class like a wrecking ball over the past 14 months. She bloodied and submitted Miesha Tate in July 2016 to take the belt, and then defended it successfully in December with a 48-second dismantling of MMA superstar Ronda Rousey.
Shevchenko, from Kyrgyzstan is now 14-3. She stood at the side of the octagon and shook her head as the decision was announced.
Also on the main card, in a bout with a potential title shot on the line, former lightweight champion Rafael Dos Anjos submitted sixth-ranked Neil Magny with an arm-triangle choke at 3:43 of the first round of their welterweight battle. The 10th-ranked Brazilian is now 27-9-0.
No. 2-ranked flyweight Henry (The Messenger) Cejudo, looking for another title shot against Demetrious Johnson, nailed Wilson Reis of Brazil square in the jaw, dropping him to the mat, then ground pounding him into a knockout win 25 seconds into the second round.
Swedish veteran Ilir Latifi lived up to his Sledgehammer nickname, lifting up and pile-driving Australian upstart Tyson Pedro head first to the mat in a light heavyweight tilt. Latifi won by unanimous decision.
Gilbert Melendez, dropping down to make his debut in featherweight, was cheered as he staggered up repeatedly from the canvas while taking a hellacious flurry of kicks and punches from eighth-ranked Jeremy Stephens. Stephens won by unanimous decision.
There were five Canadians on the undercard.
The highlight was Sarah (Cheesecake) Moras of Kelowna, B.C. Pinned to the canvas by California's Ashlee Evans-Smith in the opening seconds of their bantamweight fight, she worked herself into position to submit Evans-Smith with an armbar at 2:51.
The lone heavyweight contest of the night saw Arjan Bhullar of Richmond, B.C., win his UFC debut with a unanimous decision over Luis Henrique. Bhullar brought the crowd to its feet in the second round, literally putting the 245-pound Brazilian up on his shoulder then slamming him to the canvas.
Vancouver's Kajan (Ragin') Johnson knocked out Adriano Martins of Brazil 49 seconds into the third round of their lightweight bout.
Edmonton's Mitch (Danger Zone) Clarke was TKO'd in the second round by Missouri's Alex White in a lightweight clash. Afterward, an emotional Clarke, 31, announced he was hanging up the gloves.
In a featherweight fight, Newfoundland's Gavin Tucker was mercilessly grounded and pounded by Iowa's Rick (Gladiator) Glenn en route to losing a unanimous decision.
Ketlen Vieira of Brazil, ranked 13th, made a statement by submitting sixth-ranked American Sarah McMann with an arm-triangle choke late in the second round of their bantamweight bout.