Nurse's Raptors intend to think outside the box
Raptors president Masai Ujiri was looking for a "new voice" when he made the controversial decision to fire longtime head coach Dwane Casey just over a month ago. One of the things he likes about new coach Nick Nurse is that he's not afraid to challenge conventional wisdom, get creative and try something different, Josh Lewenberg writes.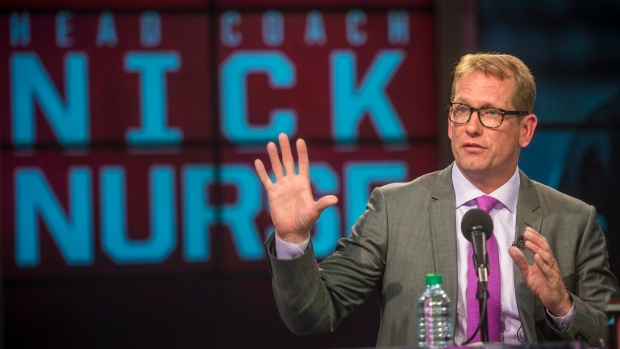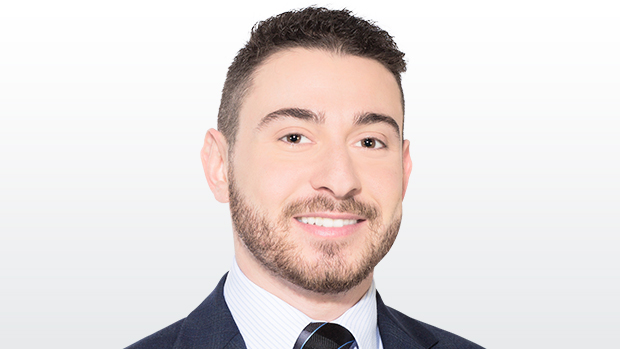 TORONTO – Raptors president Masai Ujiri remembers the first time he met his new head coach, Nick Nurse.
It was in the mid-'90s. Ujiri was nearing the end of a short-lived, but well-travelled playing career. His team, the Derby Storm – formerly of the British Basketball League – was facing the Birmingham Bullets, coached by Nurse. Both men would have been in their late-20s at the time.
"He played really hard," Nurse said of his boss, with a laugh. That's not exactly a ringing endorsement of Ujiri's skill level, but perhaps it explains why he wears a tailored suit to work instead of a basketball jersey these days.
Nurse has been in coaching for almost three decades, with most of that experience coming at the front of the bench. That team was one of the first he led. What does Ujiri remember about them?
"There was always something about the Birmingham team that was different from the [rest of the] league, I remember that," he said, all these years later. "People would talk about them that way. I can't remember what it was [specifically], but I knew [they were different]."
Different. That's what Ujiri was looking for after making the controversial decision to fire long-time head coach Dwane Casey and begin the search for his replacement just over a month ago.
He wanted a "new voice", which was the primary explanation he offered up when breaking the news to Casey, according to a source, and just about the only one he used with the media later that day. So, for some, it came as a surprise when word of Nurse's promotion leaked out earlier this week.
The Raptors had let a Coach of the Year finalist go, only to replace him with his assistant? You can understand why some eyebrows were raised, why people might wonder whether an internal guy is different enough to be the new voice that was promised.
Sure, on the surface the optics of this hiring aren't great, but Ujiri hardly concerns himself with optics. He's never cared about winning the headline. His priority is and always has been winning basketball games.
In eight years as a top NBA executive, this was Ujiri's first ever head coaching hire and, as you can imagine, he did his due diligence. He hired a leadership consultant and conducted at least nine interviews with at least seven candidates before deciding on Nurse.
What stood out about Nurse in this process is the same thing Ujiri has always admired about the 50-year-old Iowan: he's an outside-the-box thinker, who's not afraid to challenge conventional wisdom, get creative and try something different, whether it's ultimately successful or not.
"He thinks the game differently," Ujiri said after officially introducing Nurse as the ninth head coach in Raptors franchise history on Thursday. "In the NBA, we're a copy-cat league. That's what we are. We copy everything that everybody else is doing. I'd love not to be that and go different ways, whether they are new, whatever they are. Sometimes they might fail, but what's the next best thing?"
"I think the game in general is changing so fast right before our eyes," Nurse echoed. "I think it's changed so much in the last five years, it's changed so much in the last three years. So I think the leadership that I'm bringing and the coaching staff that we'll eventually hire, we've gotta be innovative, we've gotta be trying to think of what's coming next before it comes next if we want to stay ahead of the game."
"We wanna be creative. I think you're gonna see some different things. There's probably gonna be some uncomfortableness at times when we try things that are maybe a little too far outside the box, but again, the season's a process."
Now, to be fair, it's not like Casey isn't adaptable. He was open to change, at least when he needed to be, evident in his willingness to oversee the front office mandated culture shift last season.
However, Nurse isn't just open to change. It's his mantra. Dating back to his early days as a player-coach with – ironically – Derby, a few years before Ujiri played there, Nurse has always explored different ways of approaching the game. It's one of the reasons he left his hometown Iowa Energy of the NBA Development League, having just won a championship there, to coach the Rio Grande Valley Vipers – affiliate of the Houston Rockets. There, he learned from Rockets general manager Daryl Morey in a program that has become renowned for their innovative, analytically driven style of play.
To his credit, Casey has always empowered his assistants, delegating more than most head coaches. Still, as an assistant your job is limited and your tasks are pretty specific. Nurse, like the rest of the assistants, was in charge of game prep, which consisted of tedious film sessions and research. Yes, he also oversaw the offence, but all that assistants can really do is make suggestions. At the end of the day, the head coach makes the decisions, manages the rotation and calls the plays. Now that falls on Nurse, which could give him an opportunity to blossom, but it also comes with pressure to push the right buttons.
"I think if you're going to be a little bit innovative or risk taking sometimes you're going to be wrong and it's going to look bad," Nurse admits. "I understand that. That's one of the things I learned going to work for the Rockets at Rio Grande. I know it's the D-League and no one cares, but they were encouraging me all the time, do this, try this, if it doesn't work, throw it out, if it works, keep it. I'm not saying it's a hundred things a game but there are some things, some ideas that I have that I want to try and do and we gotta try them. If they don't work, I'll stand in front of you guys, take the heat."
Of course, the general concept of the sport is as basic as it gets: score more points than the other team. Nobody is reinventing the wheel, in that sense. But game strategy is constantly shifting and it's important to be on the right side of each trend, or at least be quick to adjust to them.
Ujiri and Casey had a long and productive working relationship, but Casey will always veer towards a more traditional way of seeing the game, and this is the way Ujiri has wanted his team to play for some time. He wants them to be proactive instead of reactive, to be trendsetters instead of the team that's trying to catch up.
The reality is there are two pretty crucial things that the league's trendsetting teams tend to have in common. One: they have a coach that's willing to take risks, be bold and try something different, and two: they have great players, verging on transcendent, that are talented enough to create matchup problems and force other teams to emulate how they play. Without the latter ingredient, the former isn't going to get you very far.
Those Phoenix Suns teams under Mike D'Antoni didn't speed up the tempo because they ran a lot. They changed the game because they had Steve Nash. His Rockets team isn't making people rethink their shot spectrum because they shoot a bunch of threes. It's because they've got James Harden and a supporting cast that fits their unique style of play. Also see: Warriors, Golden State.
The hiring of Nurse was a big decision for Ujiri and the Raptors, but it's only the first step, assuming the goal is to be different. This is the challenge they're faced with as next week's draft approaches and the free agency period opens 10 days after that.
Nurse is a different type of coach than Casey. Whether different means better or different means worse remains to be seen. Under their new head coach, the Raptors have an idea of how they want to play and insist they're not afraid to tinker along the way, even if some of the things they try fail in spectacular fashion. If nothing else, it won't be boring.
Still, they can't expect a drastically different result unless they go out and upgrade the roster, tailoring it around this new philosophy of theirs. This is a crucial summer for the franchise, but if exchanging head coaches is the biggest change they end up making, it isn't likely to be a successful one. Now the real work begins.