Nylander a continuous project for Babcock
Mark Masters, TSN.ca Staff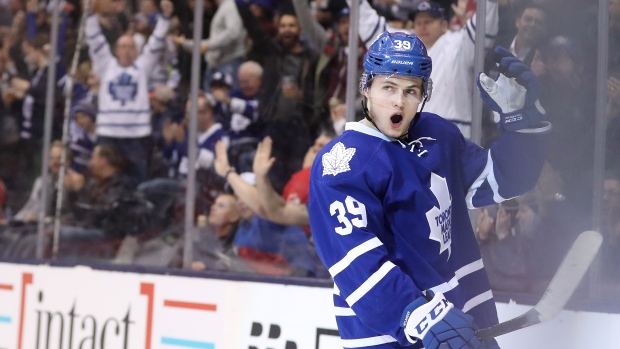 William Nylander posted the third multi-point game of his now 18-game NHL career, but Mike Babcock continues to push and prod the teenager to be a more complete player. Asked about the Swede's explosive speed, the head coach offered up this: "When he's going toward the offensive zone he's very explosive, we got to get the same thing going the other way." Although Babcock also lauded Nylander's compete level tonight and his passing ability noting that some of his teammates weren't able to handle them tonight. "William's definitely getting there," said linemate P.A. Parenteau. "He's had a little bit of a dip in his play in the last few games maybe, but he's always going to be dangerous. Every time he gets the puck he's dangerous, because he skates so well with it."
Garret Sparks took responsibility for tonight's loss. "I didn't make enough saves to win," the 22-year-old rookie said. "All I had to do is make four saves in the third period to get us to overtime and I couldn't do it." Detroit only had four shots over the final 20 minutes and just 26 in the game overall. What happened on the game-winning goal? "I just didn't re-adjust when the puck got poked off (Darren) Helm's stick and I picked up (Kyle) Quincey coming in a little too late and he made a good shot, but it's a save I need to make. The first goal wasn't especially great either. They had their looks on the power play and I think that was probably one of their least dangerous shots and it went in." This morning, Sparks had spoken about feeling calmer in net of late, especially against Buffalo on Thursday. How did he feel tonight? "I felt calm, but at the end of the day you have to get in front of the puck too so there's more to it than just being stoic in net." Sparks now has an .888 save percentage in 10 games since the James Reimer trade. "I don't like the repetition with which things are happening," he said. "Ideally, it would happen to me once and I'd learn from it and I'd move on, but I keep making the same mistakes so I'm going to have to learn from them eventually."
Nazem Kadri explained what happened on the play in the second period where he took a cross-checking penalty on Luke Glendening. "We were just battling in the corner there and we just got into a bit of a wrestling match and my helmet ended up coming off and, obviously, he's my guy going to the net so I tried to get back to the net and get him as much as possible and I think my cross-check kind of rode up on his shoulder a little bit and, yeah, that's a penalty for sure."
Babcock has been urging Kadri to play the middle of the ice on the power play even though the centre feels more comfortable on the flank. The 25-year-old admitted it has been an adjustment. "It has, but I think I can get used to it," Kadri said. "Obviously, I'm a player that likes to control the puck and on the half wall you certainly get to do so and you get a little more time with it. But, I mean, a lot of goals come from the middle of the ice and that middle man seems to be scoring a majority of the time and that's probably where 85-90% of the goals are being scored on the power play. I'm just getting adjusted to it. The more I play there the better I'll get, but I think I've got off to a good start." Kadri has four power-play goals this season with three of them coming in the last six games.
The Leafs have the day off on Sunday.