Nylander fighting his way toward NHL, literally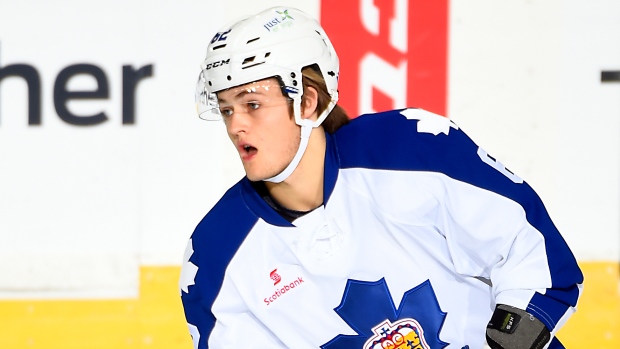 TORONTO – William Nylander is a man on a mission. Yes, to get to the NHL and hopefully soon. But, more than anything, to be the best version of himself.
That quest led him to Toronto's OpenMat Mixed Martial Arts gym recently where well-known MMA coach Jorge Blanco introduced him to the sport of boxing. Blanco has worked with Rich Clune, Nylander's teammate with the Toronto Marlies.
"It's funny, if you can imagine, the one guy on the team who's been bugging me for a month saying, 'Hey, Cluner, I want to come to boxing, I want to come to boxing,' I bet nobody would guess it's William Nylander. But, that says a lot about who he is," Clune said with a wide smile.
Clune, a veteran of 122 NHL games, including two this season with the Maple Leafs, plays a gritty style, which sees him fight occasionally. Nylander, meanwhile, leads the American Hockey League in scoring with 23 points in 17 games.
"You look at the kid and he's probably the last guy who needs to do anything like boxing or fighting," said Clune. "On behalf of everyone around here, hopefully his gloves never have to come off. His hands are a lot more valuable with his gloves on and, as long as I'm here, nobody will be touching him. And yet, he wanted to go try it."
Why was Nylander so driven to get a taste of The Sweet Science?
"You learn little things and I'm just a guy who wants to take everything and try and learn as much as I can," the 19-year-old explained.
"You look at an elite athlete like that, they always want to master something, they look at anything and say, 'Oh, I can do that,' and he's got that mentality," said Clune. "He picked it up within the hour. It was cool to see him wrap his mind around everything and within the hour he was snapping right crosses. It was impressive."
Nylander was less enthusiastic about his performance noting, "I think I was alright, I mean, for the first time."
Nylander has made it clear his No. 1 goal this season is to play in the NHL. And Toronto's first-round pick, eighth overall, in the 2014 draft, is making a compelling case. But the organization is determined to stay patient with its prized prospect, which Nylander understands.
"Oh yeah, I mean, of course, I respect their approach," he said before boarding a bus to Syracuse for a game Friday night. "They want to try and get it right. I've never been in this situation before so I just listen to them and hear what they have to say."
What they've been saying is that he needs to prove he's mastered the AHL level. Nylander needs to improve his play without the puck, his play in the defensive zone and be better on face-offs.
"We've seen some strides where he's making good decisions, staying below the puck and stopping on the puck, but it's a work in progress, definitely," said Marlies head coach Sheldon Keefe. "As good as his game has been offensively, and it certainly has been, he's leading the league in scoring at 19 years old, there's a lot left there that he can do better away from the puck. We're going to continue to stay on him about that and about just remaining more competitive in our own zone. The more he does that the more he's going to have the puck himself."
Nylander has heard the message loud and clear. After practice ended on Thursday he stayed out for extra work. He and Nikita Soshnikov were the last two players on the ice. They put in an additional 45 minutes of work before Nylander finally carried the bag of pucks off the ice. This isn't a rare occurrence.
"Willie is very much a self starter," said Keefe. "We've got a lot on his plate here that we put on his plate that we want him to do, but he's a guy who has a lot of things that he wants to tackle himself and he's pretty conscious of what his issues are in his game and what he wants to work at. Even though he's leading the league in scoring, he's constantly looking at ways to refine that. He really works on his game on and off the ice. He's not a guy you have to ask twice."
Nylander's teammates have certainly taken notice.
"He's out there every day and you can tell the kid loves hockey more than anything else and he wants nothing more then to play a long time in the NHL and he's putting in the work," said Marlies goalie Garret Sparks.
So what was Nylander working on specifically after practice on Thursday?
"Just little things," he said. "Trying to keep my speed up on the ice and shooting. Stuff like that will help improve my (ability to finish) when I get scoring chances."
What must he improve the most to take the next step? "Everything," Nylander said with a matter-of-fact tone. "To get to the next level I think everything has to get better. You want to get faster, stronger, shoot better. It's not just one particular aspect of the game that you want to improve."

Nylander believes his biggest step forward this season has been all about hockey IQ. It took him some time to grasp Mike Babcock's system, which the Marlies also employ. That led to a start to the year, the first eight games or so, that he wasn't particularly proud of. Now, both he and the team are starting to execute the system at a higher level more consistently.
"When everybody buys into it, it works," he said. "Some periods of the game, when we're playing the system really well, the opponents don't really have many scoring chances."
Nylander has watched lower draft picks from the 2014 class get an NHL shot before him, but there isn't a whiff of frustration. That's something his teammates appreciate.
"He's a bubbly kid," said Sparks. "He's happy to be here. He's excited and, you know, a lot of people maybe question why he's here and why he's not up with the big club, but he's making the most of every day he has down here."
"He's an unbelievable kid," said Clune. "His parents obviously did a great job raising him. He's a happy-go-lucky kid, really respectful of everyone around him. All the guys in the room love him."
Nylander has helped the Marlies post a 14-3-1 record to open the season. Teammates rave about his talent.
"His ability to skate with his head up at a very high speed and make those plays that only a few players can make in the game," said Clune when asked what stands out the most. "You see what Drew Doughty can do and Willie kind've reminds me of him even though Doughty's a defenceman. I played with Drew (during the 2009-10 season) and his head is always up with the puck on his stick."
Sparks, meanwhile, marvels at Nylander's ability to adapt and evolve quickly.
"A skill set like that doesn't come around very often and you could see it from the first time he's on the ice with you," said Sparks, a native of Elmhurst, Illinois. "I had my first experience with him right after he was drafted and the first shot he ever took on me was one of the hardest snap shots I've ever seen and I didn't expect it. I skated with him when he was about 13 with his dad back in Chicago (Michael Nylander played for the Blackhawks between 1999 and 2003) and the development from that time to after he got drafted was just wild, like he was a completely different player."
But one more step remains until Nylander reaches the big stage. It's clear that he is completely engaged in the process. He trusts it will lead him to the NHL this season. There's no frustration with the wait, but there is confidence that he can achieve his goal and soon.
"I just got to keep playing the way I am and just try to get better," Nylander said. "I think that it will probably happen, but only if I work hard enough and show I deserve a spot, deserve a chance to play there."