Nylander reunited with Matthews for season debut
Maple Leafs winger returns to the Toronto lineup tonight, skating on a line with Auston Matthews and Patrick Marleau against the Detroit Red Wings.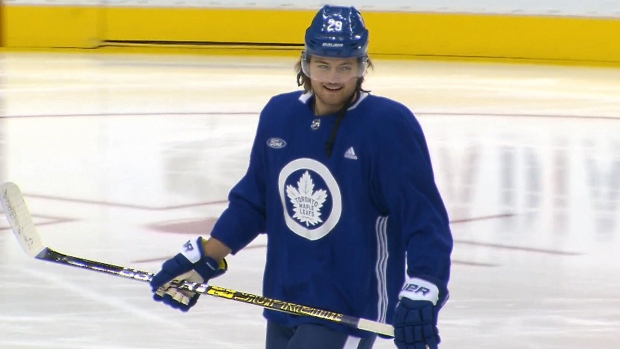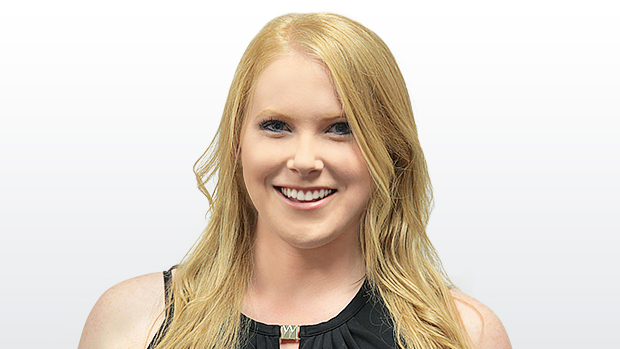 TSN Toronto reporter Kristen Shilton checks in daily with news and notes on the Maple Leafs. The team held a morning skate at Scotiabank Arena at 10:30 a.m. Detroit followed with a morning skate at 11:30.
---
For two months, William Nylander has been keeping tabs on the Maple Leafs from afar, anxiously waiting for the moment he'd be part of the team again.
Tonight, his time finally comes.
"I mean, it's been fun watching them play, but you want to be there as well," Nylander said after morning skate. "I'm just excited to be here finally and joining the boys."
Thursday morning was the first time Nylander had been on the ice with his teammates since ending a months-long stalemate with the Leafs over a new deal. With a six-year extension in hand, the 22-year-old had intended to practise on Wednesday, but Toronto was delayed coming back from Buffalo the night before and ultimately cancelled the session.
"I've been skating by myself so I waiting to practise with the guys and then the bus broke down [on the way home]," Nylander said. "So I was like 'Yeah, okay, just one more day by myself.' I skated two days in a row now with [assistant coach] D.J. Smith, so it's been pretty good."
Having not played an NHL game since last April 25, Nylander isn't setting his personal expectations too high when he steps on to a line with Auston Matthews and Patrick Marleau.
"The pace, and small things that you can't really practise, that'll be a big part of the difference," he said. "I'll just try to skate out there and play simple from the beginning and work my way into the game. That's all I can do. I think the nerves will settle after that and you can relax a bit and play a little better, so we'll wait and see until tonight."
John Tavares doesn't think it will take his new teammate much time at all to feel comfortable again.
"When you have a player of his skill set and the level he can play at, there are things that just don't go away," Tavares opined. "Even if you pick up the stick and you haven't held it in your hand for two or three months. We're going to see why he's a special player, not just tonight but over the course of the rest of the season."
Through 185 career NHL games to date, Nylander has produced 135 points (48 goals, 87 assists) and is the latest addition to a team that scores the second-most goals per game in the NHL (3.64).
But immediately contributing on the scoresheet isn't Mike Babcock's goal for Nylander on Thursday.
"He's got to keep his shifts short, be detailed and work. Everything else is a bonus," Babcock said. "It's going to take him some time no question, we understand that. He skated yesterday, he was strong, great edges, shot the puck, he's an intelligent player. Once he gets back up to speed he'll be really good."
----
Few players in the Leafs' dressing room were happier than Matthews to see Nylander back in the fold. The two have been linemates for the better part of two seasons and Matthews is eager to pick up where they left off.
"We've enjoyed playing with each other. We have good chemistry, on and off the ice, so I think everyone is excited for him to be back," Matthews said. "Seeing him on my line again, I think it gives you a little extra jump knowing the chemistry and friendship we have. Regardless of what happens, we just want to go out there, work hard and have fun and do what we can."
Matthews has been on a torrid scoring pace to date this season, tallying 15 goals and eight assists in 14 games. Like Nylander, Matthews has missed a large chunk of the year, sitting out 14 games with a shoulder injury he returned from only last Wednesday.
Now that both he and his linemate are in action, Matthews wants to see how quickly they can re-establish their game.
"He looks good out there," Matthews said. "He's shooting the puck, he's flying. So I think it goes without saying it's his first game of the season, no preseason or anything, so there's going to be that rust there. But knowing him, it's not going to take him too long to get back and feeling comfortable."
And being with Matthews again should help Nylander get comfortable, given how familiar they are with each other's playing style.
"I know I've had chemistry with Auston before," Nylander said. "[And] now with, Patty he's a great goal scorer and it'll be a lot of fun. I'm really excited to start on home ice and get the season started finally."
Babcock said that while the plan is for Nylander to start with Matthews, if the assignment is too difficult following an eight-month layoff, he wouldn't hesitate to move skaters around. But he's not expecting any extended struggles.
"It's not like he just came out of the blue," Babcock said. "We know him pretty good. We're just going to put him in, no different than if you add an injured player. It's not like trading for a guy or anything like that; it's a guy who's been here, knows what's going on. We've got lots of good players, and we've got to figure out how to get them all ice time and look after them in the right way, so they're all important."
----
The Leafs have already amassed a 20-8-0 record this season without Nylander and, for a time, without Matthews. Yet there's a sense that with all hands on deck, the Leafs can finally explore their full potential.
"The approach from the group and the guys [has been] just staying focused on the way we need to play to have success," Tavares said, "even if that's missing some really key players who make key contributions. Obviously the coaching staff gives us a great game plan and [it's about] just as a group understanding what we have to do with more roles and ice time and taking advantage of that."
For Kasperi Kapanen, Nylander's return signals a change in his opportunity. After playing in Toronto's top six for the last two months, Kapanen (who has 19 points in 28 games this season) slid down from Matthews' unit to the third line with Nazem Kadri and Andreas Johnsson.
That line had been the Leafs' matchup group, but with younger skaters like Johnsson and Kapanen on board, it's unlikely Babcock will chase a hard-match. Rather, Kapanen will be counted upon to keep putting opponents on their heels with his blazing speed and quick shot, two assets Matthews greatly enjoyed having on his flank.
"It's hard to really see anyone beating him in a one-on-one race up and down the ice," Matthews said. "I think Kappy is more of a shoot-first guy. Willy is probably more of a pass-first guy. I've enjoyed playing with both of them, developed some good chemistry with both guys and there are a lot of similarities and a lot of differences as well."
-----
Over the last three seasons, Babcock has only tapped his backup goaltender to play on the second night of a back-to-back, while Frederik Andersen handles the rest of the load.
Thursday's game will be the exception to that rule. Despite the Leafs not playing on consecutive nights and Andersen being perfectly healthy, Garret Sparks will start in net against Detroit.
Babcock was succinct in clarifying his choice, acknowledging a question about whether the decision stemmed from getting rest for Andersen or keeping Sparks involved with "both."
Andersen is having one of the best seasons of his career, with a league-leading 16 wins in 23 starts and third-best save percentage among goalies with at least 10 starts at .931. Meanwhile, Sparks has proven to be a very able backup in his first full NHL season. He's 4-1-0 in five starts, with a .924 save percentage.
----
On Dec. 19, Matthews will be stepping far outside his comfort zone when he joins teammate Mitch Marner on stage as a Canon Doll in a National Ballet of Canada production of the Nutcracker.
"I still don't know exactly what I'm [doing]," Matthews admitted. "It was funny, [director of media relations] Steve Keogh came up and told me and Mitchy he had this request, and of course Mitch jumped at it and wanted to do it. And I was all for it too. It's pretty cool. I think Mats Sundin has done it…so it seems like a pretty big deal. I'm actually a bit nervous for it, but I think it'll be fun, pretty cool experience."
There shouldn't be too much expected of the forwards in terms of dancing, but if there is, Matthews can't make any promises about the quality of his contributions.
"As far as ballet goes, [I have] zero [experience]. As far as other stuff, I'm not terrible," he said. "I'm not exactly the most agile person when it comes to dancing, so it'll be interesting to see how I do there."
----
Projected lineup vs. Detroit:
Forwards
Hyman-Tavares-Marner
Marleau-Matthews-Nylander
Johnsson-Kadri-Kapanen
Ennis-Lindholm-Brown
Defencemen
Rielly-Hainsey
Gardiner-Zaitsev
Dermott-Ozhiganov
Goalies
Sparks starts
Andersen​