O'Reilly: Sabres stuck 'being okay with losing'
Buffalo Sabres forward Ryan O'Reilly said Monday his team has grown used to losing and added he lost his love for hockey times over the past season with the team.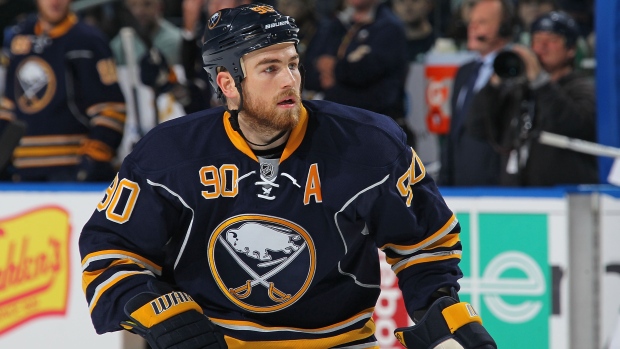 Buffalo Sabres forward Ryan O'Reilly said Monday his team has grown used to losing and added he lost his love for hockey many times over the past season.
"We're stuck in this mindset of just being okay with losing," O'Reilly told the Buffalo News on Monday. "I feel it, too. I think it's really crept into myself. Over the course of the year, I've lost myself a lot, where it's just kind of get through, just being okay with just not making a mistake. That's not winning hockey at all, and it's crept into all of our games.
"It's disappointing. It's sad. I feel throughout the year I've lost the love of the game multiple times. You need to get back to it because it's just eating myself up and eats the other guys, too. It's just eating us up, and it's tough."
O'Reilly, who had 24 goals and 37 assists in 81 games this season, finished second on the Sabres in scoring behind Jack Eichel.
The 27-year-old has spent the past three seasons with Buffalo after playing with the Colorado Avalanche for six years. He reached the postseason twice the Avalanche, but never advanced past the first round.
He said Monday he needs to get back to being fuelled by winning to keep his passion for the game.
"I just hated to lose, and just with everything that's gone on, I just kind of had nowhere to go with it," O'Reilly said. "It was just kind of, 'Oh, it's all right. As long as I did some things well, it's okay.'
"That's how I kind of fell out of love with it, and I miss that. I want to get back to myself."
O'Reilly is under contract with the Sabres through 2022-23 at a $7.5 million cap hit. He was asked Monday if he needs a change of scenery, but answered he wants to help turn the struggling franchise around.
"I really want to be a part of the solution here," said O'Reilly. "I love this city. I love it here. I call it home. There's some good pieces, but yeah, it's a big change that I need to make mentally.
"I've said this so many times that I've got to be a lot better. I hate sounding like a broken record, but I'm going to stick with it. I'm going to keep trying. If something happens and I'm moved, then obviously it's a change that they decide to make. But I want to be here. I want to win here because I feel it would be special here. It's a great city, and they deserve a winning team."
The Sabres have missed the postseason for seven straight seasons.