Off-Season Watch: Golden Summer?
Track the latest news and rumours around the NHL with TSN.ca's Off-Season Watch. In Monday's roundup, the Vegas Golden Knights aggressive approach to free agency, the argument against trading Ryan O'Reilly and the latest on Jeff Skinner in Carolina.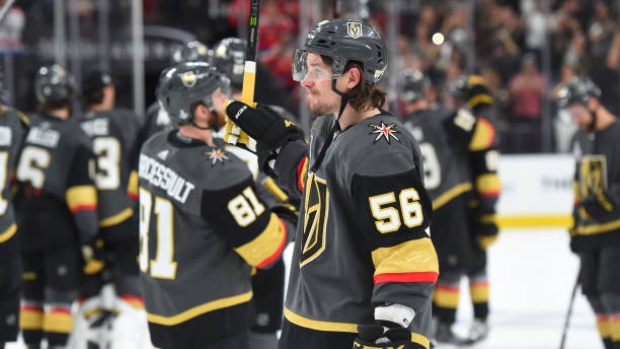 Each day through the NHL Draft on June 22 and up until free agency on July 1, TSN.ca breaks down the latest news and rumours around the NHL.

The Next Step
TSN Hockey Insider Bob McKenzie told TSN Radio 1260 in Edmonton he believes the Vegas Golden Knights will pursue some of the NHL's top available names this off-season, both in free agency and on the trade market.
"I've got a funny feeling they're going to be big game hunting," noted Bob McKenzie during a Friday morning radio hit on Edmonton's TSN 1260. "I think they're going to be using their dollars, their cap space and buoyed by the year they had to get in on all of the big boys.
"So John Tavares, free agent: 'Let's talk to him.' John Carlson, free agent: 'Let's talk to him.' Ottawa going to trade Erik Karlsson: 'Let's talk to them.'
"I think they're wide open for business. I think they're going to be aggressive and use the tools that they've got right now and the basis of the year that they had to not behave like an expansion franchise and get in on all of the big boys if they can."
McKenzie told TSN Radio 1260 that Carlson's salary could reach $8 million on his next contract after a strong post-season. He reported in February that the Golden Knights were close to a deal with the Senators for Karlsson at the trade deadline before it fell through.
The Golden Knights have just $48 million in salary committed to their roster for next season and can free another $5.25 million up by placing winger David Clarkson on long-term injured reserve once again. The team has six players scheduled to hit unrestricted free agency, including James Neal and David Perron and five players set for restricted free agency, including William Karlsson.

---

Road Map
While Ryan O'Reilly has been the most prominent Buffalo Sabre involved in trade rumours, Mike Harrington of The Buffalo News believes the team needs to hold on to the centre this summer.
Harrington believes that the Sabres are poised to take a step forward next season with projected first overall pick Rasmus Dahlin on the blueline and 2017 first-rounder Casey Mittelstadt in the lineup full-time. He writes that having Jack Eichel, O'Reilly and Mittelstadt as the team's top three centres is an envious position for a lot of teams and the Sabres simply won't be able to fill O'Reilly's minutes if he's traded - he averaged 20:49 of ice time per game last season.
O'Reilly is listed at No. 2 on the TSN Trade Bait board and the Vancouver Canucks and Carolina Hurricanes reportedly have interest in the centre. Harrington believes a "starting point" in talks with the Hurricanes would have to be 21-year-old defenceman Noah Hanifin.
While Harrington is all for the team holding on to O'Reilly, he's ready to see the team part ways with defenceman Rasmus Ristolainen. Harrington notes the Sabres are still in need of defenceman, but writes there was a sense Ristolainen wasn't on the same page as Eichel and Sam Reinhart last season, in which he recorded six goals and 41 points.
Jim Matheson of The Edmonton Journal proposed last week that the Sabres could flip Ristolainen to the Oilers for defenceman Oscar Klefbom and Harrington believes a change of scenery could best for him.
He notes it's a risk to trade the 23-year-old, who likely still has room to grow, but notes the risk well less than that of moving O'Reilly this summer.
Ristolainen is listed at No. 16 on the Trade Bait board, while Reinhart, a restricted free agent, is No. 24.

---


Downplaying It
TSN Hockey Insider Pierre LeBrun said last week that Carolina Hurricanes winger Jeff Skinner was a candidate to be moved with the next two weeks.
Hurricanes general manager Don Waddell threw some cold water on that talk late last week, though, telling Chip Alexander of The Raleigh News and Observer that the team has not approached Skinner about waiving his no-move clause.
"We talked about what would be best for Jeff," Waddell said Thursday. "Nothing changed from our end. If there's something out there that makes sense for us and for Jeff, we'll look at it. If not, we'll bring him back."
According to LeBrun, roughly a dozen teams have expressed interest in Skinner, who he believes has a price tag of a first-round pick and a prospect.
"That's a guess on his part," Waddell said of LeBrun's report of the ask for Skinner. "We're dealing with teams and we'll just see where it goes."
Skinner scored 24 goals and posted 49 points last season, he's topped the 20-goal mark in each of the past three seasons and is a two-time 30-goal scorer.
He sits at No. 4 on the TSN Trade Bait Board.
---

Finding A Way Back
Mark Madden of The Pittsburgh Tribune-Review expects Penguins general manager Jim Rutherford to do anything possible to try to keep the team's Stanley Cup window open this off-season.
Madden believes that the Penguins are unlikely to make any major changes to their core this summer, but tweaks are likely.
One player Madden thinks restricted free agent Bryan Rust could be moved since the team has a build-up at right wing. He also wonders if Olli Maatta is moved if Rutherford decides to make a change to his defence core.
The Penguins, who won the Stanley Cup in both 2016 and 2017, were eliminated in the second round of this year's playoffs by the Washington Capitals.