Off-Season Watch: Kovalchuk negotiating with SKA?
SKA president Gennady Timchenko confirmed to Russian news outlet TASS the two sides would be meeting to discuss extension.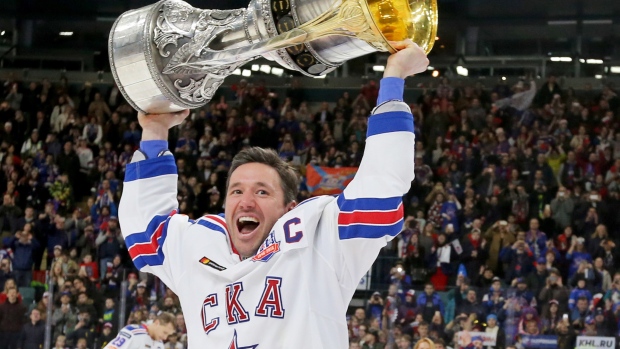 Each day leading up to free agency on July 1, TSN.ca breaks down the latest news and rumours around the NHL.
--
Staying Put?
According to Aivis Kalnins of HockeyBuzz, Ilya Kovalchuk is meeting with SKA St. Petersburg on Thursday to discuss re-signing with the team.
SKA president Gennady Timchenko confirmed to Russian news outlet TASS the two sides would be meeting to discuss extension.
Kovalchuk has made it clear his desire is to return to the NHL, but that would have to come via a sign a trade through the New Jersey Devils. If Kovalchuk returned next July at 35, he could sign with any team.
UPDATE: TSN Hockey Insider Pierre LeBrun reports Kovalchuk is keeping his options open in both leagues. He must wait until Saturday for the window to complete a sign and trade to open and in the meantime he's not closing the door on either league.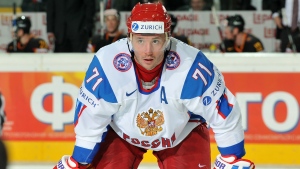 As Kalnins points out, Kovalchuk would miss out on an opportunity to play for a gold medal with Russia at the 2018 Olympics if he joined the NHL.
The 34-year-old has spent the past four seasons in the KHL with St. Petersburg SKA. He finished with 32 goals and 46 assists in 60 games last season, his best in Russia, and has 89 goals and 133 assists in 209 KHL games since leaving the Devils after the 2012-13 season.
The New York Rangers, St. Louis Blues, Columbus Blue Jackets and San Jose Sharks are among the teams who have been linked to the the Russian winger.
In 816 NHL games, the 2001 first overall pick has 417 goals and 399 assists.
--
Calling Karl
Karl Alzner could be headed north of the border on July 1 with the Winnipeg Jets and Montreal Canadiens both pursuing the veteran defenceman.
TSN Hockey Insider Darren Dreger reports indications are that both teams have had discussions with the Washington Capitals blueliner and have strong interest in adding him.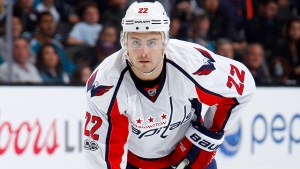 The 28-year-old had a down year in 2016-17 with only three goals and 10 assists in 82 games, but was 13th among NHL defencemen with a plus-23 rating. He said Wednesday leaving Washington is all but a foregone conclusion.
Dreger told TSN Radio 1290 Winnipeg on Wednesday the ask to the Jets will likely be a six-year deal at market value. Alzner is coming off a four-year, $11.2 million contract he signed as a restricted free agent.
Alzner averaged 19:47 of time on ice per game in 82 regular-season contests this season.
--
Pushing Hammond Out?
The Hamburglar could be on his way out of Ottawa after the Senators reached a three-year extension with Mike Condon on Wednesday.
Bruce Garrioch of the Ottawa Sun expects the Senators to ramp up their efforts to trade Andrew Hammond with Condon firmly slotted behind Craig Anderson on the depth chart.
Hammond is entering the final season of a three-year, $4.05 million contract signed in 2015. The 29-year-old owns a $1.35 million cap hit.
He appeared in just six games last season, even with Craig Anderson taking a leave of absence from the team, and posted an 0-2 record. His save percentage sat at .867 with a dreadful 4.08 goals against average.
Hammond put together a masterful run during the 2014-15 season, posting a 20-1-2 record to help carry the Senators into the postseason. That season, he posted a .941 save percentage with a 1.79 goals against average to earn a contract extension.
His numbers began to dip last year as he posted a 7-11-4 record with a .914 save percentage and a 2.65 goals against average.
If the Senators fail to find a trade partner for the struggling netminder, the team could choose to buy out Hammond. A buyout would leave the Senators with a $350,000 cap hit next season and $500,000 cap hit in 2018-19.
--
Devils in the Deal
Andrew Gross of the Bergen Record put together a list of the three potential free agents that the New Jersey Devils could sign on Saturday and ranked Kevin Shattenkirk first.
Gross believes Shattenkirk would perfectly fit the Devils need as right-handed shot who can lead a power play and play top minutes. He estimates Shattenkirk's ask at seven years and $45 million ($6.43 AAV) but believes the Devils will be among the top bidders for his services.
The 28-year-old tallied 13 goals and 43 assists for a career-high 56 points in 80 games between the St. Louis Blues and Washington Capitals this season. He added one goal and five assists in 13 games for the Capitals in the playoffs.
The Tampa Bay Lightning have also been linked to the high-price defenceman.
--
Wealing North
Soon-to-be free agent centre Jordan Weal has met with the Toronto Maple Leafs, Montreal Canadiens and Vancouver Canucks as looks to find his next destination on Saturday.
Weal, 25, scored eight goals and 12 points in 23 games this season with the Philadelphia Flyers.
After being drafted 70th overall by the Los Angeles Kings in 2010, Weal spent time with the Regina Pats of the WHL and the Manchester Monarchs of the AHL before making his NHL debut in 2015. He has played in 37 total NHL games.
He was born in North Vancouver.
--
On the Way Out?
With time ticking down to reach an extension with the Washington Capitals, Justin Williams appears set to hit the open market on Saturday.
The 35-year-old told CSN Mid-Atlantic on Wednesday he has yet to have any serious contract talks with the Capitals.
"I really can't give a number on what percentage I'm here staying, what percentage I'm leaving," Williams said. "I'm not sure. We haven't had very in-depth discussions with Washington so far, so we'll see."
UPDATE: TSN Hockey Insider Darren Dreger reports that Williams have receieved interest from no fewer than 10 teams who are interested in his services.
Williams had 24 goals and 24 assists for 48 points in 80 games with the Washington Capitals. He added three goals and six assists in 13 games played in the postseason.
The veteran winger spent the past two seasons with the Capitals on a deal which paid him $3.25 million annually.
--