Off-Season Watch: Montreal homecoming?
Each day up until free agency on July 1, TSN.ca breaks down the latest news and rumours around the NHL. In Tuesday's roundup, the impact John Tavares will have on the Lightning, a possible Coyotes reunion in Montreal, and a hint that someone could be returning to the Habs on Sunday.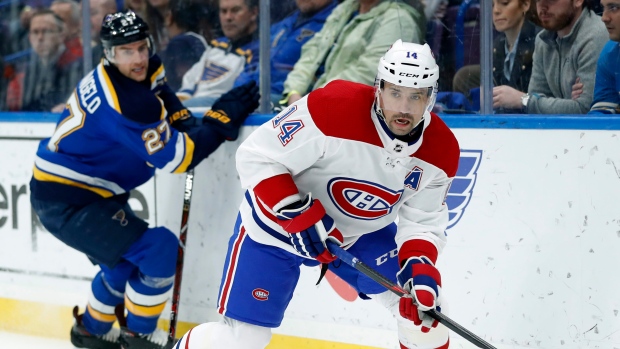 Each day up until free agency on July 1, TSN.ca breaks down the latest news and rumours around the NHL.
Welcome back?
From TSN Hockey Insider Bob McKenzie on Tuesday afternoon:
The Cost of Tavares
The Tampa Bay Lightning are set to sit down with pending free agent John Tavares on Wednesday.
Adding Tavares would make the Lightning an obvious Stanley Cup favourite, but what would be the cost for a team with just $10.5 million in cap space this off-season?
"Well, we would have to make room, we would have to make room," Lightning general manager Steve Yzerman acknowledged to TSN Hockey Insider Pierre LeBrun . "If we brought in a significant salary, we would have to (make cap room)."
Tom Jones of The Tampa Bay Times believes adding Tavares could force the Lightning to move leading scorer Nikita Kucherov in the near future. Kucherov carries a $4.77 million cap hit for next season before becoming an arbitration-eligible restricted free agent. Coming off a 29-goal, 100-point campaign, Kucherov should be in for a massive payout next summer.
Jones adds that if the team can find a way to both keep Kucherov and sign Tavares, several other players will have to be shipped out. He lists Ondrej Palat (carrying a $5.3 million cap hit through 2021-22), Tyler Johnson ($5 million through 2024), Alex Killorn ($4.45 million through 2023), Ryan McDonagh ($4.7 million through next season) and Yanni Gourde ($1 million through next season) as players who could be traded as the Lightning try to free up space.
Jones also writes that the long-term cost of adding Tavares could leave the team unable to sign Mikhail Sergachev or Brayden Point when they reach restricted free agency over the next two years.
Jones believes Tavares will return to Long Island in the end, but cites his interest in Tampa as proof the city has become a marquee hockey market capable of luring the game's biggest stars.
---

Together Again?
With the Chicago Blackhawks opting against giving Anthony Duclair a qualifying offer on Monday, Pat Hickey of The Montreal Gazette wonders if a reunion could be in order between two former Arizona Coyotes in Montreal.
Hickey points out that Duclair has had a friendship with newly acquired Canadiens winger Max Domi dating back to the 2015 World Juniors, where they won gold with Canada. The duo then played together the following fall with the Coyotes, with Domi leading the Coyotes in scoring and Duclair not far behind in their rookie seasons.
Duclair's game has dropped off since his 20-goal campaign in 2015-16 as he's managed just 16 goals in the two seasons since. He scored nine goals and posted 15 assists in 33 games with the Coyotes this past season and reportedly requested a trade from the team. He was moved to the Chicago Blackhawks in January, posting two goals and eight points in 23 games.
Hickey notes that Duclair also played midget hockey with Canadiens forward Jonathan Drouin and can play on either wing. He made $1.2 million last season and is free to sign anywhere on July 1.

---

Just Checking In?
Michael Russo of The Athletic reports Minnesota Wild general manager Paul Fenton requested updated trade lists from leading scorer Eric Staal, starting goaltender Devan Dubnyk and defenceman Jared Spurgeon.
Russo believes, however, that the ask from Fenton was simply a formality he wanted to get out of the way upon taking over the job last month. He believes the Wild will look to make moves on the trade market and will need to do so if they want to be able afford any high-end or even mid-range UFAs. The Wild are once again fairly tight on cap space, possessing $11.2 million in cap space with three restricted free agents to sign in Jason Zucker, Matt Dumba and Nick Seeler.
Should Fenton pull of a move or two to free cap space this week, Russo lists James Neal and David Perron as top-six options the Wild could look to sign. He writes the team could also be interested in Michael Grabner and Jay Beagle when free agency opens on Sunday.
A need for the Wild this week, Russo writes, is a backup goaltender to play behind Dubnyk next season. Alex Stalock posted a 10-10-4 record with a .910 save percentage last season behind Dubnyk, but is on a two-way deal and could be moved to the AHL if the team finds an upgrade.
Carter Hutton (No. 10), Jonathan Bernier (15), Robin Lehner (19), Anton Khudobin (31) and Petr Mrazek (33) are listed as the top five goaltenders on TSN Hockey's Top UFA List.
---