Off-Season Watch: Simmonds on the block?
Track the latest news and rumours around the NHL with TSN.ca's Off-Season Watch. In Wednesday's roundup, Wayne Simmonds may be on the trade block, the latest Cam Talbot's future with the Oilers and who Paul Stastny wants to sign with on July 1.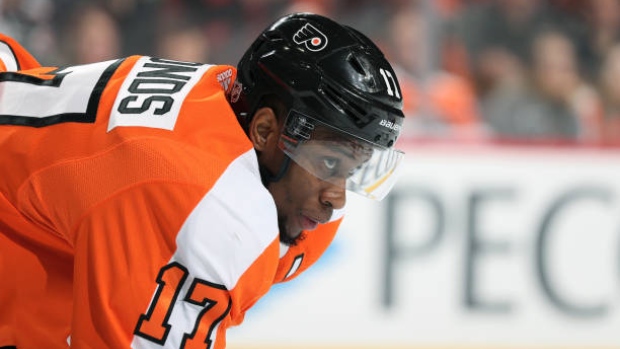 Each day through the NHL Draft on June 22 and up until free agency on July 1, TSN.ca breaks down the latest news and rumours around the NHL.
On the Block?
While exploring trade options for the Minnesota Wild, Michael Russo of the Athletic wrote, according to multiple sources, "the Flyers are gearing to potentially trade Wayne Simmonds."
Flyers general manager Ron Hextall, however, told the Cherry Hill Courier-Post he's looking to add to his roster this off-season. "There's 30 other teams trying to win and we're trying to win," he said. "We gotta try a little bit harder in every area.
"We'd love to add a top player whether it be free agency or trade. We'll try. If we can't, we can't and we'll move forward."
The Flyers will have roughly $21 million in cap space this summer, though Hextall noted he has to be careful to keep cap space open to re-sign players in the near future. Simmonds, who is entering the final season of the six-year deal he signed with Philadelphia in 2012, is likely in for a significant raise from his current $3.975 million salary. Hextall did not mention Simmonds, though, when speaking on the team's key players in need of new deals.
"It's hard to plan, and you have to be careful not to over-plan," he said. "But Provy (Iavn Provorov) is a year away and (Travis) Konecny is a year away. You just go on and on with our kids…and time goes quick. We're certainly not going to reach out on a seven-year deal on a good player, I can assure you that."
Simmonds, 29, scored 24 goals and posted 46 points in 75 games last seasons, but posted consecutive 30-goal campaigns prior to that. He can submit a 12-team no-trade list.
---

All Quiet
Jim Matheson of The Edmonton Sun wrote that the Edmonton Oilers will not be trading goaltender Cam Talbot this off-season, but they're not ready to commit long-term to him, either.
Talbot's agent, George Bazos, told Matheson the two sides have yet to open contract talks - with one year remaining on Talbot's deal - and Matheson believes Oilers general manager Peter Chiarelli may want to wait to see at least how the first part of next season plays out before negotiating.
"I know Cam had a really good exit meeting but I haven't really spoken to Edmonton at all," Bazos said. "I imagine I'll bump into Peter at the draft…but there's no big plans or anything."
Talbot starred in his first season with the Oilers, posting a 42-22-8 record with a .919 save percentage. He finished last season with a 31-31-3 record and a .908 save percentage.
Matheson believes if Talbot fails to rebound next season, he could be sold off as a rental at the trade deadline. Bazos argued though, that Talbot's success will depend on whether the Oilers can improve their play in front of him.
"If you look at the quality shots against Edmonton last year they were one or two in the league," said Bazos. "I don't think there's concern about Cam. They have to shore up other parts (team). If you look at how he played especially down the stretch, he was lights-out.
"I expect at some point, Edmonton will want to talk because it's not easy to find a high-end No. 1 goalie. But at the same time they know Cam likes it there, his family likes it there. It's not like we're jumping up and down to get out of there."
The Oilers signed KHL goaltender Mikko Koskinen to a one-year, $2.5 million contract earlier this off-season and he's expected to serve as Talbot's backup next season.
---

Stastny's Wish List
While Stastny won't draw the same frenzy as Tavares, he's expected to have a market of his own on July 1 and the 32-year-old is starting to narrow down his list of teams.
According to Andy Strickland of Fox Sports Midwest, the Winnipeg Jets and Colorado Avalanche are at the top of Stastny's list, while Adrian Dater of BSN Denver reports the Montreal Canadiens are also high on that list, perhaps even in place of Winnipeg.
Stastny waived his no-trade clause to be moved to the Jets in February and had a strong postseason with the team, posting six goals and 15 points and 17 games. He finished the regular season with 16 goals and 53 points in 82 games split between the St. Louis Blues and Jets.
Jets general manager Kevin Cheveldayoff said last week he's hoping the team can find a way to re-sign the centre - the Jets are projected to have roughly $24 million in cap space this off-season.
The Avalanche, who Stastny spent the first eight seasons of his career with, improved greatly last season, reaching the postseason after finishing dead last in 2016-17. He would join Nathan MacKinnon as the team's two top-six centres, slotting in ahead of Alexander Kerfoot and J.T. Compher.
The Canadiens are believed to be in the market for centres this off-season and would be a sort of homecoming for the Quebec City, QC. native.
---