Off-Season Watch: Trotz sticking around in Washington?
Track the latest news and rumours around the NHL with TSN.ca's Off-Season Watch. In Saturday's roundup, Barry Trotz's future in Washington, whether or not Marc-Andre Fleury sees himself in Vegas long-term and what the Flyers might do with Wayne Simmonds.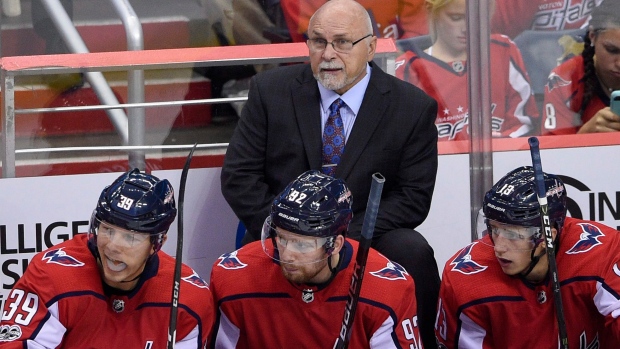 Each day through the NHL Draft on June 22 and up until free agency on July 1, TSN.ca breaks down the latest news and rumours around the NHL.
Trotz sticking around?
Even though they just won the Stanley Cup, the Washington Capitals have some decisions to make.
Head coach Barry Trotz is not under contract for next season and according to TSN Hockey Insider Darren Dreger, Trotz and general manager Brian MacLellan had a conversation regarding his future prior to the start of the Cup Final. Trotz told MacLellan that no matter how the final turned out, he would need some time to sort through things.
But he might be leaning toward staying.
Trotz said after Game 5 that he "absolutely" has a future in Washington.
"He's under contract until July 1," MacLellan said. "If he wants to be back, he'll be back."
"I said to Brian, 'There's no reason that I don't want to be there,'" Trotz said.
Trotz has been the bench boss of the Capitals since the start of the 2014-15 season, guiding the team to a combined record of 328-205-89 over the course of four regular seasons. In addition to the Stanley Cup, Trotz also led his team to the Presidents' Trophy in 2015-16 and 2016-17.
Before his tenure in Washington, Trotz was the head coach of the Nashville Predators for 15 seasons.
Fleury in it for the long haul?
Following their loss in the Stanley Cup, goaltender Marc-Andre Fleury had his eyes on the future.
It looks like that future includes staying in Las Vegas.
"It's weird, a year ago I was told I was getting too old to play. I still love it. I still have a lot of fun," Fleury said. "Certainly, Vegas has given me this opportunity to do what I love, and I wouldn't want to go anywhere else, and hopefully I can finish my career here."
"It was just so disappointing last night to have our season end," Fleury said. "It feels a little crazy that we're not playing anymore. … It's been a great season, a great experience, I'm proud to be a part of this team."
He is eligible to sign an extension on July 1 and can become an unrestricted free agent in 2019 after his four-year, $23 million deal expires.
What will the Flyers do with Simmonds?
Forward Wayne Simmonds is a free agent after next season and will likely to get a big raise on his $3.97 million cap hit according to Dave Isaac of the Courier Post.
If the Flyers can't give him Evander-Kane-type money, Isaac reports that they could offer him a shorter deal in the three-year, $6 million range or deal him prior to next summer.
However, Isaac believes trading Simmonds is unlikely for the Flyers who won't be able to easily replace what he brings "both in terms of his on-ice presence and off-ice leadership." Simmonds has a modified no-move clause and allowed him a submit a no-trade list of 12 teams.
He does not occupy a spot on TSN Trade Bait Board.
In 75 games for the Flyers last season, Simmonds had 24 goals and 22 assists. It's the fifth straight season he has reached the 20-goal plateau.