Oilers acquire D Reinhart from Isles for picks
Griffin Reinhart is headed to Alberta. The Edmonton Oilers acquired the 21-year-old defenceman from the New York Islanders on Friday night for a pair of 2015 picks, the 16th and 33rd selections. Reinhart, a native of West Vancouver, was taken fourth-overall by the Islanders in the 2012 NHL Entry Draft. He made his NHL debut last season, appearing in eight games for Jack Capuano's team and tallied an assist and six minutes in penalties.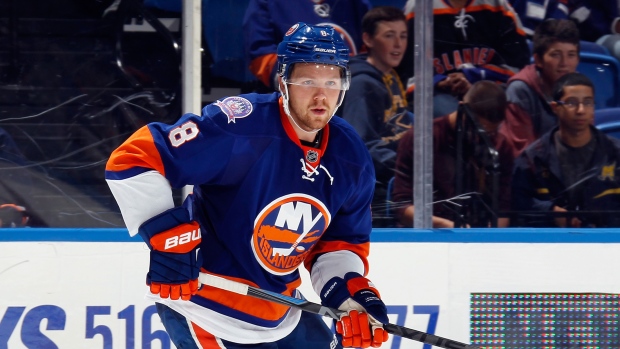 SUNRISE, Fla. - The Edmonton Oilers took another step to try to win now by acquiring defenceman Griffin Reinhart from the New York Islanders on Friday night.
Reinhart cost the Oilers the 16th and 33rd picks in the draft.
The 21-year-old, who was the fourth overall pick in 2012, has just eight regular season games and one post-season game of NHL experience.
"We've been looking for a defenceman," general manager Peter Chiarelli said. "We had some guys at 16 that we liked, but this was something we decided to act on. He's ready to play, and he's going to be a very good part of our D."
Edmonton selected Connor McDavid first overall.
Chiarelli promised he wouldn't trade the 16th pick for a goaltender. The Oilers still need to get a goaltender, but Reinhart fits the bill in improving the blue line, one of the biggest weaknesses in recent years.
"He's a young defenceman and he's still finding his way, but he's big and he's strong and very, very smart and can play a lot of minutes," Chiarelli said. "He's a young D that I'm happy to have in our mix and grow with us."
After the deal, Edmonton could soon feature a defence corps that includes Justin Schultz, Reinhart and Darnell Nurse.
The Oilers were in talks to try to get defenceman Dougie Hamilton from the Boston Bruins. Chiarelli didn't want to comment on that but referenced discussions with former Boston Bruins assistant Don Sweeney that didn't work out.
"At the end of the day it was a different ask and the end result significantly different," Chiarelli said.