Oilers' path back to the playoffs starts on the power play
Connor McDavid can be an even bigger offensive force if Edmonton finds a way to be better with the man advantage, Travis Yost writes.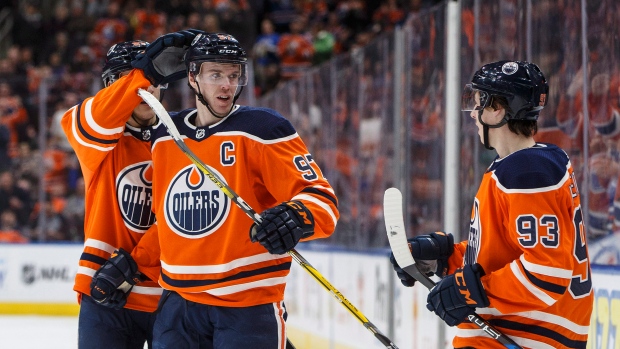 In just three seasons, Connor McDavid has established himself as the National Hockey League's deadliest attacker. Perhaps the most terrifying part for opponents around the league is that, at the age of 21, he's still developing as a professional hockey player.
McDavid's 2017-18 season was extraordinary. On a team flush with underperforming players at every position, he was still able to win the Art Ross Trophy going away. His 108 points (41 goals and 67 assists) were six clear of runner-up Claude Giroux. The league's Most Valuable Player, former teammate Taylor Hall, ended the season with 93 points.
But perhaps the most incredible part of McDavid's season was that he did it on a team that offered absolutely nothing on the power play.
Most players at the top of the scoring race tend to rack up incredible point totals in multiple game states. McDavid did an extraordinary amount of his damage at even strength, with 84 points – a whopping 18 better than the aforementioned Giroux. Keep in mind that 84 points at even strength wasn't just the high mark for players last season – it was the high mark for any player since the 2007-08 season.
The distribution of points accumulated was bizarre, and it is absolutely reasonable to call McDavid's season an outlier. Just look at how he compares against other elite scorers around the league:
It's hard to believe, but 65 different skaters tallied more power-play points than McDavid last season, including names like Brock Boeser (who played 62 games), Rasmus Ristolainen (a defenceman who played for the punchless Buffalo Sabres) and Morgan Rielly (a defenceman who played nearly 100 fewer minutes than McDavid). So as ridiculous as McDavid was at even strength, that same 'indefensible' style of attack didn't translate to the power play.
Edmonton's man advantage woes were exhaustively covered last year. There were criticisms about the structure of the unit, the struggles of blueliners to get the puck through the neutral to attacking forwards and the personnel used by head coach Todd McLellan.
By season's end, Edmonton had converted on a lowly 14.8 per cent of power-play opportunities – good enough for dead last in the National Hockey League. And that was with the sport's most lethal attacker getting ample ice time.
I bring this up because there's a lot of talk as training camps ramp up about whether or not McDavid can beat last year's 108-point total. The short and logical answer to me is yes, but an awful lot hinges on what happens with this Oilers power play. And while I am concerned about how punchless they seemed on most nights, I'm equally concerned about how infrequently they were put on the man advantage.
What gets lost in the shuffle of last year's futile efforts up a man was how few opportunities the Oilers had. Drawing penalties is a skill, and the fact is Edmonton either doesn't have enough guys who can do it on a consistent basis, or had a ridiculously cruel and unfavourable whistle from referees last year. (It's possible both are true.)
Looking at teams from 2013-18, Edmonton had the league's seventh-worst power play by conversion rate. That's terrible, and the problem is compounded when you get only 210 opportunities – the lowest number we've seen over this timeframe: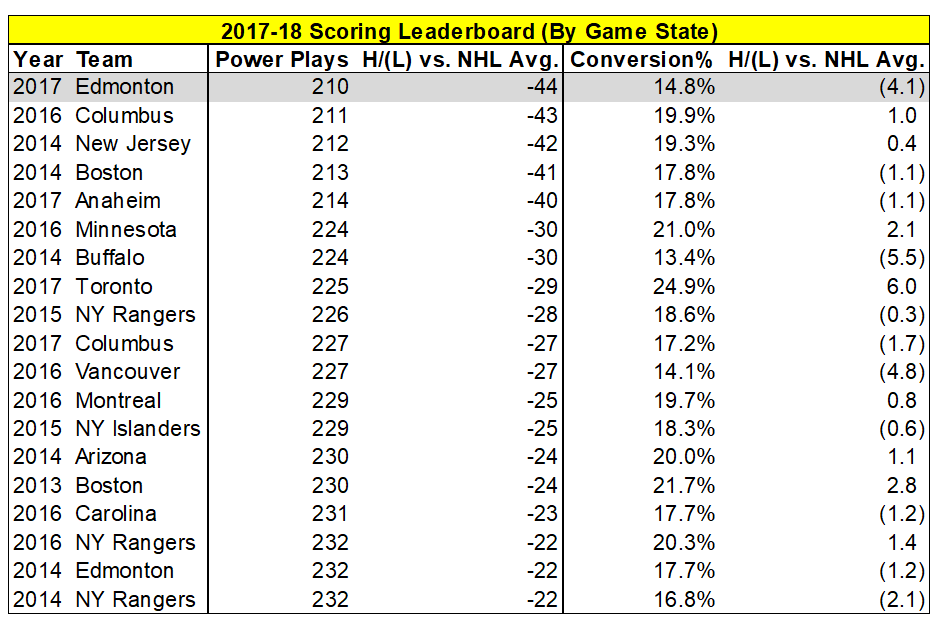 There is no correlation between power-play opportunities and the success rate of a given power play, which means the Oilers present a true doomsday scenario – a team that could rarely get a power play to begin with, and in the rare event they were up a man, they struggled to score.
If Edmonton had just an average power play last season, they would have about 17 goals more over the course of the season. With McDavid's touch rate – the puck is always on his stick, regardless of what phase of game he's in – that would have meant a double-digit increase in his point total. And again, that's with just an average unit.
While the McDavid point race is always fun to watch, the Edmonton power play more generally could be the biggest storyline to follow for a team looking to return to the postseason. The Oilers simply cannot accept another season where they are so reliant on even-strength scoring. Doubly so when you consider that no player or team in the league seems to have an answer for how to defend No. 97.