Oladipo, Magic rally in fourth quarter to down Rockets
Victor Oladipo had 32 points, Nik Vucevic added 25 and 12 rebounds, and the Orlando Magic rallied to beat the Houston Rockets 120-113 on Wednesday night.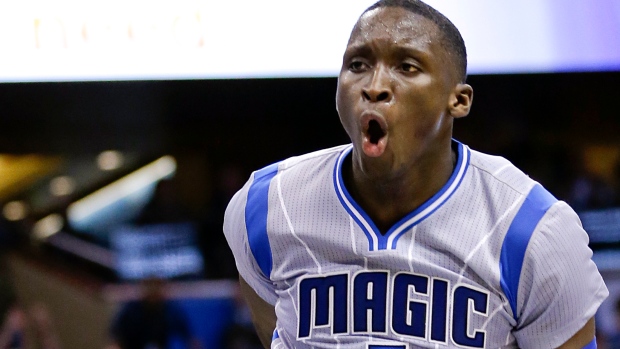 ORLANDO, Fla. - The Magic played some of their best basketball of the season against one of the East's top teams earlier this week to break out of a six-game losing streak.
They picked up where they left off against one of the West's best.
Victor Oladipo had 32 points, Nik Vucevic added 25 and 12 rebounds, and the Orlando Magic rallied to beat the Houston Rockets 120-113 on Wednesday night.
The win was Orlando's second straight, and snapped a four-game Rockets' winning streak. It was the second consecutive 30-point game for Oladipo, who had 33 in the Magic's win at Chicago on Monday.
"I think it took time but we've figured out how to play," Oladipo said. "Now that we've figured it out, we can't change it."
Elfrid Payton and Channing Frye each added 15 points. Orlando improved to 11-1 this season when scoring 100 points or more.
Magic coach Jacque Vaughn said reaching 120 points for the second consecutive game is a hopeful sign for a team that only reached 100 points 10 times in its first 40 games.
"It's a part of basketball — the ball goes through the hole and it carries over to the other end of the floor," Vaughn said.
Houston led 85-84 entering the fourth quarter, but was outscored 36-28 by the Magic in the final 12 minutes.
James Harden had 26 points and 10 assists to lead Houston. Dwight Howard added 23 points and eight rebounds. Howard is now 3-2 against his former team.
The Rockets shot 50 per cent for the game, but were just 9 for 20 in the fourth quarter.
"They got wherever they wanted to with the ball," Rockets coach Kevin McHale said. "We couldn't stop them."
The Rockets made an effort to deny Vucevic touches in the fourth quarter, forcing the Magic to look other places for offence.
Meanwhile, Houston pushed the action and took a 107-104 lead on a layup by Donatas Motiejunas.
The Magic quickly responded, with back-to-back baskets by Payton and a 3 by Channing Frye to nudge back in front 111-107 with 1:20 to play.
Following a Rockets' basket, Vucevic was finally free underneath for a layup, and was fouled. He converted on his free throw to complete the three-point play to make it 114-109 with less than a minute remaining. Houston called timeout.
Payton forced a steal out of that timeout, and found Oladipo for an uncontested two-handed dunk.
It was a big finish for Payton, who was 1-for 7 from the field entering the final quarter, but was 4-for-4 in fourth with a pair of assists.
Frye said he thinks his team is figuring out some chemistry offensively.
"We're playing kind of a new-age basketball with two guards that are attackers, and when you've got floor space, that creates (opportunities) for each other," he said.
___
TIP-INS
Rockets: Outscored the Magic 64-54 on points in the paint. ...Finished with 17 turnovers that led to 22 Magic points.
Magic: Vucevic posted a NBA-leading 24th double-double. ...F Tobias Harris sat out for the third straight game with a sprained left ankle. ...Rookie G Devyn Marble started in his place for the third consecutive time in a three-guard look for Orlando.
THE OTHER FOOTBALL
Four international soccer teams — UEFA Champions League club Bayer 04 Leverkusen, three-time German champion FC Köln, two-time FIFA World Champion SC Corinthians Paulista and four-time Brazilian champion Fluminense FC — attended Wednesday's game. They are playing in the Florida Cup at Disney's ESPN Wide World of Sports on Jan. 15 and at EverBank Field in Jacksonville Jan. 17. Magic officials said 120 international media members were credentialed for a halftime challenge between the teams.
UP NEXT
Rockets: Host Thunder on Thursday.
Magic: Host Memphis on Friday.
___
Follow Kyle Hightower on Twitter at http://www.twitter.com/khightower