One agency controls the CFL's free-agent QB market
Dan Vertlieb's Core Sports Group represents all of the league's big-name pending free-agent quarterbacks, putting the firm in position to shift the balance of power in the CFL in 2019.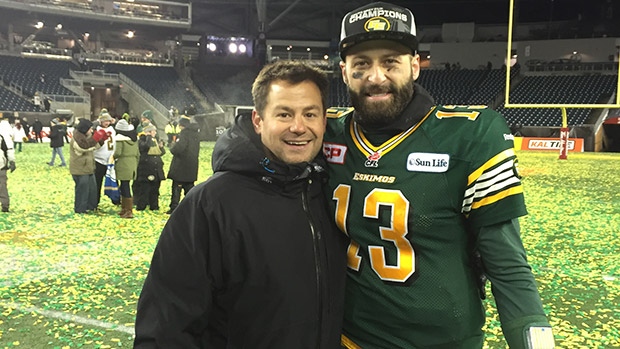 Dan Vertlieb is the biggest player in what is considered to be the Canadian Football League's most robust free-agent market in memory.
A decade after finishing law school and opening his own sports agency, Vertlieb's firm, Core Sports Group, represents all of the CFL's big-name pending free-agent quarterbacks – including its two biggest prizes in Mike Reilly and Bo Levi Mitchell.
Vertlieb has avoided talking publicly ahead of free agency opening on Feb. 12, but the two most recent winners of the CFL's Most Outstanding Player Award are expected to set a new standard for quarterback compensation if they hit the market this week, possibly signing for in excess of $700,000 per season.
Given that he also represents Travis Lulay and Zach Collaros, and is partners with Paul Brown, the agent for Trevor Harris, Vertlieb's influence could significantly shift the balance of power in the CFL in 2019.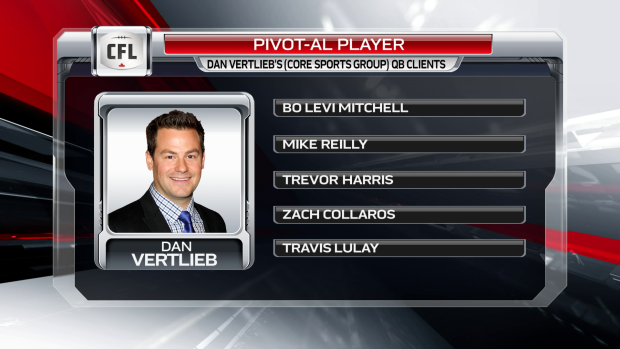 With as many as six teams in the market for a quarterback, Core Sports will control all of the high-end supply and won't have to speculate on where negotiations stand with the other top QBs on the market.
That will make it difficult for GMs to leverage one player against another in negotiations.
"For sure it's different having one group represent them all, but I feel like Dan is a straight shooter and has always been transparent," said Edmonton GM Brock Sunderland. "For me, when I'm negotiating these deals you have to compartmentalize it ­­– one moving part at a time.
"There are so many hypotheticals. I have to focus on the negotiation at hand. I can't go through that rabbit hole of trying to work around the potential connected parts."
It's a long way from when Vertlieb was hired as the BC Lions media relations director in 2003 by former Lions president Bob Ackles, who suggested to the then 21-year-old that he should become a player agent.
Vertlieb kept that in mind while attending law school, following in the footsteps of his father, Art, a prominent Vancouver lawyer who is now general counsel to the CFL Players' Association.
While at Arizona State University, Vertlieb padded his experience working for the Arizona Super Bowl committee in 2007-08 as well as on Major League Baseball on salary arbitration cases in 2009. (He also represents a number of up-and-coming baseball players).
His past association with the Lions helped Vertlieb form his original client base. In 2009 he signed such well-known players such as Geroy Simon, Brent Johnson and Jason Clermont, plus a little-known backup quarterback named Travis Lulay.
By 2011, Lulay was the CFL's Most Outstanding Player and MVP of the Grey Cup, putting him in position for Vertlieb to negotiate a contract that made him the highest-paid player in the CFL at $400,000.
Three more Vertlieb quarterback clients would hold that distinction in the years to come – Darian Durant (2014-15), Collaros (2016-17) and Reilly (2018).
Vertlieb's success with Lulay helped pave the way for the quarterbacks who followed, including Reilly, who was Lulay's backup with the Lions in 2012. That season, the two quarterbacks shared rides to practice each day and Reilly was struck by the personal relationship Lulay shared with his agent.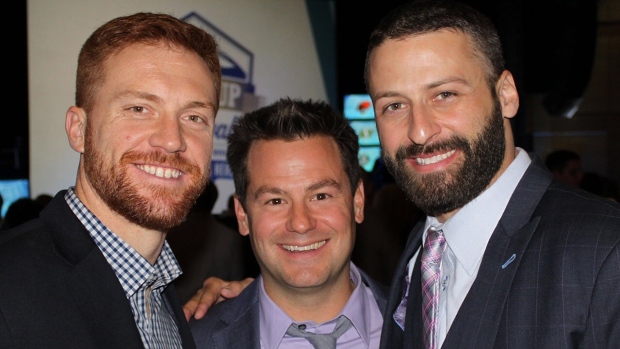 Mid-way through the 2013 season, Reilly switched from his U.S.-based agent to sign with Vertlieb, who negotiated his current four-year deal with then-Eskimos GM, Ed Hervey. That helped open the door for Mitchell and Collaros, who also switched their respective representations to Vertlieb before signing their big contacts.
Does managing so many high-profile quarterbacks mean constantly balancing egos and envy among the group?
CFL quarterbacks are a fraternity (for example, following Edmonton's 48-42 win over Calgary in September, Vertlieb joined Mitchell, his wife and daughter at Reilly's Edmonton home for dinner), who often consult with one another before choosing their representation.
"I believe this partnership works between Dan and his big-time clients because, to me, Dan isn't an agent," said Mitchell. "He is a friend first who happens to be damn good at negotiating for his friends."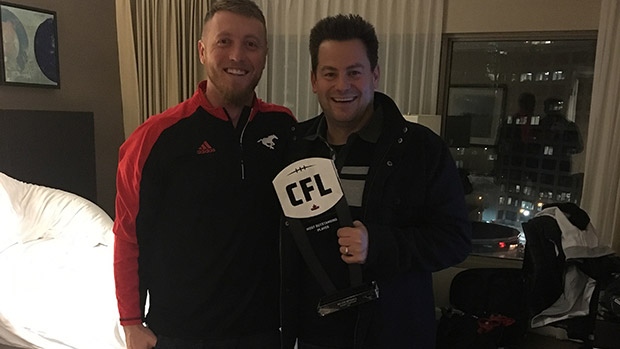 The timing of so many high-profile quarterbacks hitting free agency at once is no coincidence. Core Sports seemed to anticipate that the impending expiry of the current collective bargaining agreement was the right time to maximize the market for game's most important position.
When the chess game of free agency begins Tuesday, Vertlieb's Core Sports Group will be behind every move of the most important pieces on the board.