Orioles complete four-game sweep over Rangers with win
Steve Pearce had a career-high four hits and drove in two runs, and Wei-Yin Chen shut down Texas again as the Baltimore Orioles completed a four-game sweep of the Rangers with a 5-2 victory on Thursday night.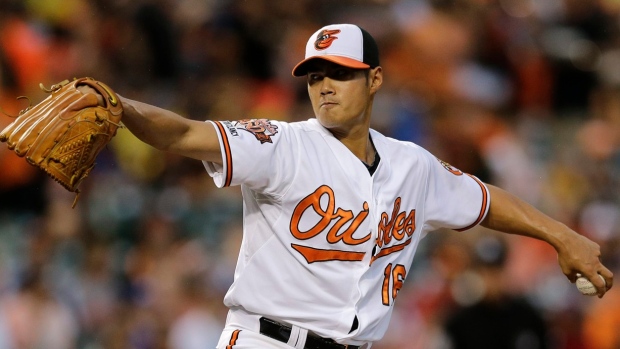 BALTIMORE - Baltimore manager Buck Showalter is running out of adjectives to describe how much Steve Pearce has meant to the Orioles this season.
Pearce had a career-high four hits and drove in two runs, and Wei-Yin Chen shut down Texas again as the Orioles completed a four-game sweep of the Rangers with a 5-2 victory on Thursday night.
The Rangers have lost nine consecutive road games — their longest skid since 2005 when Showalter was Texas' manager. Baltimore (46-39) completed its first four-game sweep against the Rangers since 2004 and improved to a season-high seven games over .500.
The Orioles managed the feat while playing without All-Star third baseman Manny Machado, who is serving a five game suspension for throwing his bat on June 8 against Oakland.
"We're relying on some people, and people are stepping up," Pearce said. "We're pitching, we're hitting. We're having timely hitting. We're finding ways to get it done."
Chen (8-3) allowed two runs and six hits with four strikeouts and two walks in six innings. He is 4-0 in four starts against Texas with a 1.67 ERA.
Left-hander Zach Britton earned his 12th save and hasn't allowed a run in 21 consecutive relief appearances.
Pearce, who was released at the end of April and then re-signed, had eight RBIs in the four-game series. Since the beginning of June, he is 31 for 81 (.383) with nine doubles and 17 RBIs. Nick Hundley had two of Baltimore's six doubles and scored twice.
Texas right-hander Yu Darvish, who was scheduled to pitch Thursday, was pushed back one day after rain delayed the start of the game. With the threat of more rain after a nearly one-hour delay, Rangers manager Ron Washington decided to use long reliever Scott Baker against Baltimore and save Darvish until Friday night when Texas will take on the Mets in New York.
The game, however, didn't have another delay. The Orioles are scheduled to play an afternoon game in Boston on Friday.
"It's so hard to win a four-game series, or three out of four, in the major leagues," Showalter said. "The guys kept a real intensity level through the rain delay, not knowing whether we were going to play or not. So many dynamics of what's going on with the 1:30 game (Friday), and weather issues there, getting in and out tonight."
Baker (0-2) allowed three runs and seven hits with two strikeouts and one intentional walk in 4 2-3 innings. Shin-Soo Choo hit his eighth homer of the season for Texas (37-48), which has lost 13 of 15.
"Bake was on alert (Wednesday) when we knew of the weather," Washington said. "It wasn't all of a sudden that Bake would be the guy. He knew coming into today that it was going to be a possibility so he prepared. He went out there and did a good job for us."
It was the first time in the Orioles' last 34 wins that they didn't hit a homer.
Baltimore took a 1-0 lead in the third inning when Pearce hit a one-out RBI single to left.
Texas responded the next inning when Carlos Pena's grounder to second scored Adrian Beltre, who led off with a single. Choo made it 2-1 with a solo shot off Chen in the fifth.
"I knew it was going to be delayed from the start so I just went through my routine and waited for the notice that the game was going to start," Chen said through a translator. "So, it wasn't all that difficult. Six innings is the baseline for a starter, so I feel content but I do hope that next time I can go further, deeper in the game."
Baltimore regained the lead at 3-2 in the bottom half of the inning. After Ryan Flaherty led off with a double, Hundley followed with another double, and scored on Pearce's double to centre.
"I probably ran out of gas at the end a little bit," Baker said. "It was pretty muggy out there. It was kind of hard to catch your breath. I would have liked to have made some better pitches, especially that fifth inning. You just can't expect to give a couple of doubles and then them not to score. I would have liked to have had a better showing."
The Orioles added a pair of insurance runs in the seventh on a sacrifice fly by Adam Jones and an RBI single by Chris Davis.
NOTES: Baltimore OF Henry Urrutia (sports hernia surgery) will begin a rehab assignment next week. ... Baltimore RHP Bud Norris (strained right groin) took fielding drills, and is expected to throw a bullpen session or simulated game on Friday. Norris is eligible to come off the DL on Monday and could start that night against Washington. ... The Rangers used a new batting order for the 18th consecutive game. ... Pena went 0 for 3 and is mired in a 3 for 33 slump since being promoted from Triple-A Round Rock on June 24.