Oshie out indefinitely after clavicle surgery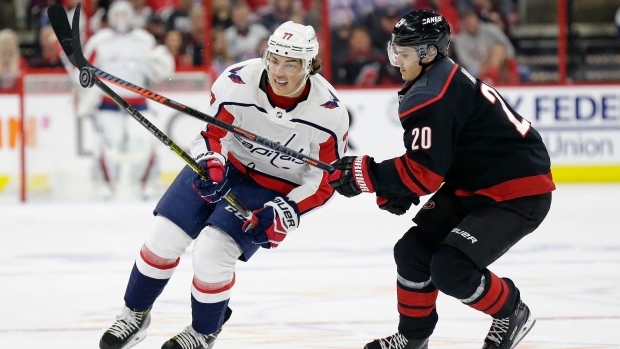 Washington Capitals forward TJ Oshie underwent surgery on his fractured right clavicle and is expected to be out indefinitely.
Oshie crashed into the boards head first after taking a hit from Carolina Hurricanes forward Warren Foegele in Game 4 on Thursday.
Foegele received a two-minute boarding penalty on the play, but Washington captain Alex Ovechkin said he deserved more.
"It's a dirty play. It has to be not two minutes. It has to be a different call," Ovechkin told Isabelle Khurshudyan of the Washington Post after the game.
Foegele said he was trying to give Oshie a little nudge on the play.
"I was trying to lift his stick, trying to give him a little nudge," explained Foegele. "It was a little unfortunate play there, I wasn't trying to hurt him or anything. I hope he's OK."
Hurricanes head coach Rod Brind'Amour also spoke about the hit after the game.
"He crashed into the boards hard, and that's when the arm went up, because he stayed down," said the coach. "You don't like to see that, but more than anything, he was just not ready for the hit. ... I think he just went in awkward."
The 32-year-old Oshie scored 25 goals and added 29 assists over 69 games with the Capitals in 2018-19. He has one goal and one assist over four playoff games this spring.
Washington currently leads the best-of-7 series 3-2.