Osmond captures Skate Canada gold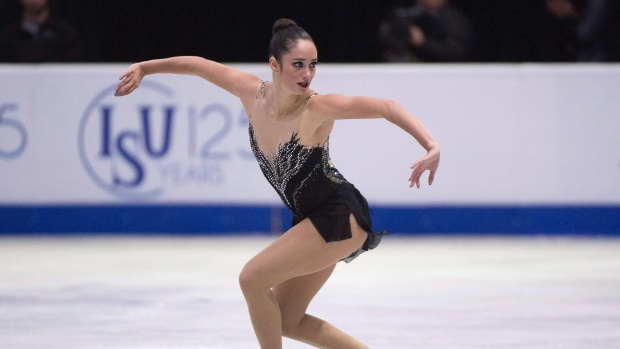 Kaetlyn Osmond climbed back on top of the Skate Canada International podium, winning the women's singles title.
The 21-year-old from Marystown, N.L., thrilled the crowd with her program to the stirring "Black Swan." Osmond stumbled out of a triple toe loop then fell on a double Axel late in the program, but scored 212.91 for the victory.
"It's a great starting point, score-wise I'm where I was at the Grand Prix Final last (December), so I'm a couple of months ahead this year, and hopefully it will keep growing," said Osmond, who took a huge seven-point lead into the long program.
Russia's Maria Sotskova scored 192.52 for second, while American Ashley Wagner, who was seventh after the short program, climbed up to bronze with 183.94.
Osmond blamed butterflies for her botched triple flip, triple toe loop combination. She nearly hit the boards on the toe loop, touching a hand down to save herself from falling.
"Just sometimes when I'm nervous I'll push a little harder," she said. "The flip actually took off really big and it covered a lot more distance than I was expecting I guess. So when I landed the toe, the boards were pretty close."
And she moved the Axel to the end of her program this season because jumps in the second half, when the body's fatigued, are worth higher marks. In practice, she'll do a runthrough of her program, and the immediately do the double Axel, "to get used to doing it when I'm tired."
Osmond was just 16 when she launched herself into the international spotlight by winning Skate Canada in 2012 in Windsor, Ont. But the years that followed were fraught with injuries, including the broken leg that required two surgeries to repair that shelved her 2014-15 season, and left her doubting whether she'd ever skate again.
A hamstring injury forced her to withdraw after the short program in 2013, and in 2015 in her first major competition back from her broken leg, she fell into the full splits in the short program, injuring her hip flexor and groin. She struggled to an 11th-place finish.
She capped her arduous comeback with a silver at the world championships last spring, and positioned herself as a medal threat at the Pyeongchang Olympics.
"It's really great, I'm mostly just really happy with how I skated, but to continue my results from last year, it means a lot to me," Osmond said. "I remember the last Olympic year, Skate Canada (2013) did not go well for me at all. I didn't even make it to the long program. So thinking four years ago to that, and being here and skating two strong programs, it means a lot to me. I feel a lot stronger."