Ovechkin starting social movement for Putin
Alex Ovechkin announced on his Instagram account on Thursday that he is forming a public social movement backing Vladimir Putin as his home country of Russia heads for a presidential election next year.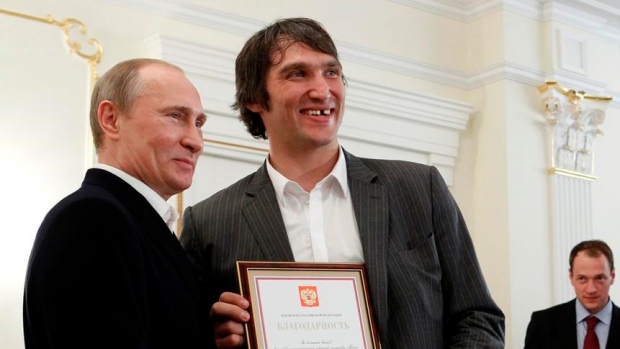 Washington Capitals captain Alex Ovechkin has voiced his support for Vladimir Putin ahead of the Russian presidential election.
Ovechkin posted a message in Russian on his Instagram account Thursday announcing he's starting "a social movement called Putin Team," adding that he has never hidden his feelings about Putin and has "always supported him openly."
"Personal awards and prizes - all this is great, but in hockey, just as in any business, a team is more important for a victory," the Washington Capitals' captain wrote Thursday on an Instagram message that was translated by Isabelle Khurshudyan of The Washington Post.
"I have never hidden my attitude towards our president, always openly supporting him. I am confident that there are many of us, supporting Vladimir Putin. So let's unite and show everyone a united and strong Russia!"
Ovechkin - from Moscow - has often been photographed with Putin. A photograph of Ovechkin and Putin accompanied the post.
The Russian presidential election is scheduled for March 18. Ovechkin made no mention of the election - in which Putin is expected to run for a fourth term.
"I liked very much this definition, he continued on Instagram. "I am personally ready to be part of such a team.
"It's like that feeling when you put on a jersey of Russia's national team, knowing that the entire country will be rooting for you."