P.K. has helped push the Preds to new heights
The defenceman has been a perfect fit in Nashville, helping lead the NHL's most impressive blueline through the Western Conference gauntlet.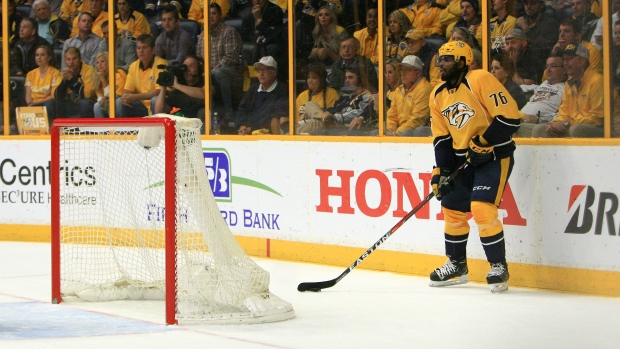 The Nashville Predators are one win away from the Western Conference final, and they can largely thank the presence of defenceman P.K. Subban for their enviable position.
Regardless of whether or not you endorsed the famous – infamous? – Subban-for-Shea Weber swap, I think most people now concede that the former has been an excellent fit in the Predators organization.
One of the reasons Subban has been such a great add for the team is that the Predators are loaded with a lot of young talent that can skate like the wind. An awful lot has been written about the dynamic Filip Forsberg-Ryan Johansen-Viktor Arvidsson line, but there's a laundry list of guys behind them that want to play at the same blistering tempo. It's made Nashville incredibly tough to defend.
If you want to be a team that plays with tempo, you must have quality skaters and puck distributors on your blueline. Nashville is teeming with talent here. Roman Josi, Mattias Ekholm, Ryan Ellis, and Matt Irwin have all had measurable impacts on the team this season.
Subban takes the skating and distribution game to another level. This postseason, just about every regular forward he plays with is seeing significant upticks in his performance metrics. This has been a consistent theme throughout Subban's career (and is generally true for most high-end first-pairing guys) – regular teammates, be it forwards or defenders, benefit from playing with this type of talent. Surely they enjoy Subban doing the heavy lifting through the defensive and neutral zones, watching him flip the ice quickly and consistently. They pay it forward to Subban through blistering counterattacks or sustained offensive zone pressure.
The data certainly argues in support of Subban here. If you look at every forward who has played at least a full period with Subban this postseason, you can see that their percentage of the shot share goes way up when they are playing with him. When they play with another one of Nashville's pairings, they see that number come down.
I want to be clear about something: this is true for all nine regular forwards. Not just some of them. Not even most of them. All nine see their numbers spike when paired with him: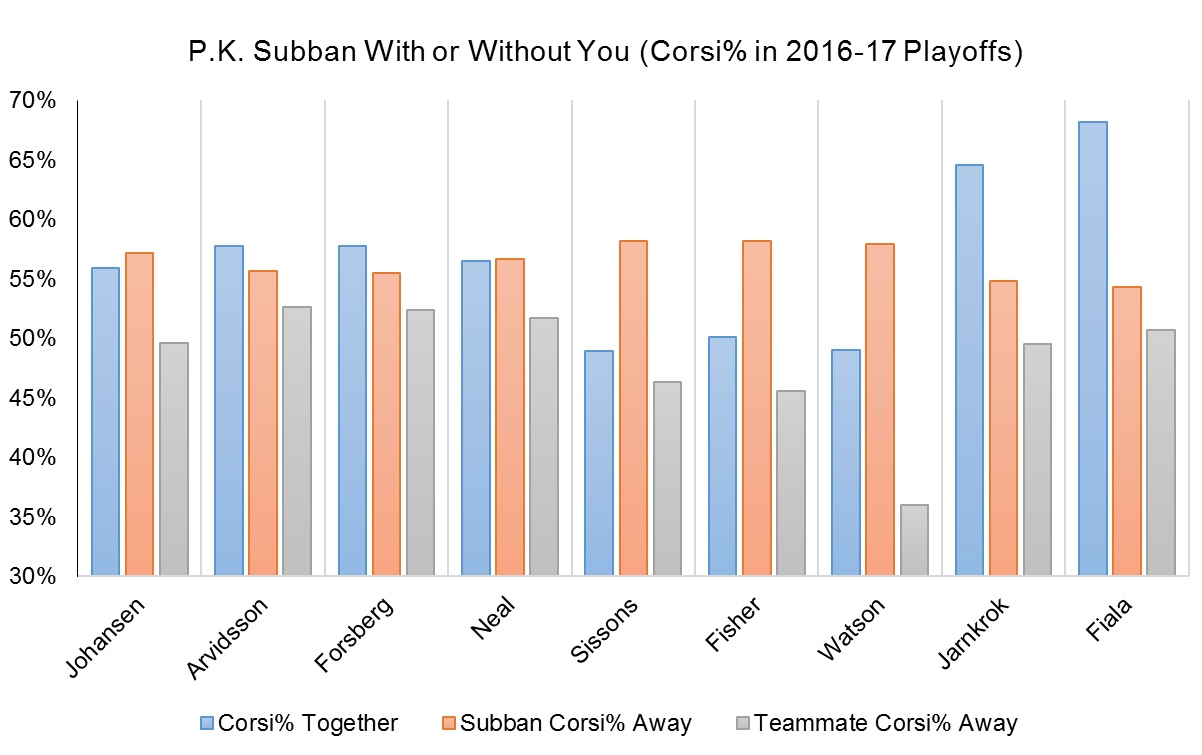 Anything above 50 per cent means that Nashville is getting the better side of the shot margins. That means that when Subban's playing with the Johansen line, they are essentially unguardable. Ditto when he's playing with some of their depth forwards like Calle Jarnkrok or the recently-injured Kevin Fiala. And even when he's playing with a pure checking line in Colton Sissons and company, they are at least treading water.
The interesting thing to note is that Subban doesn't seem reliant on playing with any one individual forward. If you follow the red bars – the numbers that indicate Subban's performance away from a given forward – you'll notice that they are incredibly close to around 55 per cent of the shot share, which is dominant. That would certainly seem to suggest he can be deployed in any environment with a wide variety of teammates and perform well. That's the hallmark of an elite defenceman in the modern era.
I would be remiss to not mention one thing that I think has helped Subban transition in Nashville, and that's his partner Mattias Ekholm. The former fourth-round draft pick has made a name for himself as a steady top-four guy, and there's no doubt he's established some real chemistry with Subban on both ends of the ice. While I think Ekholm is playing more of the supporting role on this pairing, there's no question that the work he can do to alleviate some of the burden on Subban – especially when trying to flip the ice – has been a blessing for the team.
Long story short: An awful lot of discussion will be had about the Nashville Predators in the coming weeks and how they evolved from frequent first-round failure to legitimate Stanley Cup contender. There are myriad reasons for why the team has transitioned seemingly overnight, but one of the biggest is the fact that their powerhouse defender has fit seamlessly into what Peter Laviolette wants to do, and is leading the NHL's most impressive blueline through the Western Conference gauntlet.