Canadiens end Hurricanes' win streak
Max Pacioretty scored 14 seconds into the third period to break a tie and lift the Montreal Canadiens to a 2-1 victory over Carolina on Thursday night, ending the Hurricanes' five-game winning streak.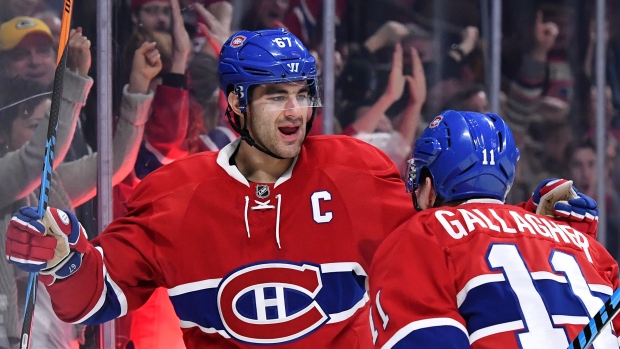 MONTREAL — Getting a win at home against one of the hottest teams in the NHL was big for the Montreal Canadiens before they head out on a five-game western road trip.
Max Pacioretty's goal 14 seconds into the third period broke a tie and lifted the Canadiens to a 2-1 victory over Carolina on Thursday night, ending the close-checking Hurricanes' five-game winning streak.
"We played solid defensively against a hot Hurricanes team," said forward Andrew Shaw, who scored in the first period to give Montreal (15-4-2) only its second win in six games. "Everyone was contributing at both ends.
"They'd won five in a row and we knew they'd be flying."
The Canadiens avenged a 3-2 loss last week in Carolina with backup Al Montoya in goal. This time, Carey Price made 31 saves to improve his record to 12-1-1 with a 1.71 goals-against average and .945 saves percentage.
"We were up against a team that's playing really well," said Montreal coach Michel Therrien. "It wasn't by luck that they won five in a row."
Montreal sits first overall in the 30-team NHL, but the biggest test so far comes as they travel to Detroit on Saturday and then move on to Anaheim, San Jose, Los Angeles and St. Louis.
"This trip comes at a good time," said Therrien. "It's a big challenge against good teams.
"I'm anxious to see how we play. We're playing with confidence, which is important."
Elias Lindholm scored for Carolina (8-7-4), which had won its previous five games by a 14-5 margin. Cam Ward made 20 saves.
The quick, young Hurricanes checked the Canadiens relentlessly, and there was not a lot of end-to-end action for the full house at the Bell Centre to get excited about.
"You're not going to win every game," said Hurricanes forward Jeff Skinner. "Some games you get the bounces and others you don't, but we have to believe in the system. There's a lot of positive things in our game."
Carolina had chances to tie it with two power plays in the last 10 minutes of the game, but managed only one shot on goal.
"That's not enough," said coach Bill Peters.
The Hurricanes struck first at 10:32 of the opening period after a bounce put Lindholm in alone on the right side for a perfect wrist shot to the top corner. It was his second of the year, with both coming in the last three games.
Shaw tied it at 12:08 as he fought off a check to jam in a feed from behind the net by Charles Hudon. Hudon has yet to score a goal but has four assists in six NHL games over two seasons.
Pacioretty put Montreal ahead early the third frame when he took the rebound of a Tomas Plekanec shot off the end boards and banked it in off Ward. Peters challenged that Plekanec was offside on the play but the goal stood up to video review.
The Hurricanes, who lead the NHL in penalty killing, stopped both Montreal power plays and have not allowed a short-handed goal in 11 straight games (0-for-24).
The Canadiens announced that defenceman Nathan Beaulieu, who was hit in the neck by a puck in a game Tuesday against Ottawa, will not be on the road trip. Neither will forward Brian Flynn, who has missed seven games with an upper-body injury. Rookie Artturi Lehkonen, who has missed nine games, will make the trip.
Defenceman Zach Redmond, an off-season signing who has yet to play, was assigned to St. John's of the AHL. He'll play two games there, then rejoin the Canadiens on the west coast.