Pacioretty, Desharnais score early in Canadiens' win over Penguins
Max Pacioretty and David Desharnais scored early in the first period and the Montreal Canadiens went on to a 4-1 victory over the Pittsburgh Penguins on Saturday night. Tom Gilbert and Alexei Emelin also scored for the Canadiens and Carey Price stopped 30 shots for his 22nd win of the season. Montreal won its seventh straight and fifth in a row on the road to move into first place in the Eastern Conference.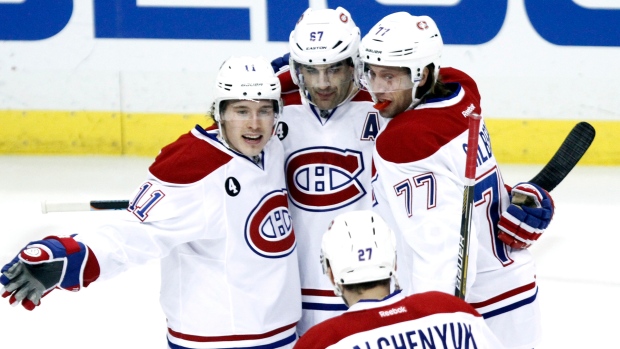 PITTSBURGH, Pa. - With first place in the Eastern Conference at stake and tired legs on both benches, the Montreal Canadiens played with more energy.
Both teams had played the previous night, but Montreal took an early two-goal lead, repeatedly snatched the puck from the Pittsburgh Penguins and came away with a 4-1 victory Saturday night.
The Canadiens completed a 4-0 road trip that began after the NHL's Christmas break.
"We knew this was going to be a tough road trip, especially after a bit of a little bit of a break, and to be honest, I think we've been playing our best hockey and been doing really good things with the puck," said defenceman Tom Gilbert, who also scored for Montreal. "We've been keeping it simple, especially on the road."
The win was Montreal's sixth straight overall and fifth in a row on the road. The Canadiens head home in first place in the East with 54 points.
"It shows a lot of character in this locker room," Gilbert said. "It's our last game in this road trip, and we know that we're going home and I just think we use that confidence that we've been playing on the road here and we kind of took it into tonight."
Max Pacioretty, who finished with a goal and an assist, and David Desharnais scored in the first 7 minutes. Gilbert added his goal for the Canadiens in the second period, and Alexei Emelin put it out of reach with one in the third.
David Perron, acquired from Edmonton the previous day, scored in his first game with the Penguins, who had won two games in a row.
Carey Price made 30 saves for his 22nd win as Montreal improved to 9-2 against Metropolitan Division clubs and leapfrogged the Penguins in the East.
"It builds a lot of confidence moving forward, knowing we can keep pace with these guys," Price said.
The Penguins, coming off a 6-3 win against Tampa Bay on Friday night, has totalled four goals in four of their past five games. They turned the puck over 10 times against the Canadiens.
Pittsburgh coach Mike Johnston attributed the lack of offence in this game to things both teams did.
"They stood us up at the (blue) line," he said. "We didn't get pucks in behind them. We didn't make the plays through traffic or make the quick plays in the neutral zone to get around people."
Montreal took a 1-0 lead at 2:30 of the first period as Pacioretty got the rebound of a blocked shot at the right edge of the slot and guided the puck through three bodies in front of the net and past Pittsburgh goalie Marc-Andre Fleury, who appeared to be jostled out of position.
Desharnais launched a shot from the right circle that glanced off Fleury's blocker and in for a 2-0 Canadiens lead at 6:35.
Perron, playing left wing on a line with Sidney Crosby and Steve Downie, pulled the Penguins to 2-1 at 9:59 of the first period. Crosby, from low in the right circle, fed Perron, whose one-timer from the upper left hashmark slid along the ice and went in off Price's right skate.
"With the last couple of days, my energy wasn't as good as I wanted it to be," Perron said of his Penguins debut. "I was running on adrenalin and trying to push myself as much as possible. I just didn't have enough tonight, but it was definitely good to get to know the guys first game. I'm looking forward to building with them."
As penalties that left the teams skating 4 on 4 expired, Gilbert came out of the penalty box and got behind Pittsburgh's defence. He was alone in the slot when he took a feed from Pacioretty and beat Fleury for a 3-1 Canadiens lead at 1:49 of the second period.
Emelin scored from the top of the slot with Fleury screened to make it 4-1 with 5:52 remaining.
Fleury had been 11-2-1 in his previous 14 home starts against his hometown Canadiens, including a 27-save, 4-0 shutout win Nov. 18.
NOTES: Montreal is 16-0 when scoring first. ... Crosby has at least one point in each of his 15 career home games against the Canadiens. ... This was the 200th regular-season meeting between the clubs. ... Pittsburgh killed all four Montreal power plays — including a 4-minute man-advantage in the second period — and now has killed 19 consecutive opponent power plays at home. ... Montreal winger P.A. Parenteau did not play after being injured a night earlier in New Jersey. Manny Malhotra played after being scratched the previous two games. ... The Penguins continue to have a long injury list: forwards Pascal Dupuis, Blake Comeau, Patric Hornqvist and Zach Sill, and defencemen Olli Maatta and Paul Martin. Martin could return Wednesday when Boston visits Pittsburgh.