Packers sign veteran Jones
James Jones has returned to the Green Bay Packers to add a veteran presence to a receiving corps following the season-ending knee injury to wideout Jordy Nelson. General manager Ted Thompson announced the signing of Jones on Monday.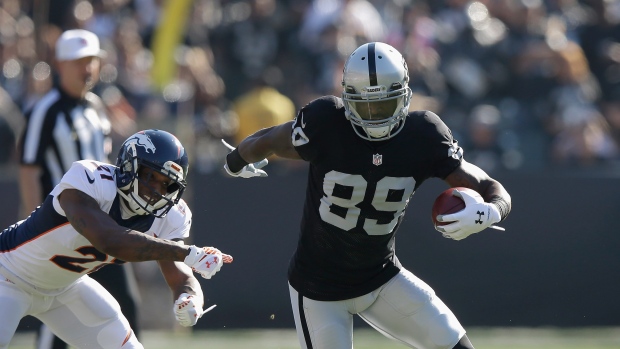 GREEN BAY, Wis. - James Jones is back where he started, and he believes he's the same player the Green Bay Packers remember.
After all, he hasn't been gone that long.
"It feels like I've been gone for 10 years and I've only been gone for a year," Jones said Monday, after his one-year deal with the Packers became official. "A lot of hugs I've been giving out here. Like I rose from the dead a little bit.
"But I appreciate it. It's good to see these guys. They were family to me for seven years, so it's good to be back home."
Jones spent seven seasons in Green Bay before signing a three-year, $10 million free-agent deal with the Oakland Raiders in March 2014. Although he caught a career-high 73 passes in Oakland, he managed only 666 yards and was released this spring. He caught on with the New York Giants but was released on the final roster cutdown Saturday.
By Sunday, he was back in Green Bay, and a couple of hours after he landed at the airport, he was on the roster, signed to help a wide receiving corps that lost Pro Bowl receiver Jordy Nelson to a season-ending knee injury in preseason.
"I knew it was a possibility considering what happened to my buddy Jordy," Jones said of returning to Green Bay. "I was with (the Giants), so I really wasn't even thinking about it. But when I got released, I knew it was a possibility. (I'm) glad to be here. Get up to speed and hopefully help win some games."
That will start with Sunday's season-opener against the Chicago Bears at Soldier Field, where Jones is expected to be in uniform and likely will share the third receiver role with rookie Ty Montgomery behind starters Randall Cobb and Davante Adams. He is in football shape after spending camp with the Giants, and the Packers' playbook, while containing some new wrinkles, hasn't changed all that much in the past 17 months.
"There will be new concepts (for Jones to learn); there are every year. There will be variations of concepts that existed when he was here," Packers coach Mike McCarthy said. "I don't think he will have any major learning curve or anything like that. He'll pretty much focus on the (weekly) game plans. We don't really have the time to go back and go through all the installs and things like that."
Asked if he's concerned about getting up to speed in the offence, Jones said that "99 per cent of it is the same. Aaron has switched a couple of the signals and stuff like that, and me and him will get together and go over some signals for some of the things that are going to happen in the game."
Green Bay released second-year receiver Myles White on Monday to make room for Jones on the 53-man roster. White had a team-high 157 yards receiving in the preseason.
Another receiver, Jared Abbrederis, was one of nine players signed to Green Bay's practice squad. A Wisconsin native, Abbrederis was a fan favourite after playing his college ball in-state with the Badgers, though his career has been slowed by injuries since being drafted in the fifth round last year.
Linebacker Carl Bradford, a fourth-round pick in 2014, and defensive tackle Christian Ringo, a sixth-rounder this year, were among other practice squad signings.
The Packers were excited to sign Jones because their pass-catchers behind Cobb and Adams were unproven. Not only is Montgomery a rookie, but second-year man Jeff Janis caught just two passes for 16 yards last season as a rookie.
The 31-year-old Jones caught 310 passes for 4,305 yards and 37 touchdowns in seven years in Green Bay, playing one season with Brett Favre and six with Rodgers. In Oakland, his quarterbacks were Matt Schaub, Matt McGloin and Derek Carr.
"He's a good football player," McCarthy said. "Let's not lose sight of that."
During his final two seasons in Green Bay, Jones had 64 receptions for 784 yards with an NFL-leading 14 touchdowns in 2012 and 59 catches for 817 yards and three TDs in 2013.
Still, he knows he has doubters after being cut by two teams in a four-month span.
"I feel like I've got a lot to give. I feel like I'm still playing at a high level," Jones said. "I had the most catches of my career last year. I don't necessarily feel like I'm falling off. But I've got a lot of people to prove wrong. If there's any time to do it, it's right now with the best quarterback in the league."
___
AP NFL website: www.pro32.ap.org and www.twitter.com/AP_NFL