Pateryn rips ex-teammate Shaw after ugly incident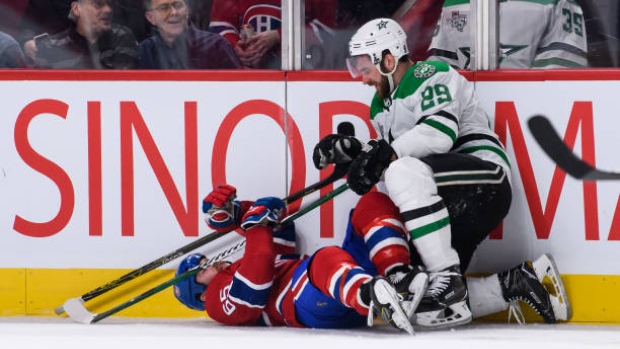 Montreal Canadiens forward Andrew Shaw left Tuesday's win over the Dallas Stars with an apparent head injury after colliding with former teammate Greg Pateryn.
Shaw attempted to hit Pateryn as he played the puck in the third period. The two players' heads connected and Shaw fell motionless to the ice, hitting his head on the boards on his way down.
Pateryn, angered by the hit, threw two punches at Shaw when he was on the ice, and had little remorse afterwards, stating Shaw was to blame for his own injury and he wasn't aware Shaw was knocked out.
"I thought he took a run at me. I'll take a look at it again, but it seemed like his head hit mine," Pateryn said. "There's a reason a guy like that gets four or five concussions a year and I think his play speaks for itself.
"He was knocked out as soon as he hit me. He knocked himself out when he hit me, and I didn't realize he was knocked out until he was on the ice and his eyes were in the back of his head. So a play like that, that's what happens sometimes."
Shaw had two concussions last season and it's unclear whether he suffered another on Tuesday night. He was on the ice for several minutes after the ice and needed help to get the locker room. Canadiens head coach Claude Julien said he was "shaken up" but revealed no further details.
After the game, the Canadiens expressed their displeasure with Pateryn, who was traded from Montreal to the Stars last season.
"Kind of makes you feel sick when you see that," Canadiens defenceman Karl Alzner said. "It's like in UFC when the guy keeps going after a knockout. It's unacceptable. You get fired up in the moment and you do things you don't necessarily think through. It's not something you ever want to see."
"I thought Andrew's hit was clean," added Jonathan Drouin. "I didn't like the two punches at the end when his head was down on the ice.
"I think the league might take a look at that one."
Pateryn picked up a two-minute minor for roughing on the play and was mum on whether he believed Shaw should've been disciplined for the initial hit.
"I don't know... I mean that's the ref's call and I talked to them about it," Pateryn said. "They saw what they saw and I saw what I saw and I'm going to leave it at that."