Patrick goes No. 1 in TSN's post-season mock draft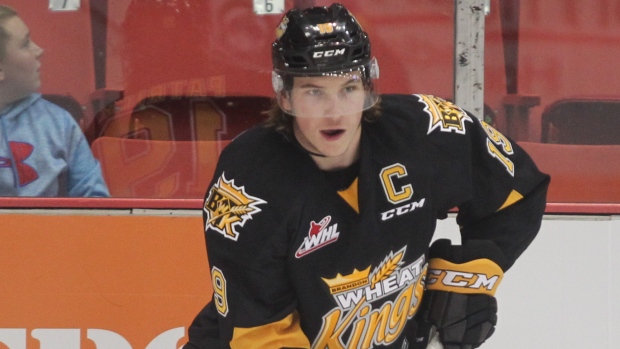 Nolan Patrick is on pace to make history – twice.

TSN Director of Scouting Craig Button projects the Brandon Wheat Kings' centre going first overall to the last place Colorado Avalanche – provided it wins the draft lottery scheduled to take place April 29 – in the TSN post-season mock draft.

If Patrick goes No. 1 over rival centre Nico Hischier of the Halifax Mooseheads, he would be the first Manitoban chosen No. 1 and the first major junior player to go first overall despite missing more games (39) than playing (33) in his draft year.

Patrick was sidelined by sports hernia surgery and an upper body injury this season.

But it's what Patrick did in the games he played – scoring 20 goals and 46 points – that solidified his position as the No. 1 pick. This on the heels of a phenomenal 102-point season with Brandon in 2015-16 as a 17-year-old.

Performance and pedigree lay to rest any concerns Button has about Patrick's ability to stay healthy.
"Scouts evaluate a player's skill, attributes and potential," Button says. "Medical staff will evaluate what injury risk is or isn't on a going forward basis. There is no better player in the draft than Patrick."
The standard for fewest games played by a No. 1 pick from major junior hockey was set by Billings Bighorns defenceman Gord Kluzak, who played just 38 games in 1981-82 before Boston picked him first overall.

The TSN mock draft was conducted in reverse order of the final standings with selections made for all 14 non-playoff teams, plus the expansion Vegas Golden Knights.
The Vancouver Canucks, who lost their last eight games to place 29th in the final standings and secure the No. 2 seed in the lottery, have never picked first overall in the 48-year history of the modern draft. If their bad luck in the draft lottery continues, they will get a terrific consolation prize: Swiss sensation Hischier, who collected 38 goals and 86 points in 57 games this season.

"The Canucks should take Hischier," Button says. "He has met and exceeded every challenge he's faced this season, particularly at the World Juniors. Hischier and Bo Horvat would form a strong duo at centre for years to come."

Hischier excelled at the World Junior Hockey Championship, scoring four goals and recording three assists in five games. He had an overtime winner against the Czech Republic in the preliminary round and scored both of his team's goals in a 3-2 loss to the Americans in the quarterfinals.

The Golden Knights and Arizona Coyotes are co-No. 3 lottery seeds.

Button has Vegas taking Portland centre Cody Glass third overall. Button says the Winnipeg native has caught the eye of Vegas assistant general manager Kelly McCrimmmon, who previously served as coach and GM of the Brandon Wheat Kings and has had a front row seat to Glass' development.
At No. 4, Button has Arizona selecting Swedish defenceman Timothy Liljegren and at No. 5, New Jersey choosing Windsor centre Gabriel Vilardi.

The only other Canadian team in the draft lottery is the No. 12-seed Winnipeg Jets. Button projects the Jets taking Finnish defenceman Miro Heiskanen of HIFK Helsinki.

"Heiskanen is a good fit because he's a smart player, incredibly efficient and rarely makes mistakes," Button says.

The Avalanche has a 17.9 per-cent chance of winning the lottery, the Canucks, 12.1, and the Coyotes and Golden Knights, 10.3. Winnipeg has a 2.0 per-cent shot at winning.

The Top 15

1. Colorado Avalanche: Nolan Patrick
Centre | Brandon (WHL) | 6'2 3/4 | 198 lbs. | Sept. 19, 1998
2016-17 Statistics
Button says:
"Patrick is the best player in the draft, plain and simple. He's done enough in past years to prove that."

2. Vancouver Canucks: Nico Hischier
Centre | Halifax (QMJHL) | 6'0 3/4 | 176 lbs. | Jan. 4, 1999
2016-17 Statistics
Button says:
"Hischier is a tremendous offensive talent and someone who the Canucks will be very happy with if they get him."

3. Vegas Golden Knights: Cody Glass
C/RW | Portland (WHL) | 6'1 3/4 | 180 lbs. | Apr. 1, 1999
2016-17 Statistics
Button says:
"Watching Glass, I see so many similarities between him and Mark Scheifele and if he can be that, that's a hell of a start for Vegas."

4. Arizona Coyotes: Timothy Liljegren
Defence | Timra (S-Als) | 6'0 | 191 lbs. | Apr. 30, 1999
2016-17 Statistics
Button says:
"He's crossed paths with mono but has the potential to be a dynamic player who skates well and can play the puck."

5. New Jersey Devils: Gabe Vilardi
Centre | Windsor (OHL) | 6'3 | 201 lbs. | Aug. 16, 1999
2016-17 Statistics
Button says:
"He's a big and strong centre. He has so much offensive upside and will be a great addition to the Devils."

6. Buffalo Sabres: Cale Makar
Defence | Brooks (AJHL) | 5'10 1/4 | 171 lbs. | Oct. 30, 1998
2016-17 Statistics
Button says:
"Tim Murray watched Erik Karlsson up close while he was in Ottawa, and Makar conjures up images of Karlsson. He's a dynamic offensive player."

7. Detroit Red Wings: Elias Pettersson
Left Wing | Timra (S-Als) | 6'1 1/4 | 156 lbs. | Nov. 12, 1998
2016-17 Statistics
Button says:
"I see him like Henrik Zetterberg in every regard. The irony is he's big like Zetterberg was at that age and they each played for Timra in Sweden."

8. Dallas Stars: Martin Necas
Centre | Brno (CZE) | 6'0 1/2 | 167 lbs. | Jan. 15, 1999
2016-17 Statistics
Button says:
"I see a lot of Claude Giroux He can finish a play, he can make a play, he's really smart and he's also really competitive."

9. Florida Panthers: Casey Mittlestadt
Centre | Eden Prairie (USHSW) | 6'0 1/4 | 194 lbs. | Nov. 22, 1998
2016-17 Statistics
Button says:
"He just finds a way to make plays and to be important when it counts. I think he can be a centre or a wing, he's very versatile."

10. Los Angeles Kings: Owen Tippett
Right Wing | Mississauga (OHL) | 6'1 1/2 | 202 lbs. | Feb. 16, 1999
2016-17 Statistics
Button says:
"The LA Kings are starving for goals. Tippett is a great shooter, if he plays with a centre that gets him the puck, he could score 30."

11. Carolina Hurricanes: Nick Suzuki
Right Wing | Owen Sound (OHL) | 5'10 3/4 | 187 lbs. | Aug. 10, 1999
2016-17 Statistics
Button says:
"Don't underestimate Suzuki because of his size. He isn't flashy, but he understands how to play the game."

12. Winnipeg Jets: Miro Heiskanen
Defence | HIFK (Liiga) | 6'0 | 170 lbs. | Jul. 18, 1999
2016-17 Statistics
"Winnipeg can take whoever they want, their prospects shelves are stocked. But Heiskanen is smart and doesn't make mistakes, he can fit anywhere."

13. Philadelphia Flyers: Michael Rasmussen
C/LW | Tri-City (WHL) | 6'5 3/4 | 215 lbs. | Apr. 17, 1999
2016-17 Statistics
Button says:
"He's got the ability to play left wing or centre, he's very versatile, he got size and can score at the net. He's a solid player."

14. Tampa Bay Lightning: Cal Foote
Defence | Kelowna (WHL) | 6'3 1/2 | 213 lbs. | Dec. 13, 1998
2016-17 Statistics
Button says:
"He isn't his father. His father was a rugged, heavy, hard player. Cal is really smart, good with the puck and really efficient."

15. New York Islanders: Ryan Poehling
Centre | St. Cloud (NCAA) | 6'2 1/2 | 202 lbs. | Jan. 3, 1999
2016-17 Statistics
Button says:
"Poehling is a very smart and skill centre. He had some growing pains at St. Cloud State University, but the talent is there."