Maurice resigns as Jets head coach, Lowry to coach out season
Paul Maurice resigned as head coach of the Winnipeg Jets on Friday, stating the teams needs "a different voice" behind the bench. Dave Lowry will serve as the team's interim head coach for remainder of the season, general manager Kevin Cheveldayoff confirmed.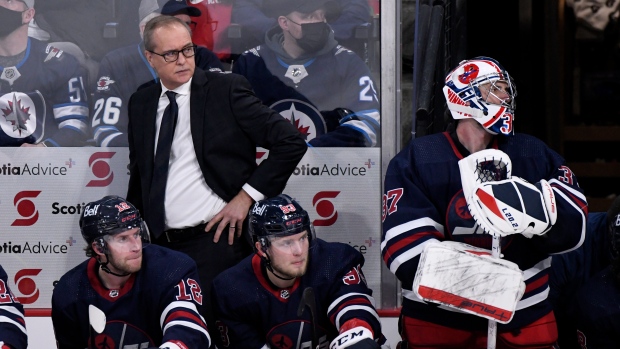 WINNIPEG — Paul Maurice sounded comfortable with his decision to resign as head coach of the Winnipeg Jets Friday morning, but players were left shocked.
Maurice spoke to the media at Canada Life Centre after the team announced his departure from the club that had hired him to replace Claude Noel in January 2014.
"I'm cheering for these guys. I love these guys. I love this place," Maurice said.
"I know that it's time and that's a good thing for the Jets, and it's also a really, really good thing for me."
Dave Lowry, an assistant under Maurice and the father of Jets forward Adam Lowry, will take over as Winnipeg's interim head coach for the rest of the season, Jets general manager Kevin Cheveldayoff said.
The Jets are 13-10-5, but just 4-7-2 over their last 13 games, including Tuesday's embarrassing 4-2 loss to the Buffalo Sabres on home ice.
They host the Washington Capitals Friday night.
"This isn't necessarily a bunch of negative things that stacked up on this," said Maurice, who spoke briefly to injured captain Blake Wheeler and then the whole team about his decision.
"I've pushed as long and as hard as I can here ... They need a new voice, and I know that."
While Maurice said it was a good day, Jets centre Mark Scheifele viewed it a "selfless act" by his now-former coach.
"It's a big shock," he said. "Anytime this happens, you can't think it's a good day. Obviously if it's good for Paul, that's his thought process.
"It's one of those things that shocks you. You have to take a look in the mirror and reflect on things."
The Jets, who are three points back of the Edmonton Oilers for the second wild-card spot in the Western Conference, had signed Maurice to a multi-year extension in February 2020.
Maurice said he and Cheveldayoff and team co-owner Mark Chipman talked last summer about whether he was the right guy going forward.
"There wasn't a last straw. It was 100 per cent my decision," Maurice said.
He admitted he started losing some of his passion and love for the game and it wouldn't have been right for him to keep taking a paycheque under those circumstances, or fair to the players.
"I'm looking at them, like one your kids, going you need to fix something here. And it's me," Maurice said. "I'm not embarrassed by it. I'm tremendously proud of what we've done here and I get to stay that way."
The club made the playoffs five times during Maurice's tenure. He guided the Jets to the 2017-18 Western Conference final, which Winnipeg lost in five games to the Vegas Golden Knights.
The 54-year-old native of Sault Ste. Marie, Ont., compiled a 315-223-62 record in exactly 600 games with Winnipeg. He was the second-longest serving NHL coach after Tampa Bay Lightning's Jon Cooper.
"Even in the real disappointing losses, I thought we worked," Cheveldayoff said.
"A lot of times you hear … 'he lost the room' and stuff like that. I really didn't think that the guys ever stopped working and I don't think that they ever stopped listening. But did they stop hearing? Then it's semantics, but I think there is a difference."
Adam Lowry said it felt like the players let Maurice down, but they'll regroup under his dad's leadership. He expects his father's coaching style will be similar to Maurice.
"Paul was very prepared. Paul was very articulate in the message he wanted," he said. "Looking at teams in the past that my dad has coached, he wants them to play fast and he wants them to play with the puck, He really just tries to hold them accountable to their actions."
Lowry, 56, joined the Jets as an assistant coach in November 2020 after being head coach of the WHL's Brandon Wheat Kings. The former NHL player was an assistant with the Calgary Flames and Los Angeles Kings.
"There are going to be things that Dave is going to do different," Cheveldayoff said. "Sometimes getting uncomfortable in a player's routine or life, that's good. I think the players need to get a little uncomfortable here right now. We're not in a comfortable situation. This team should be better. That's a simple fact.
Maurice started his NHL coaching career with the Hartford Whalers in 1995 at age 29. He remained with the organization when it moved to Carolina to become the Hurricanes.
Maurice was fired by Carolina in 2003 before being hired by the Toronto Maple Leafs to coach their American Hockey League affiliate in 2005. He became head coach of the Leafs in 2006 after the team fired Pat Quinn, but only lasted two seasons in Toronto.
Maurice was rehired by Carolina in December 2008, and remained there until he was let go a second time in 2011.
He then coached one season in the Russian-based Kontinental Hockey League in 2012-13 before the Jets hired him.
His 775 career wins places him sixth all-time among NHL coaches (77-680-99)..
This report by The Canadian Press was first published Dec. 17, 2021.