Pearce trade could start benefitting Blue Jays sooner rather than later
Toronto's front office believes Santiago Espinal will eventually provide Jays manager Charlie Montoyo another moving infield part – perhaps as soon as this summer, Scott Mitchell writes.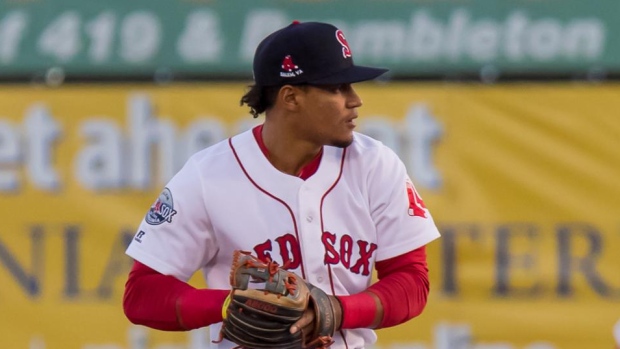 TORONTO — You can't fault Santiago Espinal for feeling like he played a role in bringing another World Series championship to Boston last fall.
In a way, he did.
When Toronto Blue Jays general manager Ross Atkins decided to pull the plug on the 2018 season and turn to an inevitable rebuild last June, his first move was shipping veteran lefty-masher Steve Pearce to the division-rival Red Sox.
It felt like a blip on the trade radar at the time, but one that would prove absolutely integral to Boston's hopes in the end.
In addition to providing a number of key hits and consistent production along the way, Pearce's three home runs in the World Series made the difference, and he took home Fall Classic MVP honours for his efforts.
The whole time, Espinal was watching.
"It was fun to watch and to see his name," said Espinal, who was inundated with social media messages from Boston fans saying 'thanks' after the clincher. "He's been out there grinding and helping the Red Sox win. It was impressive what he did and I was happy."
From the June trade, to watching Pearce help win the Red Sox a ring, it was a whirlwind experience for Espinal – one that started in the dugout of Haley Toyota Field in Salem, Va.
"After the third inning I got the last out and when I went to the dugout, the manager told me, 'Hey, I have to take you out,'" grinned Espinal, recalling how he became a Blue Jay. "I got scared because I thought I did something: 'What's wrong?' He said, 'I have to take you out because you might get traded or moved up.' I was like, 'Oh, man.' I had to sit in the dugout the whole game thinking about that."
Espinal went home, packed his things, and was in Dunedin wearing a Blue Jays uniform the very next day.
The Jays believe it's a trade that will work out well for both sides.
The Red Sox got the immediate return, while Atkins and Co. are hoping Espinal starts paying off shortly.
After joining the Jays' Double-A affiliate in New Hampshire, Espinal finished out the season with a .286/.354/.395 slash line in 42 games, showing excellent contact skills and defensively versatility in the process.
A shortstop by trade, Espinal is going to eventually provide Jays manager Charlie Montoyo another moving infield part – perhaps as soon as this summer.
"They asked me the same thing, and what I told them was, 'To me, it doesn't matter,'" Espinal said of where he plays defensively. "I feel comfortable at second, short, and third. It really doesn't matter to me. I can play all positions and I feel comfortable doing it. It doesn't matter where they put me, I'll be ready to play."
After monitoring Espinal in the Arizona Fall League for a few weeks, Blue Jays director of player development Gil Kim came away believing the 24-year-old will be able to contribute sooner rather than later, setting him up for an important spring training in his first big-league camp as a non-roster invitee.
Despite a logjam of veteran infielders and Bo Bichette slated for everyday work as the Triple-A shortstop, Espinal is viewed as a player who's close.
"Santy can be a dynamic player," Kim said. "He's a solid shortstop, good hands, good arm, and he can bounce around to second, third, short, and he can put the bat on the ball and make things happen. He did good things in Double-A for us and contributed to that championship.
"We're seeing strides with his ability to square up the baseball and defend at any spot. We're definitely excited about him [in 2019]."​