Pearson-Hagelin swap paying off for Pens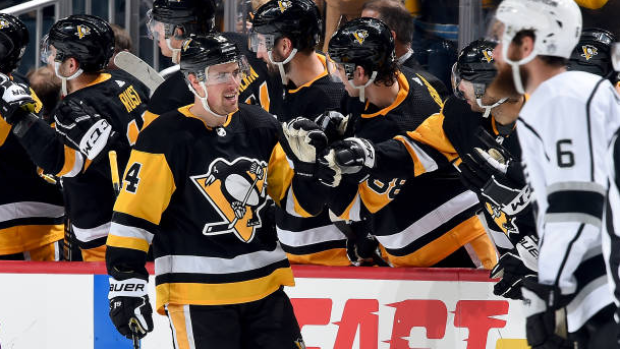 It turns out Pittsburgh Penguins general manager Jim Rutherford was right when he said he needed to make a move to spark his dressing back in November.
Rutherford traded two-time Stanley Cup champion Carl Hagelin to the Los Angeles Kings for Tanner Pearson on Nov. 14 after watching his team open the season with a lacklustre 7-6-3 record. The move has been paying off since.
The Penguins, who will meet the Kings on Saturday, have posted a 17-7-3 record since the trade and sit second in the Metropolitan Division. The Kings, meanwhile, have remained in the Pacific Division basement, receiving little more production from Hagelin than they received from Pearson.
"I'm sure it will affect the chemistry. He was a very popular guy in the room," Rutherford said of Hagelin after the trade. "But I'm not sure how strong the chemistry is right now, based on what I'm seeing.
"I think we're in a funk now. We're a fragile team. We're struggling, but, for the most part, I still believe in this team.
"I feel bad. I'm usually very patient, but my patience is running out."
Speaking Thursday, Hagelin, who started the season with one goal and three points in 16 games, said the trade caught him off-guard.
"At the time I thought I was playing pretty well," Hagelin told the Pittsburgh Post-Gazette. "I wasn't really walking around thinking I was going to get traded. When it happened, it was a shock."
Pearson, meanwhile, had been rumoured to be on the trade block in the weeks leading up to the trade after a slow start to the year. He has managed to turn his season around in Pittsburgh and the Penguins have followed suit. After owning just one assist in 17 games with the Kings to start the season, he has six goals – one which came in first game against the Kings on Dec. 15 - and 10 points in 27 games in Pittsburgh.

Tanner Pearson

2018-19 Stats
| | G | A | PTS | Points/Game | +/- |
| --- | --- | --- | --- | --- | --- |
| Pre-Trade | 0 | 1 | 1 | 0.06 | -9 |
| Post-Trade | 6 | 4 | 10 | 0.37 | -3 |
Pittsburgh Penguins 2018-19 Stats
| | Goals/Game | GA/Game | Shots/Game | SA/Game | Win Pct. |
| --- | --- | --- | --- | --- | --- |
| Pre-Trade | 3.31 | 3.06 | 32.6 | 33.7 | .438 |
| Post-Trade | 3.63 | 2.67 | 32.5 | 32.7 | .630 |
The 26-year-old Pearson, who is averaging 13:46 of ice time per game, has recently found a new role on the team's third line with Derrick Brassard and former Hagelin linemate Phil Kessel.
"We're hopeful that that line potentially should be, could be very dangerous with the players that are on it," Penguins head coach Mike Sullivan told the Pittsburgh Post-Gazette of the line earlier of this week. "All three of them are very good offensively. They have great instincts. They're all a little bit different in the skill sets that they bring. But they have all the makings of being a very, very good line for us."
Rutherford kept the door open in Novemeber to more changes if Pearson's addition didn't have the desired effect, but the team has not made a major move since. Speaking to Jason Mackey of the Post-Gazette this week, Rutherford said he's not feeling pressure to change up his third line again.
"We had a bigger need last year than we have right now," Rutherford said of upgrading the team's third-line centre, currently Brassard who was acquired at the deadline last February. "I don't know where things will go on the trade front, but I don't feel the same urgency as I felt last year to strengthen our centre position, which was a big need last year."
Hagelin, meanwhile, has not gotten off to a dream start in Hollywood. The 30-year-old injured his knee just five games after being acquired by the Kings and returned to the lineup last weekend after missing the entire month of December. He had two assists in five games upon joining the Kings, but has been held in off the scoresheet in three games since returning to the lineup. He is currently skating on Kings' third line with Adrian Kempe and Tyler Toffoli.
"You come to a new team, and you want to get to know the guys, get to know the team, the system, and all of a sudden you get hurt and you miss a ton of time," Hagelin told the Los Angeles Times last week. "It's obviously frustrating when it happened, but I'm a positive person. I need to stay positive. It's one of those things [where] you've got to work on other things when you're hurt. Hopefully, come back now and help the team get some wins."
With the Kings sitting last in the Western Conference and Hagelin playing on an expiring contract, it's not out of the question that the winger could be moved for a second time this season. He said Thursday his focus is simply of helping Kings turn their season around.
"I try not to think too much about the future," Hagelin said. "I'm here trying to help this team make the playoffs... That's the only thing that's on my mind right now."