Pelicans down Raptors, end Toronto's perfect home record
The New Orleans Pelicans ended Toronto's perfect record at home, downing the Raptors 126-110 Monday night. E'Twaun Moore had a season-high 30 points for the Pelicans (7-6) while Jrue Holiday tied a season-high with 29. Anthony Davis had 25.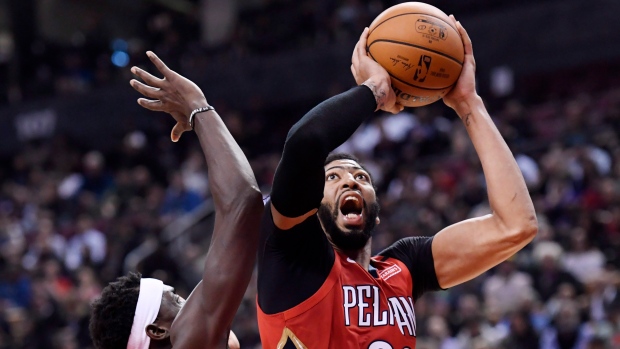 TORONTO — The Toronto Raptors' smooth start to the NBA season hit a bump Monday night.
The New Orleans Pelicans downed Toronto 126-110, handing the Raptors only their second loss of the young campaign — and first at home.
Toronto's defence was out of sorts, allowing opponent season-highs in points allowed (126) and field goal percentage (.545). At the other end, its offence sputtered — especially from three-point range where the Raptors made just 13 of 45 attempts.
"Tough night. They did everything better than us," said Pascal Siakam, a bright spot for Toronto (12-2) with a team-high 22 points on a day where he was named Eastern Conference player of the week.
It marked the second straight game Siakam has led Toronto in scoring.
Raptors coach Nick Nurse told his players it was one of those nights.
"I just told them 'Hey listen, they were really good. Sometimes you get your butt kicked in this league. Let's get out of here, go home and let's get ready to bounce back because we've got a bunch of games coming at us this week. We've got to forget about it ASAP, learn what we can learn. The ball goes up again here in a couple of days and we've got to be ready to fight a little harder,'" said Nurse
E'Twaun Moore had a season-high 30 points for the Pelicans (7-6) while Jrue Holiday tied season-highs with 29 points and 14 assists. Anthony Davis had 25 points and a season-high 20 rebounds, the fifth 20-20 game of his career.
The Pelicans starters combined for 106 points and shot 60 per cent (45-of-75) from the field. New Orleans scored 72 points in the paint, 30 more than the Raptors.
Pelicans coach Alvin Gentry enjoyed his team's third win in a row but declined to put too much on it.
"We've got 69 more (games) to go. I'll talk to you after the 69th one," he said.
Gentry's respect for the Raptors has not wavered.
"It's one loss. This is a great team that we played. They're a really great team. Nick has done a great job with these guys ... We played really well tonight and we beat then."
"It's a good win for us on the road against a very good team. That's really all it is," he added.
Kawhi Leonard had 20 points for Toronto while Serge Ibaka added 19. Ibaka has now scored in double figures in 13 consecutive games, the third-longest streak of his career and longest since 2014.
Kyle Lowry had 11 assists but just four points on 1-of-9 shooting, missing all six three-point attempts.
"We just didn't play our brand of basketball tonight," Lowry said.
The Raptors came into the game riding a six-game winning streak and boasting the league's best record. Toronto's only other loss of the season was a 124-109 decision in Milwaukee on Oct. 29.
The Raptors had won all seven previous home games. Going into Monday's play, Toronto, Memphis and Milwaukee were the only remaining unbeaten teams at home.
Toronto had won 12 of the last 14 meetings with the Pelicans and swept the last three season series.
Not this night.
Toronto trailed by two after the first quarter and five at the half. The Pelicans pushed the lead to 13 in the third quarter.
The deficit was 11 entering the fourth quarter. An early 7-2 run, thanks in part to a pair of Pelican turnovers, narrowed the lead to six. But New Orleans responded with an 8-0 run to extend the lead to 14 with 8:39 remaining.
Toronto couldn't reel the Pelicans back.
The Pelicans were without a pair of starters in point guard Elfrid Payton and forward Nikola Mirotic, both with sprained ankles.
Payton, the son of Canadian Football Hall of Fame Elfrid Payton Sr., and Mirotic have averaged a combined 32.2 points, 17.7 rebounds and 7.7 assists a game this season.
The only Raptor missing was Norman Powell (shoulder).
Toronto came into the contest third in the league in scoring (117.9 per game) while New Orleans was fourth (117.7). And the scoreboard turned over quickly, thanks in part to some wonky Toronto defence.
Shooting just 40 per cent, the Raptors gave up a season-high 66 points in the first half. Ibaka (17) and Leonard (15) accounted for almost half of Toronto's total.
New Orleans hit four of its first five shots and led by as many six in the first quarter with Toronto missing its first six three-pointers before Siakam finally sank once from distance.
Davis showed off his repertoire with a block, ally-oop dunk and 10 first-half points before picking up a third foul just before halftime.
Toronto's C.J. Miles did not finish the first half, sidelined by a right adductor strain.
The New Orleans season has been one of highs and lows so far. The Pelicans opened with four straight wins and then lost six in a row before embarking on a new win streak.
The team has excelled at home (5-1) but struggled on the road (2-5).
Toronto welcomes the Detroit Pistons and former coach Dwane Casey on Wednesday.
___
Follow @NeilMDavidson on Twitter