Penguins lock up Fleury with four-year, $23 million extension
The Pittsburgh Penguins have re-signed goaltender Marc-Andre Fleury to a four-year, $23 million contract extension.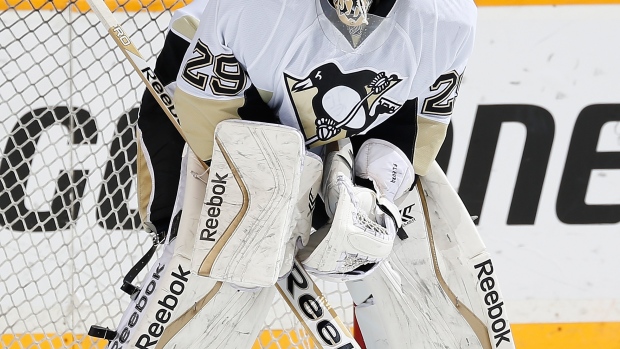 PITTSBURGH, Pa. - Marc-Andre Fleury isn't going anywhere.
The Pittsburgh Penguins signed the franchise's all-time winningest goaltender to a four-year contract extension on Wednesday worth $23 million.
The new deal, which begins next year, runs through the 2018-19 season.
"Just nice to get it over with, not think about it anymore and just go play some hockey and try to win some games," Fleury said. "Just focus on hockey and not anything else."
The 29-year-old Fleury was in the final season of a seven-year contract he signed in 2008. Fleury is off to a hot start for the Metropolitan Division-leading Penguins. He is 7-2 with a 1.89 goals against and is tied for the NHL lead with three shutouts heading into Thursday night's game in Winnipeg.
General manager Jim Rutherford approached Fleury a month ago to begin the process, but stressed recently he believed in Fleury despite some struggles in recent years during the playoffs. Rutherford wanted to eliminate the potential distraction while he could.
"When a player is in the last year of his contract, especially an important player like Marc, you wonder if when you get closer to the end of the season if it's in the back of his mind," Rutherford said. "So we're glad we got it cleared up."
The former No. 1 overall pick is 295-171-46 in 11 seasons. Fleury's 111 victories over the past four seasons are tops in the NHL. He has struggled at times in the post-season since helping the Penguins win the 2009 Stanley Cup.
Fleury's save percentage in the post-season dipped below .900 from 2010-13 and he briefly lost his job to Tomas Vokoun in the 2013 playoffs. He bounced back last spring, going 7-6 with a 2.40 goals against in 13 games as the Penguins fell to the New York Rangers in the Eastern Conference semifinals.
The team declined to negotiate with Fleury over the summer following a massive front-office overhaul that saw Rutherford replace Ray Shero and Mike Johnston take over as head coach for Dan Bylsma.
Rutherford, a former goaltender, backed Fleury recently even as Fleury downplayed his uncertain future. He's sparkled as the Penguins have adjusted to Johnston's style of play. He posted consecutive shutouts for the first time in wins over Los Angeles and Buffalo last week to push his career total to 31.
"It seems like I just started and now I'm like an old guy on the team," Fleury said. "It's different but it's good. You learn stuff about life in general and hockey-wise."
Pittsburgh captain Sidney Crosby, who has played with Fleury his entire career, stressed support for Fleury never wavered.
"It's nice, it seems fitting and happy he's got it done and can kind of move forward," Crosby said. "His attitude and the way he approaches every year, he's got a ton of passion, he cares a lot and understands there's a lot of responsibility on the goalie and he's dealt with it as good as anybody."