Penguins look for road split in Game 2 with Islanders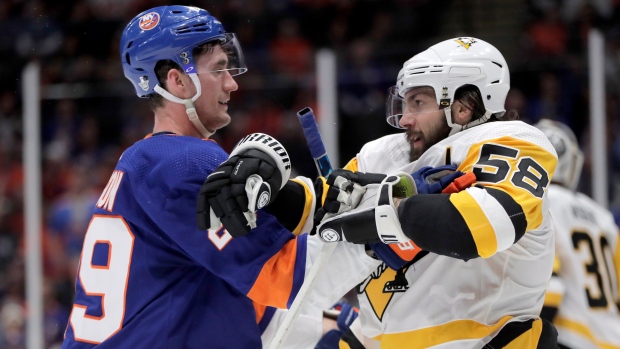 Making their 13th straight appearance in the playoffs, with three championships and two other deep runs, the Pittsburgh Penguins know they can't get discouraged with a tough series-opening loss.
Pittsburgh trailed three times in regulation and tied the score each time before falling 4-3 in overtime against the New York Islanders in Game 1 of their first-round series.
"The guys have been here before," the Penguins' Justin Schultz said. "We know it's a long series. You can't hang your head on each play. You got to move on and worry about the next shift."
Star centre Sidney Crosby, who was held off the scoresheet in the opener, wasn't surprised by the close game.
"These games are going to be close, they're going to be tight the entire series," he said.
The Penguins also knew how tough the Islanders play after splitting four meetings in the regular season. New York's stingy defence earned the Jennings Trophy by allowing the fewest goals in the league this season.