Pens' Fleury a game-time decision for opener
The New York Rangers are expecting Pittsburgh Penguins starter Marc-Andre Fleury to be back between the pipes for Game 1.
Frank Seravalli, TSN Senior Hockey Reporter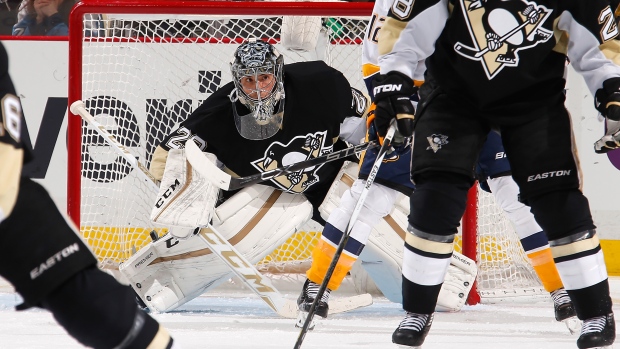 PITTSBURGH - Marc-Andre Fleury has started 98 Stanley Cup playoff games for the Pittsburgh Penguins over the last nine years, and the New York Rangers are expecting no different for Game 1 on Wednesday night.
Penguins' coach Mike Sullivan labelled Fleury, out since March 31 with a concussion, officially as a "game-time decision."
"We expect him to be in," Rangers coach Alain Vigneault said. "He's practised the last couple days and he was on the ice this morning. So, unless somebody tells us otherwise, he's the goaltender that we're getting ready for tonight."
Fleury, 31, went through his typical game day paces during the Penguins' morning skate at Consol Energy Center. He took shots at the Penguins' end of the rink and exited the ice ahead of backup Jeff Zatkoff, as a starter normally would.
Fleury was not available to speak to reporters after the skate. Wednesday marked his third straight day of practise without incident.
This is the second concussion Fleury has suffered this season. He missed the Penguins' final five games of the regular season, plus another eight during a two-week stretch in late December.
Penguins' captain Sidney Crosby admitted Fleury does bring a certain calming influence to Pittsburgh's lineup.
"It's definitely his experience," Crosby said. "He's been around a long time. He's played in a lot of big games. He's played so well for us. There's always a sense of confidence your goalie brings you, regardless of the time of year."
Penguins' defenceman Olli Maatta is also a "game-time decision" for Game 1, but seems like a good bet to play. He has played top-pairing minutes alongside Kris Letang for long stretches this season. The Rangers will be without captain and top defenceman Ryan McDonagh. Brady Skjei will make his playoff debut in McDonagh's place.
Vigneault referred to the Penguins as "the best team in the league" during the second half of the season. They've reeled off a 30-10-2 mark since Dec. 31, but Fleury has backstopped them for most of that.
Matt Murray, one of the best young goaltending prospects in the league, kept Pittsburgh's hot streak going before he also went down with a suspected concussion on Saturday. Zatkoff, 27, would be pressed into action if Fleury cannot play. He has appeared in just 35 games in his NHL career, or one-third of Fleury's playoff starts alone.
The drop-off in experience, let alone talent, would be huge. But it otherwise will not change the familiarity of the opponents. The Rangers and Penguins are meeting for the third spring in a row; New York has taken seven out of the last eight games.
"I think what we're going to see is two teams who know each other very well," Vigneault said. "We've got a great challenge in front of us and we're ready to hit it right on tonight."
The wait is over. Finally.
"The buildup and the anxiety is over," Sullivan said. "Now it's time to play hockey."
Contact Frank Seravalli on Twitter: @frank_seravalli