Pens trade Scuderi to Hawks for Daley
The Pittsburgh Penguins acquired defenceman Trevor Daley from the Chicago Blackhawks for defenceman Rob Scuderi Monday night. The Penguins will retain one-third of Scuderi's salary as part of the deal.
Frank Seravalli, TSN Senior Hockey Reporter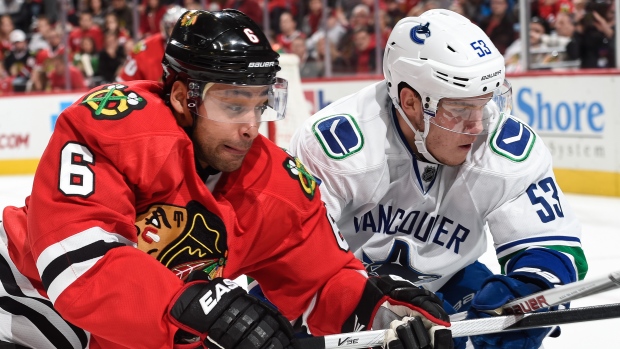 PITTSBURGH — Monday night began for Rob Scuderi like any of the other 745 nights of his career. He prepared and worked up a lather in warmups. It ended with him being one half of the NHL's first player-for-player trade of the 2015-16 season.
Scuderi was packing his bags before his teammates returned to the dressing room during the first intermission.
The longtime Penguin and two-time Stanley Cup winner was sent to Chicago in exchange for Trevor Daley - a straight-up swap of two ill-fitting and expensive defencemen.
Pittsburgh will retain one-third of Scuderi's $3.375 million salary cap hit for the remainder of this season and next season, a price worth paying for a team desperately in need of a mobile puck-mover.
"We like Trevor because he can skate, he can move the puck," GM Jim Rutherford said after Pittsburgh's 4-1 loss to Washington. "He's something that we've talked about to improve that and our back-end where we have more puck-movers. Trevor has been a good NHL player. He can certainly help our team."
Scuderi, who turns 37 this month, was a healthy scratch three times this season.
Daley, 32, was acquired by Chicago in the summer as a Top 4 replacement for Johnny Oduya, but never meshed with coach Joel Quenneville's plans.
For Chicago, the deal marked an opportunity to replace an offensive-minded defenceman with a less risky player tailored for a third pairing. Scuderi's playoff experience with both Pittsburgh (2009) and Los Angeles (2012) is only a bonus. Chicago also shaved more than $1 million off their salary cap with Pittsburgh retaining part of Scuderi's deal.
Daley's ice time plummeted under Quenneville this season, dropping six minutes (14:46) off his career average (20:43) in 11 seasons with the Stars.
With Kris Letang sidelined for the next two weeks, Daley will provide an immediate shot in the arm for one of the NHL's most anonymous defences. Olli Maata has come into his own, but Scuderi was the highest-paid defenceman in Tuesday night's lineup.
Daley scored 16 goals last season, fifth among blueliners. This year, he has but six assists in 29 games.
"He's a really good skater," Sidney Crosby said of Daley. "He can lug the puck. He can carry it up and down the ice pretty easily. Just from playing against him, his skating ability is probably his biggest strength."
Contracts for both players expire after the 2016-17 season. At $3.3 million, Daley fit perfectly into Pittsburgh's salary cap with forward Pascal Dupuis moving to the long-term injury list last week.
Rutherford said he first looked at acquiring Daley "about a month ago," but didn't "really get serious" about making the trade until the last two or three days. He fired coach Mike Johnston on Saturday, replacing him with Mike Sullivan on Saturday.
Though Pittsburgh had been seeking an upgrade on the blueline for a while, Rutherford said the trade had "nothing to do" with the decision to change coaches.
Pittsburgh blasted a season-high 45 shots in Sullivan's debut on Monday. Sullivan said he doesn't know Daley well, but saw him enough to know his mobility will help get the puck into his high-priced scorer's hands.
After a tumultuous week, Rutherford said he is not planning on any more moves at the moment. He wants to give the Penguins a chance to catch their breath.
"I'd like to give Mike a little time with this group, see how it settles in," Rutherford said. "Then we'll take a look at it. One of the things about making the move and the coaching change when we did, it gives us enough time to make other adjustments if necessary.
"I don't think we need to. I think our team is pretty good, but we've got to get a few breaks around the net and score some goals."
Frank Seravalli can be reached at frank.seravalli@bellmedia.ca.