Phillips: Jays likely to pull Estrada off waivers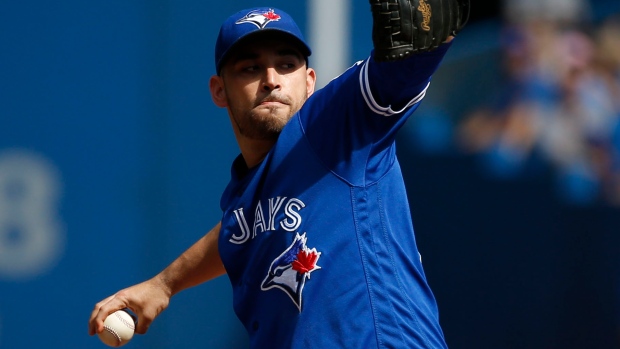 Marco Estrada was reportedly claimed on revocable trade waivers on Tuesday, but TSN Baseball Insider Steve Phillips doesn't expect the starter to be on the move.
Phillips told TSN Radio 1050's OverDrive on Tuesday that negotiating with only one team limits a potential return for the Jays and the team's desire to remain competitive likely leaves them in a position where they'll keep Estrada rather than take back prospects.
"When you have only one team to make a deal with, it isn't always the best negoitating position because you've got no alternative to hold against somebody in the negotiation," Phillips said. "The only alternative is, 'we'll pull him back' and that's kind of where they stand.
"The Blue Jays' stated goal this season was to win in 2017, when things started to go wrong and they approached the deadline, then the thought was, if not to win 2017, then what helps us win in 2018. They have to weigh any deal they can make of improving the organization against the win in 2017 (mindset). There's probably a level at which somebody could make a proposal in a trade for Estrada to get them to bite. But the reality is, is (the Blue Jays) are not getting any sort of an offer that matches their desire to win 2017, so they're going to walk away."
Jon Morosi of MLB Network reported on Tuesday afternoon that an unknown team claimed Estrada, leaving the Jays with 48 hours to either let the other team keep him and be responsible for his remaining salary, work out a deal or pull the starter off waivers and keep him.
Phillips added the team would likely have to receive at least one "good second-tier prospect" but potentially two of them to even consider trading the 34-year-old.
He adds the team's mindset has likely changed since the non-waiver trade deadline as the team sits 3.5 games out of a wild-card spot.
Estrada is 5-8 this season with a 5.09 ERA and 143 strikeouts in 139 2/3 innings. He struggled in 4 1/3 innings against the Tampa Bay Rays on Tuesday, allowing 10 hits and six runs while taking the loss.
He is scheduled to become a free agent this winter.