Pickard moving on with the Marlies
Goaltender was shocked by trade from Vegas, but he's excited for the opportunity in Toronto to prove he belongs back in the NHL, Kristen Shilton writes.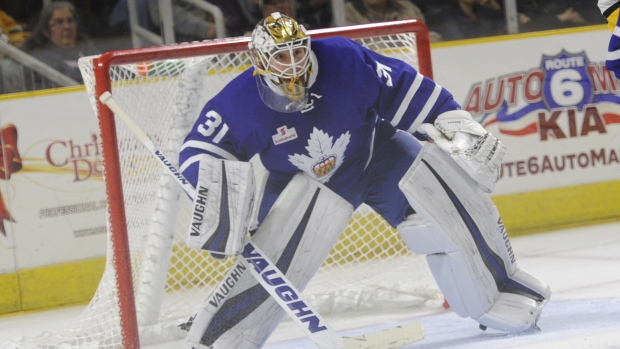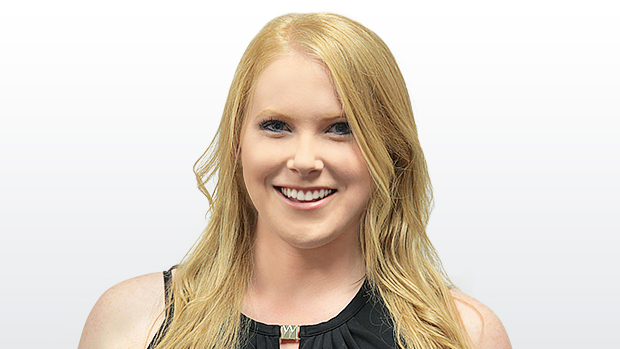 TORONTO — Calvin Pickard is easy to spot in a crowd.
Surrounded by teammates in white, blue and black at Toronto Marlies' practice, the goaltender's ornate red and gold mask draws the eye immediately. Every side has a story – playing cards that spell out his "Picks" nickname, the sketching of a knight and, on top, the Vegas Golden Knights logo.
The mask was conceptualized for Pickard by Vegas' fans in a contest last summer. Pickard chose six submitted designs and combined them onto one unique mask he expected to wear long-term as a Golden Knight. That would never come to fruition – Vegas put Pickard on waivers before he ever played a game, and ultimately traded him to the Maple Leafs.
"It was definitely a shock for me, didn't see that one coming. I thought I was going to be there," Pickard said after practice this week. "It's a big business and you can never control those things. I understand that and I'm definitely over it…I'm really excited to be a part of [this] and it's nice to feel wanted here."
Toronto is not where Pickard bet on ending up after the Golden Knights selected him in June's expansion draft from the Colorado Avalanche. The 25-year-old was projected to be the backup for Marc-Andre Fleury in the Golden Knights' inaugural season. He did press all over Vegas promoting the team and rented a house.
On Oct. 3, Vegas claimed goaltender Malcolm Subban on waivers from the Boston Bruins and two days later put Pickard on waivers for the first time in his career. He cleared, only to be immediately traded to the Leafs for Tobias Lindberg and a 2018 sixth-round draft choice.
"It was a tough 24 hours just kind of waiting around and playing the guessing game," Pickard said. "I didn't know if I was going to get picked up or not, I didn't think so because it was right around the time when rosters were being set. [The trade] happened pretty much right away when I cleared."
A week later, Fleury suffered a concussion and Subban was hoisted into the spotlight for his first NHL start - against the Bruins no less. He backstopped the Golden Knights to a win, capping off a storybook moment Pickard would have every reason to be bitter about. Instead he's turned the page on his own new chapter.
"I keep tabs on [the Golden Knights] because I know a lot of the guys there, but it's not my worry," he said. "I'm not there anymore and my focus is here for sure."
"He's come in with an incredible attitude, very positive," said Marlies head coach Sheldon Keefe. "When you look at his predicament and how things have played out, it would be understandable if a guy showed up and needed some time to settle in and get to work, but he's come in with a great attitude from the very first day."
Pickard has started one game for the Marlies so far, a 33-save performance in a 3-2 win over the Providence Bruins. He carried the load for the last-place Avalanche last season, appearing in 50 games and posting a 15-31-2 record with 2.98 goals-against average and .904 save percentage.
It was the first time over parts of three NHL seasons Pickard had risen from backup to starter. He followed that up with a trip to the World Championships as Canada's starting goaltender, winning silver.
"I learned a lot of things about being able to have a short-term memory, to throw [games] away and get ready for the next one," he said. "My primary focus right now is being the best goalie I can be for the Marlies [so] when I get that next opportunity at the NHL level, I'm ready for it. I know I can play at that level and I know I can excel there as well."
Pickard is the 12th goaltender to play in at least one game for the Marlies since Keefe took over in 2015-16, a trickle-down effect from the Leafs' struggle to find a suitable tandem. Frederik Andersen has taken hold as the starter now, but the backup post isn't as settled. Current backup Curtis McElhinney is signed through 2018-19, as is AHL starter Garret Sparks. But Pickard has a greater NHL and international pedigree than Sparks. The impending restricted free agent could be the dependable second goaltender Toronto has been looking for.
"I think he's done that, he's been that, and he's done it successfully," Keefe said of Pickard's potential as an NHL backup. "If you look at his [first] start for us, he looked like a goalie that was on another level."
When he gets back to the NHL is out of Pickard's hands, but for now at least one souvenir from his days in Vegas is sticking around.
"I'm still wearing the mask. I have no plans for it," he said with a smile. "It's a pretty cool mask, so I might keep it."