Pillar on umps: "It's just shocking to me"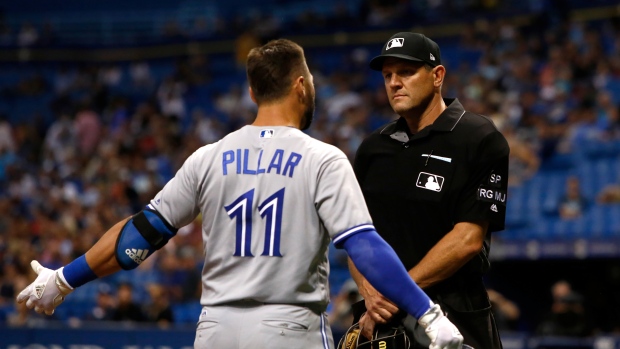 The Toronto Blue Jays have not been the best of friends with MLB umpires over the past couple years and that did not change Tuesday night against the Tampa Bay Rays.
Outfielder Kevin Pillar was ejected in the third inning after he said something to home plate umpire Chad Fairchild while he was running back to the dugout. It wasn't clear what he said to the ump at the time, but Pillar explained his side to Rob Longley of the Toronto Sun and other reporters following the 6-5 loss.
"All I said was the first pitch was terrible, that was it," Pillar explained. "I didn't raise my voice, didn't use any profanity, didn't cause a scene.
"It's just shocking to me. It's just a different time in baseball. Everyone's really sensitive and things get blown out of proportion. To immediately throw somebody out like that, it's just sad."
The 28-year-old got into some hot water earlier this year when he shouted a homophobic slur towards Atlanta Braves pitcher Jason Motte. Pillar was handed a two-game team suspension at the time.
"I think I've been through a lot this year. I've understood how to know the power of words and how people could be offended by it. I just felt like I offered my opinion," Pillar said Tuesday night.
On the other hand, manager John Gibbons felt Pillar needed to control his emotions better that early in the game.
"First pitch of the night for you ... you can't get thrown out of the ball game there," said Gibbons.
Pillar is hitting .253 with 12 home runs, 32 RBIs and a .302 on-base percentage over 122 games this season in Toronto, his fifth with the team.