Subban, Bergeron make donations as athletes speak out
New Jersey Devils defenceman PK Subban shared a video message on social media captioned 'Change The Game' and also announced he has donated $50K to George Floyd's daughter Gianna as athletes and notable names from the world of sports continue to speak out after the death of George Floyd last this week in Minneapolis and the protests that have followed.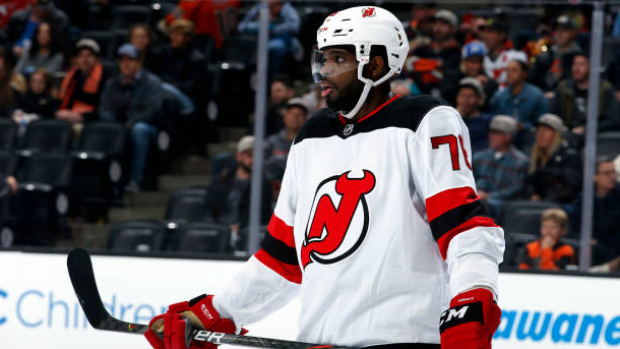 Athletes and notable names from the world of sports are speaking up as protests continue following the death of George Floyd last this week in Minneapolis.
---
Subban shares message, donates $50K to George Floyd's daughter
New Jersey Devils defenceman PK Subban shared a video message on social media Wednesday with the caption, 'Change The Game.'
"Change the game means change the narrative. The narrative has been the same: no justice. There needs to be justice. Justice has to happen, change needs to come. But we need everyone. We need all people to look at our lives and see where we can help that change and do our part."
Subban also announced he has donated $50,000 to George Floyd' daughter, Gianna's Go Fund Me page.
---
Bergeron: "I will not be quiet anymore"
Boston Bruins forward Patrice Bergeron released a statement through the team on Wednesday, stating, "I will not be quiet anymore."
Bergeron, a native of L'Ancienne Lorette, QC. added that he will donating $25,000 to the Boston branch of the NAACP and $25,000 to Centre Multiethnique de Quebec.
"It needs to be more than a simple Instagram post," Bergeron wrote as part of his statement. "Let's take real actions, with an open heart and compassion, I am determined to be an ally, continue to grow myself, and raise my children to be anti-racist."

---
McDavid releases message on the death of George Floyd and social injustice
Edmonton Oilers captain Connor McDavid released a message on Wednesday, saying in part, "I believe that the time is now for all of us to get out of our comfort zones, to not sit idly on the sidelines and to be part of the solution to ensure that we end racism in our society."
---
Texans being given day off to attend Floyd's funeral
Houston Texans head coach Bill O'Brien said on Wednesday that the team will not virtually meet on June 9 in order to give players wanting to attend George Floyd's funeral in Houston an opportunity to do so.
Bill O'Brien said the team will not virtually meet on June 9, the day of George Floyd's funeral. He said will encourage the players in Houston to go to the funeral if they can.

— Sarah Barshop (@sarahbarshop) June 3, 2020
---
Bichette: 'I didn't know to the extent that I really don't understand'
Toronto Blue Jays infielder Bo Bichette took to Twitter on Wednesday to share his thoughts, releasing the following statement:
"I knew I didn't relate, but until I had some important conversations with a few of my friends I didn't know to the extent that I really don't understand, and probably never will. I'm humbled by what they shared with me. We need to actively stand with black people. Right now.
"That is the issue. We need to support our black friends and learn about how they are hurting. I know already I won't get all of it right but I'll keep learning because black lives matter."
---
Crosby releases statement
Pittsburgh Penguins star Sidney Crosby released a statement on social media through his foundation Wednesday, condemning racism and vowing to listen and educate himself to help make a difference.
"What happened to George Floyd cannot be ignored. Racism that exists today in all forms is not acceptable. While I am not able to relate to the discrimination that black and minority communities face daily, I will listen and educate myself on how I can help make a difference.
"Together, we will find solutions through necessary dialogue and a collective effort."
---
Cowboys QB Prescott pledges $1 million to improve police training and address systemic racism
Dallas Cowboys quarterback Dak Prescott posted a message on Instagram in support of communities protesting and fighting for justice for George Floyd.
"I stand to make a change!
I stand to see our country whole!
I stand to make our country equal!
I stand to help our streets and communities trust one another!
I stand for black lives!
I stand for love!"
Prescott also vowed to pledge $1 million to "improve our police training and address systemic racism through education and advocacy in our country."
---
Weber, Gallagher from Canadiens speak out
Montreal Canadiens defenceman and captain Shea Weber and forward Brendan Gallagher both posted messages Wednesday speaking out against racial injustice.
Weber: "Sport is a unifying force. It brings people together. We now need to be unified in this fight and work together. I don't have the solutions and can't speak from experience or tell someone who has dealt with racism how they should feel. But we can all listen."
Gallagher: "There's a large group of people begging to be heard. We need to listen."
---
Capitals' Holtby, Wilson join the conversation
Washington Capitals goalie Braden Holtby and forward Tom Wilson both released statements condemning racial injustice on Wednesday.
Holtby's statement was posted to Twitter with the message, "I couldn't find the words to say. And still haven't But I had to try. #BlackLivesMatter
Wilson said he is "committing to learn, to listen and to support going forward."
Wilson also said he would be making contributions to the East of the River Mutual Aid Fund and the Fort Dupont Cannons Hockey Program, the oldest minority hockey program in the country.
---
Gabriel Landeskog

shares his thoughts

Colorado Avalanche captain Gabriel Landeskog shared his thoughts about the death of George Floyd and racism on Wednesday.

"I don't want my silence to be misunderstood for ignorance. As a privileged white man I do not know what black men and women go through everyday, and I will not pretend like I do."
---
Jaguars' owner Shad Khan shares message
Jacksonville Jaguars owner Shad Khan shared a message on the Jaguars website Wednesday, detailing his experiences as a Muslin-American and speaking out against racial injustice.
"No families should have to worry about their child losing their life just because of the color of their skin. Yet, they do. That should never happen in what should be, and I still believe is, the greatest nation on the planet.
...
"I know change is possible, and here's one reason why: While I am often described as "self-made," the truth is I benefitted tremendously from hundreds of good and generous people early on, from all walks of life, who supported me unconditionally and contributed mightily to my realization of the American Dream.
...
"My overarching goal, or mission, is to do my part to level the playing field so everyone has the same access and opportunity to achieve the American Dream, without fear or compromise.
...
"We must have the answer today, and we will work with players, staff and more to arrive at a timely response. Because this moment, while agonizingly similar in many ways, is unlike any other in our history for underserved people and communities in the United States. We cannot attack the virus of racism with indifference or periodic attention. We cannot expect an easy cure or give up when the quest becomes inconvenient or uncomfortable."
Read the full message here.
---
Statement form Major League Baseball
Major League Baseball released the following statement on Wednesday with the caption, "We want to be better, we need to be better, and this is our promise to do the work."
We offer our condolences to the families of George Floyd, Ahmaud Arbery, Breonna Taylor and all the families that have lost loved ones due to senseless killing and injustice.
To be clear, our game has zero tolerance for racism and racial injustice.
The reality that the Black community lives in fear or anxiety over racial discrimination, prejudice or violence is unacceptable.
Addressing this issue requires action both within our sport and society. MLB is committed to engaging our communities to invoke change. We will take the necessary time, effort and collaboration to address symptoms of systemic racism, prejudice and injustice, but will be equally as focused on the root of the problem.