Pomeranz exits BoSox game with soreness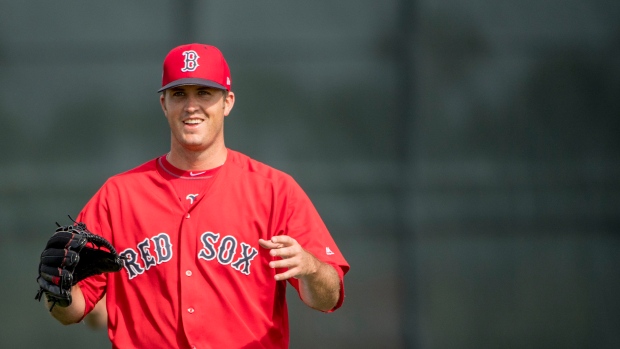 An injury-plagued spring for the Boston Red Sox starting rotation could be getting worse.
Drew Pomeranz left Sunday's Grapefruit League game with the Minnesota Twins early with soreness in his right triceps. The team called the move a precautionary one.
Pomeranz, 28, threw 47 pitches during the game over two innings. He surrendered three runs on two hits, struck out a batter and walked three.
After the game, Pomeranz played down injury concerns.
"I told the trainers in between that inning, went back out and it stayed tight the whole time," Pomeranz told reporters. "Nothing crazy. Just a little triceps tightness. I think my workloads have been a little higher this week. Who knows. I threw that second inning and it didn't really loosen up. We just decided to call it quits. I could've thrown one more but it's still the second start and we'll give it a little rest."
Pomeranz is heading into his seventh MLB campaign and first full season with the Red Sox. He was acquired last summer from the San Diego Padres for top pitching prospect Anderson Espinoza. The team discovered afterwards that Padres general manager A.J. Preller had withheld pertinent medical information from the Red Sox prior to the deal. Commissioner Rob Manfred allowed the Red Sox the opportunity to rescind the trade, but the team declined the offer.
Pomeranz went 3-5 in 13 starts for the American League East champions last year with an earned run average of 4.59 and a WHIP of 1.369 over 68.2 innings pitched.
If he were to join David Price on the disabled list to start the season, 10-year vet Kyle Kendrick could be next in line for the Red Sox rotation.