Pondering what the next Doughty and Karlsson deals might look like
Travis Yost uses hockey's current financial landscape to land on eight-year deals with an average annual value north of $10 million for the star blueliners.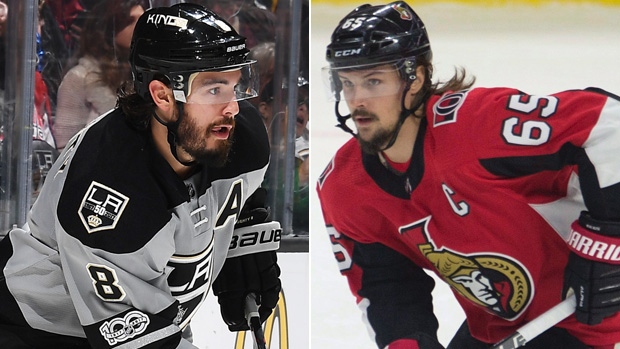 While the Kris Russell own-goal story dominated media coverage last week, an interesting discussion was kicked up by Los Angeles Kings defenceman Drew Doughty.
Doughty didn't mince words when talking about his next contract – his current deal is set to expire at the end of the 2018-19 season. He's looking at a mega deal and he knows he'll get it. More interestingly, Doughty mentioned that he'd speak with fellow superstar defender Erik Karlsson to see what type of money the Ottawa Senators captain would be looking for when his contract expires that same summer.
Karlsson – who is as buttoned-up as any hockey player with the media – came out with an unexpectedly straightforward tone. "I'm going to get what I'm worth, and it's going to be no less, no matter where I'm going," Karlsson told the Ottawa Sun.
I thought that statement was fascinating. It's exceedingly rare you see hockey players so direct and blunt about their contractual future – doubly so for a player who still has more than a year on his current deal. You can read between the lines on what Karlsson inferred there, but I think it's safe to take him at his word. The Senators aren't getting him at a hometown discount. If Ottawa somehow lets him walk – 30 other NHL franchises (a) will line up to sign him; and (b) should expect to pay through the nose.
This all raises an interesting question about where the Doughty and Karlsson contracts will go. There are a couple of interesting factors at play here. Doughty is unquestionably a top-five defender in the league. Karlsson is undoubtedly the best defender in the league. The rumour mill is hot about the NHL salary cap increasing by 6.6 per cent next year to $80 million. If the league does realize that sort of growth, you can expect top-tier players' contracts to eat into it proportionately.
I was curious about how top-tier NHL defenders have been paid as a proportion of the cap, if only to provide some sort of guidance for what a Doughty/Karlsson contract could look like. I think it's safe to assume that they'll both ask for and get max term, which means an eight-year deal that would carry both players into their late 30s. But the dollar value? That's a bit vaguer.
The one good thing about hockey's current financial landscape is that it's pretty predictable. Top-tier players generally eat into the same percentage year-over-year, which means that if you can reasonably forecast where the salary cap is going to go, you can also reasonably forecast where a player's contract should land.
To illustrate this, I pulled out the prevailing salaries and cap hits of top-tier players (the five highest-paid players, by position) since the 2014-15 season. As you can see, the numbers rise proportionally with the increase of the salary cap. So, for the most part, the percentage of the cap that these players consume generally remains constant.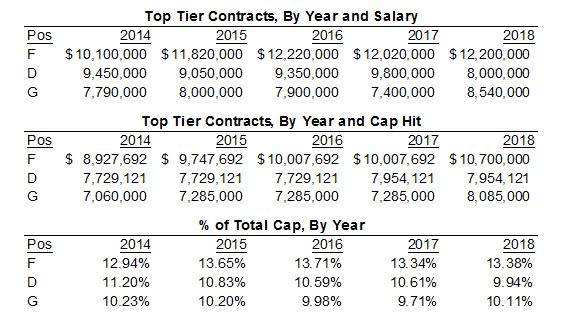 A top forward will likely consume about 13.4 per cent of the cap, a top defender will consume about 10.6 per cent of the cap, and a top goalie will consume about 10.0 per cent of the cap. (It's possible that forwards have eaten a tiny bit into defender salaries if you look at the trended data, but for the most part it's reasonably flat. Even if it were a trend, I'd expect Karlsson and Doughty to reverse that course.)
Something to keep in mind about the defender bucket: it's comprised of seven players – P.K. Subban, Shea Weber, Ryan Suter, Kris Letang, Dion Phaneuf, Victor Hedman and Aaron Ekblad. There's little doubt Karlsson is a better player than any of those names, and that's also mostly true for Doughty. So when you consider the percentage of the cap that these guys consume, you should recognize that there's probably going to be another premium that Los Angeles and Ottawa have to pay.
What does this mean for a potential Doughty/Karlsson contract? Let's assume that Doughty gets about 11 per cent of the cap in any given year, and the league continues to grow around 3.8 per cent year-over-year – that's the average growth realized in the interval measured here. Let's assume that Karlsson gets paid 12 per cent of the cap at any given year, which is what the league's highest-paid defender did over the measured interval. Their contracts could look like this (assuming there's no back-diving structure):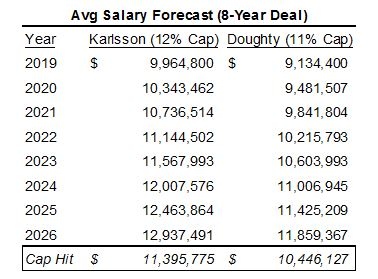 Now, this is one swing at a player forecast. Maybe you rate Doughty and Karlsson the same. Maybe you think that the cap grows more than it does. Maybe you think the cap stagnates and teams squeeze these guys harder than we would expect. There are a billion different scenarios that could impact their next contracts in either direction.
But knowing what we know today, the numbers noted above are what I'd consider realistic estimates. It's hard to envision Doughty or Karlsson getting anything less than a $10 million AAV deal, and there's a very real chance that it could get into the $11 million range for a player like Karlsson.
That could be why Doughty and Karlsson set such a strong tone more than a year out from the expiration of their respective contracts. Their agents have to be pretty comfortable that a huge payday is on the horizon. The question is: which teams will pay it?