Predators hope Tolvanen won't bolt for KHL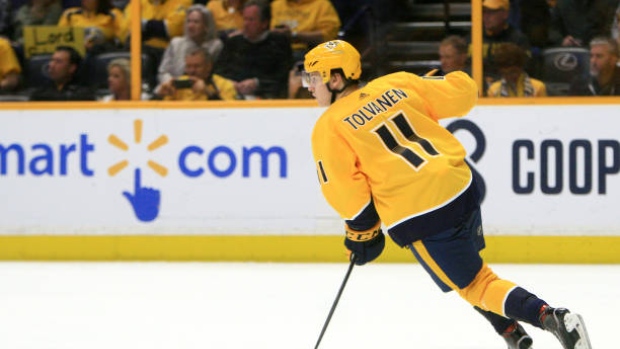 Nashville Predators prospect Eeli Tolvanen was cut from the NHL roster in training camp on Tuesday and assigned to the AHL's Milwaukee Admirals.
And the Predators are hoping he won't exercise an option in his contract that allows him to return to the KHL.
Under the clause, the 19-year-old will have the clearence to return to Jokerit in Finland if he plays in 10 AHL games.
"Those are questions for him," Predators head coach Peter Laviolette told The Tennessean on Thursday. "I certainly hope not. It's not going to help his game (to return to the KHL).
"Those are decisions that are out of my control...But he is under contract with us."
The Predators signed Tolvanen to his entry-level contract after Jokerit's season ended last spring. The team gave him a deal equal to that which a No. 1 overall pick would sign in order to lure the 30th pick in the 2017 draft to North America.
He was held without a point in three games during the regular season and was not in the lineup during the playoffs. Should he leave for the KHL this season, he would be eligible to return to the Predators once Jokerit's season comes to an end.
Laviolette said Thursday he didn't want to keep Tolvanen on the NHL roster as the 13th forward.
"If he's not going to get the opportunity here to play, there's no sense having him around as an extra forward. He has to play," Laviolette said, stressing the winger remains a "big part" of the team's future. "This is the best way to get him acclimated."
In 49 games with Jokerit last season, Tolvanen had 19 goals and 36 points and was named to the KHL All-Star Game.