Preds' Hartman suspended one game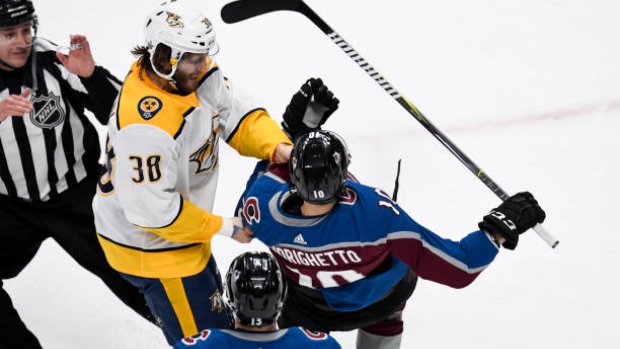 Nashville Predators forward Ryan Hartman has been suspended one game by the NHL's Department of Player Safety for an illegal check to the head to Carl Soderberg of the Colorado Avalanche.
The hit occurred in the third period of the Predators' 3-2 win on Thursday night. Hartman delivered a high hit on Soderberg in open ice as he entered Predators' zone. Hartman's shoulder appeared to make direct contact with the Soderberg's head.
Hartman picked up a minor penalty on the play, but the Avalanche were prepared for further discipline.
"They're going to look at it, there is no question," Avalanche head coach Jared Bednar said of the hit after the game. "I haven't seen it, happened quick. I didn't look at the replay, we had some other stuff going on the bench. But they'll be looking at that, for sure I would think."
Acquired from the Chicago Blackhawks at the trade deadline, Hartman has one goal for the Predators through four playoff games. He had three goals and six points in 21 games upon joining the team in the regular season.
Hartman is the fourth player to have a hearing with the league's department of player safety in the first round of the 2018 playoffs. Los Angeles Kings defenceman Drew Doughty, Toronto Maple Leafs centre Nazem Kadri and Winnipeg Jets defenceman Josh Morrissey all received suspensions after their hearings.