Preds traded wrong defenceman
Nashville and Columbus got together on a big trade Wednesday, but TSN's Travis Yost argues the numbers show the Predators should have moved captain Shea Weber.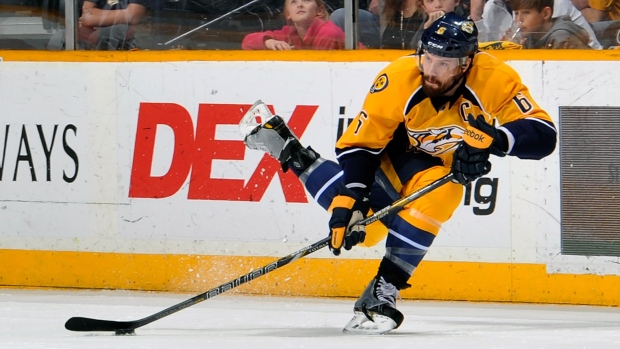 Seth Jones
, and the Predators acquiring young centre
Ryan Johansen
.
It's pretty rare to see two mega-talents traded for one another, but a lot of this was borne from Nashville's unique trading position. Most teams these days are in the market for an impact blueliner. Nashville - teeming with young, quality talent back there - was in the market for a first-line centre. Combine that with Nashville's position as a legitimate playoff threat with about $10-million in cap space, and you felt it was all but guaranteed that the Predators would be one of the big movers and shakers in 2016.
The trading of Seth Jones wasn't surprising. Unlike almost every other defender in Nashville's stable, Jones wasn't on a long-term deal. His contract expires at the end of the season, and it's assumed he's in line for a pretty big payday.
So, it made sense that the Predators parlayed his value for an impact centre.
I just wonder if they traded the right player.
For quite some time, I've argued that the Predators should start looking for ways to move on from captain Shea Weber and his colossal deal (at last check, the 30-year-old defenceman is owed about $54 million). It's hard to see that contract as anything but poisonous, and concerns are only going to rise as he ages.
I highly doubt any trade involving Shea Weber and Columbus could have materialized due to the contractual elements involved. It's also unlikely the Blue Jackets would consider a 30-year-old defenceman the best return for a 23-year-old centre. But, I don't doubt for a moment that Nashville could have found another suitable trade partner and, by extension, a trade that benefited them more than the Jones-for-Johansen swap.
What exacerbates this discussion is the fact that Nashville's defence is insanely good. Roman Josi, Ryan Ellis, Mattias Ekholm, and Seth Jones (before he was moved) were four core guys in Nashville's long-term plans. Despite being relatively early in their respective careers, none of them look out of place. In most cases, they're holding their own and then some against the staunchest of competition.
More important than the massive contract and the ability to mitigate the loss of a first-pairing defender is the fact that the gap between Weber's perceived value and his real value is as wide as the Grand Canyon. I figure that most general managers around the league would name Weber as one of the three best defenders in the game. I figure that almost all of them would place him into the top five.
I dissent here in a big way. For a defender who is heralded as one of hockey's greats, he certainly doesn't look anything like the game's greats. Year after year after year, we see high-end, prominent defenders move the needle territorially. They drive massively favourable shot-differentials, which lead to massively favourable goal-differentials. They have such a great impact that you can start to justify contracts where players make $8 million or more in a given season.
I want you to look at what's happened with Weber over the years on this front. Below is a graph of Weber's Relative Corsi% (essentially how much better a player's team is with him on the ice versus off, by shot differential). I've also included a number of other Norris Trophy-calibre defenders for comparison's sake. Normally, we see high-end defenders grade extremely well here, and that makes intuitive sense. The guys who dominate their position tend to always play in the offensive zone - that's true for both forwards and defencemen.
So, how does Weber look compared to other top-tier talent?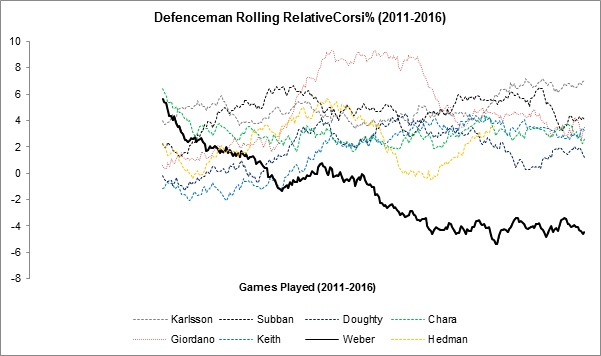 That's an epic slide. And, I think it's important to show it this way. We never see other premier defenders around the league get caved in territorially, yet we have seen Weber get beaten around a bit for a few years now.
It's also important to note that the other seven defenders come from very diverse team backgrounds and have very diverse skill sets. Erik Karlsson is offensive-minded and plays on a very top-heavy team. Drew Doughty's more of a two-way type on a team whose depth steamrolls everyone. Zdeno Chara is the prototypical 'shutdown' guy, and he's played on teams that range from dominant to emphatically average.
Naturally, I'm skeptical that team effects are playing a major role here. I'm also skeptical that quality of competition is responsible for the slide – these guys all play against top lines and top pairings, and regardless, the effects of quality of competition over seasons are incredibly small. Far more likely, I suppose, is a guy with a ton of miles on his body losing a step or two.
Now, Weber a step or two slower is still a very sound defender. But is he worth $50 million? Extremely unlikely.
That's one of the big reasons Nashville missed a very real opportunity. Perception is reality in the NHL, and I'd bet 20 or so GMs around the league would have offered up half the farm to land a player of Weber's calibre. The problem is that his present-day calibre appears to be a far cry from what it was just a few seasons ago.
The Takeaway
A lot's going to be written about the Seth Jones/Ryan Johansen swap, and rightfully so. But I think the most intriguing wrinkle here is a missed opportunity for the Predators organization to get out of a poisonous contract (with or without the cap recapture penalty) and acquire a swath of talent in the process. At the very least, you're looking at a good chance of shaving salary and improving the roster long-term.