Canadiens move to 5-0 for first time ever
Tomas Fleischmann scored and Carey Price made 25 saves for the shutout as the Montreal Canadiens made team history by starting a season with a five straight wins with a 3-0 victory over the New York Rangers on Thursday night.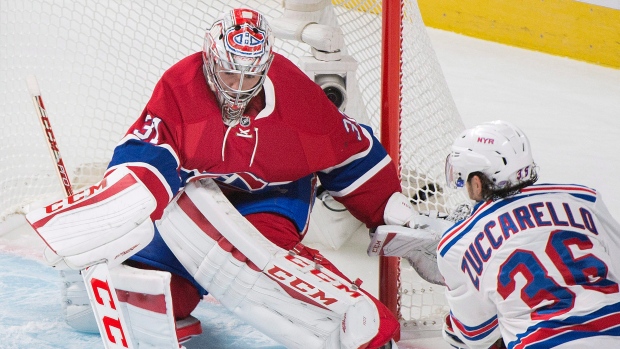 MONTREAL - An entertaining pre-game show by the Montreal Canadiens was outdone by a team record, a Carey Price shutout and a thriller of a hockey game.
Tomas Fleischmann had a goal and an assist and Price posted a 25-save shutout as the Canadiens won their home opener 3-0 over the New York Rangers on Thursday to extend their winning run from the start of the season to a team-record five games.
"It (the record) is rewarding, but I'm more happy about the way the team's playing," said Max Pacioretty after his first home game since being named the Canadiens 29th captain. "It's so fun to roll four lines and see everyone going.
"There are no egos on this team right now."
Despite powerhouse Canadiens teams that won a record 24 Stanley Cups in their 106-year history, the previous club record for wins to start a season was only four, last accomplished in 1977-78.
To set the new mark, Price displayed the form that won him the Hart Trophy as the NHL's MVP and the Vezina as top goaltender last season.
Henrik Lundqvist, who is also considered among the best goalies in the world, may have been even better in a losing cause, stopping 29 of 31 shots.
"Hank was awesome tonight," Price said of Lundqvist. "That was a spectacle. An absolute clinic. I really enjoyed watching it. He made a dozen really spectacular saves."
Rangers coach Alain Vigneault agreed.
"We got schooled tonight," said Vigneault. "Our only moment came on a five-on-three. They outplayed us in every aspect of the game. If it wasn't for our goalie, it would have been much worse."
Price has been all-but unbeatable at home against the Rangers, posting a 9-1-1 record in their last 11 visits with only nine goals conceded.
He got the loudest ovation from the Bell Centre crowd in pre-game introductions, although a close second was the moment when Pacioretty, with a torch held aloft, was introduced as the captain.
Dale Weise and Tomas Plekanec, with an empty-net effort, also scored for the Canadiens (5-0-0), who handed the Rangers (3-2-0) a second straight defeat.
There was playoff-like speed and intensity in the battle between last season's two top regular season clubs.
"It was a high level match, like a game in April," said Montreal coach Michel Therrien.
The Canadiens scored the first goal for the fifth time in as many games 8:46 into the second period as David Desharnais kept a puck in at the blue line and then saw his shot go off Ryan McDonagh. Fleischmann batted the bouncing puck past Henrik Lundqvist on the shot side.
The end of the third saw two of the NHL's top goalies at their finest. Montreal killed a two-man new York advantage when Price made a brilliant stop short side on Derek Stepan and thwarted Rick Nash on a short-range blast.
At the other end, Lundqvist snared a bullet from Alex Galchenyuk. The Swede then kept the Rangers in the game in the third by stopping Brian Flynn on a breakaway and robbing a wide open Desharnais from close range.
He was finally beaten again at 17:55 when Weise picked out an opening with a shot from the right circle. Plekanec then put his fourth of the season into an open net.
"Once again the Rangers played very well," said Price. "That's an excellent hockey club over there.
"We have a lot of respect for that team and their abilities. They probably feel the same about us. In the future, I'm sure there'll be a lot more great hockey games between our teams."