Price goes seven strong; Tigers dump Jays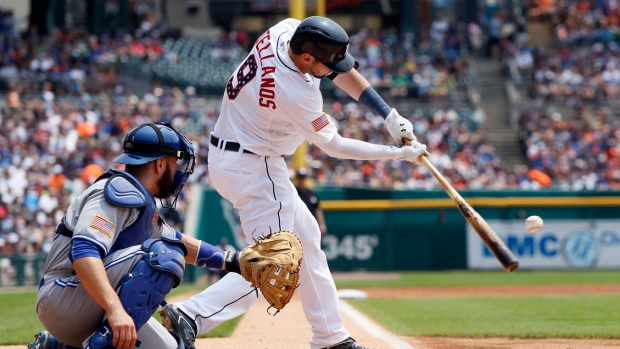 DETROIT - R.A. Dickey knew he was in trouble by the third pitch of Saturday's game.
Facing Tigers leadoff hitter Ian Kinsler, Dickey hit him with an 0-2 knuckleball and realized that it was going to be a long day.
"That's probably the worst knuckler I've had all season," he said after Toronto's 8-3 loss. "When you are a knuckleballer and it isn't working, you really feel naked out there."
Dickey (3-9) could have expected to get a break, facing a Tigers lineup that didn't feature injured Miguel Cabrera, but he gave up four runs in the first inning.
"It's never good to have an inning like that, whether it is the first or the fifth," said Dickey, who allowed five runs on 11 hits in 5 2/3 innings. "But from a psychological standpoint, it is tough to put your team in a hole like that right off the bat."
It was too much against David Price (8-2), who outdueled Dickey in a battle of the 2012 Cy Young winners. He only allowed one run in seven innings.
"R.A. settled down after that first inning, but you can't give David Price four runs in the first inning and expect to win the game," said Blue Jays manager John Gibbons.
In the ninth, Jeff Ferrell allowed a two-run homer to Chris Colabello while making his major-league debut. He had only pitched one inning above Double-A before being called up on Friday.
Before the game, the Tigers placed Cabrera on the disabled list for the first time in his 13-year career. Detroit has scored 15 runs in 14 innings since losing their best offensive player, but no one expects that to last.
"It's going to be tough without him, for sure," said Alex Avila, who made his first career start at first base. "With him being out an extended period of time, we just need to keep it as close as possible to be able to make a run when he gets back."
Avila made the day's most spectacular defensive play, diving into the crowd far down the right-field line to retire Russell Martin in the fourth inning.
"I'm running back, had a pretty good bead on it, and that little advertising thing that kind of juts out of the fence, that kind of clipped my leg there," he said. "I just stuck my glove out as I was falling down, and it went in."
The Tigers scored four times in the first, showing they can still hit a little without their two-time AL MVP. After being hit, Kinsler took third on Yoenis Cespedes' double. Victor Martinez drove home the first run with a groundout, and J.D. Martinez followed with his 22nd homer of the season.
Dickey retired Avila for the second out, but Nick Castellanos doubled and scored on James McCann's triple.
"It's always important to score first," Kinsler said. "That's the trigger to every game, especially with David Price on the mound. If you give him run support, you allow him to go to work."
Detroit added a fifth run in the fourth on Cespedes's RBI single, but Kevin Pillar got the Blue Jays on the board with a fifth-inning homer.
Toronto could never sustain a rally against Price, and unlike Friday, where they were no-hit for seven innings before score six times in the eighth, they didn't have a late offensive explosion.
Jose Iglesias scored on a wild pitch by Steve Delabar in the eighth, and Kinsler followed with a two-run single.
TRAINER'S ROOM
Blue Jays: LHP Felix Doubront threw 33 pitches in relief Friday night after being called up earlier in the day. Doubront has spent much of this season recovering from a shoulder injury, but looked good in nine games with Triple-A Buffalo, and is expected to join Toronto's rotation next week.
Tigers: Cabrera is expected to miss at least six weeks with a Grade 3 — the worst rating — strain of his left calf. Cabrera sustained the injury Friday while breaking for second base on an attempted hit-and-run.
UP NEXT
The teams conclude the three-game series Sunday with Justin Verlander (0-1, 5.09) facing Toronto's Marco Estrada (5-4, 3.58). Verlander will be making his fourth start of an injury-plagued season, while Estrada is 4-4 with a 4.04 ERA since moving into the rotation in early May.