Price injury gives Fucale a taste of the NHL life
Goaltender Zach Fucale isn't sure if he'll get into a game, but he wants to soak up all he can in his first call-up to the Montreal Canadiens.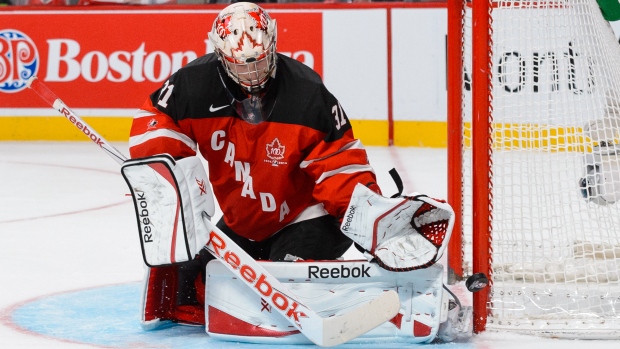 BROSSARD, Que. - Goaltender Zach Fucale isn't sure if he'll get into a game, but he wants to soak up all he can in his first call-up to the Montreal Canadiens.
He's unlikely to start any games, so he probably won't get a chance to try to match 22-year-old Garret Sparks, who earned a shutout for Toronto in his first NHL game in a 3-0 win over Edmonton this week.
But if anything bad happens to Mike Condon, who was slated to start in goal Tuesday night against Columbus, Fucale will have to be ready.
"I was pretty happy to hear I was coming to Montreal," said Fucale, who grew up nearby in Rosemere, Que. "I had a smile on pretty much the whole day, but it's normal.
"It's one step forward. I just want to learn as much as I can while I'm here and bring it back to St. John's."
When the Canadiens announced that star goalie Carey Price will miss at least six weeks with a lower body injury, Condon took over as starter.
Veteran Dustin Tokarski, who has only one period of NHL action this season, was sent to St. John's of the American Hockey League to get some playing time, and 20-year-old Fucale was brought up to act as backup for at least a few games.
"Tokarski hasn't played much in the last month, so he needs to play if we're going to use him," said coach Michel Therrien. "It wouldn't be fair to him to throw him out there when he hasn't played for almost a month.
"In the meantime, Fucale did a really good job with St. John's. This is a great opportunity for him to be surrounded by NHL players at a young age. He's got to be like a sponge and take in all the experience of being around NHL players."
Fucale is in his first year as a pro after a junior career that saw him win a Memorial Cup with the Halifax Mooseheads in 2013 and backstop Canada to gold at the 2015 world junior championship.
He has a 7-2-2 record with the IceCaps, and his mediocre 3.12 goals against average, which ranks 41st in the AHL, is partly down to one horrible game on Nov. 14 in which he conceded eight goals in a 9-8 overtime loss to the Toronto Marlies.
"It's a different level," said Fucale, who allowed one goal on 38 shots in a win over the Marlies in his last outing on Sunday. "The guys are stronger, faster, smarter.
"But I feel I'm going in the right direction."
Although he won world junior gold, most of the 2014-15 campaign was a struggle for the six-foot-one goaltender.
The Mooseheads' all-time wins leader was traded in December to the Quebec Remparts, who wanted an experienced goalie as they played host to the Memorial Cup tournament in May. But Fucale went 2-2-1 in the tournament with a whopping 4.75 goals-against average and an .872 save percentage as the Remparts were eliminated by Rimouski in the semifinals.
He looks to have rebounded in the AHL, however.
"Slowly I've felt more comfortable," said Fucale, drafted in the second round by Montreal in 2013. "There were some matches that were tough, but that's part of the process.
"The team has been playing pretty solidly lately in the AHL. That's a good sign and it helps everybody."
Note: Therrien didn't plan to celebrate coaching his 700th career NHL game against the Blue Jackets: "I think there are numbers that mean more," he said. "I think 500 means something. And after that the next number is 1,000. Between that.... it's just a number."